Pope Francis Tested for Coronavirus Days After Coughing and Blowing His Nose During Mass
Pope Francis has been tested for coronavirus after being unable to attend a number of events.
The 83-year-old head of the Catholic Church, who often comes into close contact with the public when he blesses them, was looking under the weather last week during an Ash Wednesday service, dabbing his nose frequently with a cloth.
The following day, he was unable to attend a Mass he was due to celebrate at the Archbasilica of St. John Lateran in Rome marking the start of Lent, Catholic news publication Crux Now reported.
Matteo Bruni, the Holy See press office director, said last Thursday that the pope had stayed in his room close to Santa Marca where he lives at the Vatican "due to a slight indisposition," the Catholic News Agency (CNA) reported.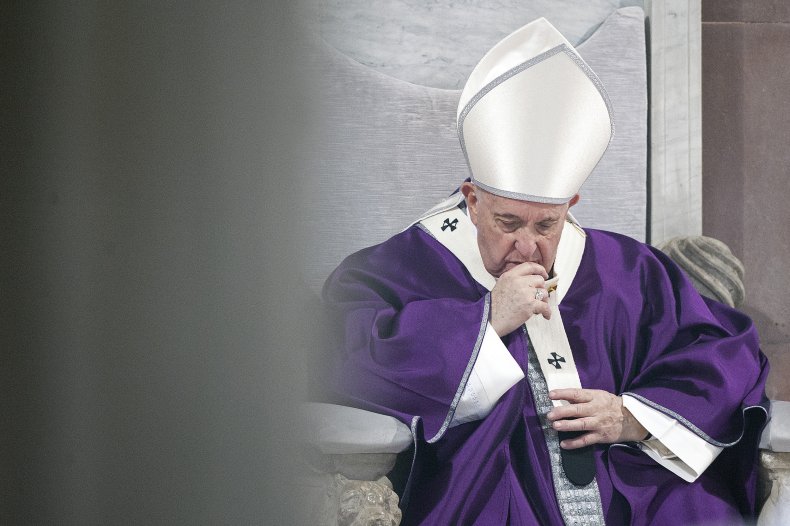 The pope was also unable to give a speech at the Apostolic Palace and had to cancel two other audiences.
During his next major public appearance on Sunday, he told the faithful gathered in St. Peter's Square that for the first time in his papacy, he would not be able to attend a spiritual Lenten retreat near Rome with senior Vatican officials.
He said: "Unfortunately a cold prevents me from participating this year. I will be following the meditation from here."
The Italian newspaper Il Messaggero reported that the pontiff, who had lost part of a lung following a respiratory illness when he was young, had a swab test that came back negative. Newsweek has contacted the Vatican press office for further comment.
The paper reported that the outbreak had hit tourism hard, with museums at the Vatican suffering a 60 percent drop in attendance.
Italy remains the hardest-hit European country from coronavirus, with the death toll hitting 52 and the number of confirmed cases going past 2,000.
Italian news agency Ansa reported that the outbreak has pushed hospitals in the Lombardy region close to breaking point. Authorities have appealed to private hospitals to use their beds to create wards for coronavirus patients.
Several towns have faced lockdown and public spaces have been closed. However, Italian health officials said that they were confident that the outbreak could be contained.
The head of Italy's National Health Institute Silvio Brusaferro said on Monday: "At the end of the week we will understand if and how much the containment measures put in place have slowed the epidemic."
"We expect positive results, I am optimistic. We ask all citizens for collaboration. Their help is important for breaking the chain of infections," he added.