Pennsylvania Church Abuse Victim Says Vatican's Silence Expected, Priest Made Her Feel Like 'Fool'
Juliann is one of more than 1,000 children whose voices were silenced—until now.
They are elder victims who were violated by ruthless Roman Catholic priests throughout Pennsylvania dioceses.
And a day after she and other victims in Harrisburg, Pennsylvania, were given a printed ream of the report furnished by the state's Attorney General Josh Shapiro on Tuesday revealing widespread sexual attacks to children over the course of decades, she struggled to consider the Vatican's choice of silence.
"We have no comment at this time," said Paloma Ovejero, deputy director of the Vatican's press office.
"What are they going to say?" she thought aloud in an interview with Newsweek. "I never thought of it. That's just not something that would be on my radar."
She was told that Shapiro sent a letter directly to Pope Francis, but other than confirming its reception, there was no response.
"I didn't think the pope would hop a plane and head to Pennsylvania," she said.
She has a wish list though.
The church could reverse its hallmark vow of celibacy for priests, welcome women into its holy ranks, among others.
"It's so far-fetched, but maybe someday it will happen and things will be different," she exhaled.
But then she wonders if that's possible.
"It's such a mess, so where would you start?"
She likened the Catholic Church to a rundown farmhouse and setting impossible goals of "gutting it and making it livable."
Back in 1964, Juliann was a freshman at Allentown Central Catholic High School. Her religion teacher was Father Francis J. Fromholzer.
But when they were alone or with a trusted friend of hers, like she told a grand jury back in 2016, he was just "Frank."
Newsweek did not hear back from Fromholzer, who is 87 years old, by the time of publication.
It started with a drive to the honeymoon hotspot in the Poconos.
Fromholzer pitched the trip as almost celestial.
"We're going to paradise," she said he told them.
And her parents at the time signed off without question because to them, a priest was essentially god incarnate.
"They believed that any priest is as close to god as you're going to get," she recalled. "If you're touching a priest you're touching god."
Juliann was feuding with a friend about who would sit next to Fromholzer on the ride there.
She gained the upper hand and sat in the middle of the bench-seated car.
"Once we got to driving he started moving his elbow across my breasts," she said. "I remember thinking to myself, He doesn't know he's doing that."
But Juliann, 14, admittedly "didn't know what was happening."
"I started poking my friend and moving towards her," she said.
Once they arrived, Julianne said Fromholzer unfolded a blanket and set up a radio to play some tunes.
Then he did something unthinkable: He unfastened his white collar.
"I had never seen a priest without his collar," she said, almost dazed by it today. "It was a shock. And then he said, 'Don't call me Father. Call me Frank."
According to the report, Frank "started kissing, feeling, put his finger in me."
"That hurt," she testified.
Afterward, neither she nor her friend sat anywhere close to Frank.
When her friend reported the behavior, she was quickly flunked out of school (one of the classes was religion, taught by Fromholzer).
The school's principal at the time, according to the report, was Father Robert M. Frost. He organized a meeting with her father. "Now, I want you to tell that story that you said—the made-up story that you said about the priest to your father—with your father here," the now grown-up woman testified before the grand jury, according to the report.
The friend whom Juliann knew since she was in second grade went home and was beaten severely with a belt by her alcoholic father, the report states.
While her friend flunked out, Juliann said that the sexual abuse continued.
Fromholzer would entreat her and a friend to his car parked off the school to "park" with her.
"It was twice a week," she said.
The priest turned on the radio to play some hip tunes to break the ice.
"He would listen to our music," she said of the rock 'n' roll hits. "He would be sitting up front and he would be kissing me and feeling me.
"There was never any rape. It was digital penetration."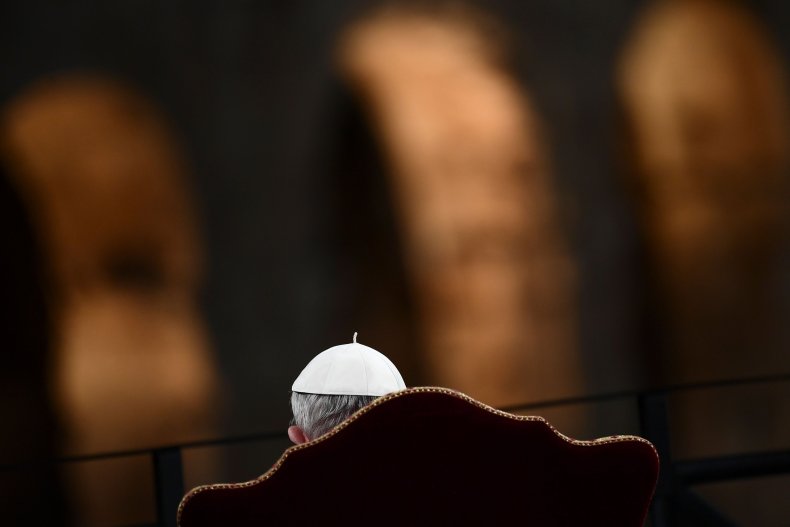 The collar remained around Fromholzer's neck during these meets. But she recalled how he particularly fancied Juliann because of her pricey perfume that her coal miner father and housekeeper mom bought her as a lone gift one Christmas.
"He would nuzzle in my neck and tell me he liked Jean Nate," she said. "He kept saying, 'I liked the smell of Jean Nate.'"
Other incidents took place in the gym basement.
Fromholzer would "follow [Juliann] into the basement and make comments that she gained a little weight," the report states.
It was as she came out of the bathroom, where he would be waiting for her.
"We need to weigh you," Juliann said he told her, before getting handsy. "He would be holding me under my arms on the scale."
She knows now that the priest wasn't committing these grope sessions by chance.
"He knew what he was doing, now that I look back at it. And he knew that we were two dumb kids," she said.
To this day, Juliann can recall feelings associated with the man's hands on her body, but it was also his stink of shame he left with her that she can't shake.
During one of the priest's religious classes around Easter, she said that they were taking turns reading aloud passages of the Passion of the Christ. When it came to Juliann's turn, she recited "the cock crows three times," according to the report.
She told Newsweek he made her repeat the passage. Three times. "Read it again," she said Fromholzer commanded.
"The cock crows three times," she said.
"Read it again."
By this point, boys in the class began giggling. But Juliann was not in on the joke.
"As we were leaving, he was standing at the door, and he leaned over and said, 'Do you know what a cock is?'"
"It's a chicken," Juliann said she innocently told her teacher.
The ruse hurt.
"I did not know that was slang," she acknowledged. "Nobody said the word, 'penis.'"
"You just knew that boys were different than girls."
Every year, Juliann struggles whenever the Passion of the Christ is recited.
"As an adult sitting in Mass on Palm Sunday—every time I hear it, I think, 'That bastard made a fool of me.'"