Vax-Mandate Protesters Gather in Australia to Back Detained Tennis Superstar Novak Djokovic
A small group of vaccine-mandate protesters gathered outside the Australian immigration facility on Thursday, where tennis superstar Novak Djokovic continues to be detained after being refused entry to the country.
The group stationed itself outside of the facility, which is actually a quarantine hotel in Melbourne in which Djokovic, 34, must remain until his deportation. The protesters reportedly numbered only about one dozen people, and the only reported audience were a few reporters and some police officers standing outside the hotel.
9 News Melbourne reporter Lana Murphy captured video of the protesters as they pleaded their case outside the immigration facility. One man with a megaphone, who appeared to be the leader of the group, could be heard speaking in front of the building.
"Don't forget what happened with Donald Trump!" the man appears to be saying. "Don't forget ... the verminous ... bring a change at that time. A swing that I never expected, and the same is going to rain down on this country."
The protests came about in light of controversy after the Serbian-born Djokovic, currently the No. 1-ranked men's tennis player in the world, had his visa revoked by the Victoria state government Wednesday after he arrived in the country to play in the Australian Open. While never specifically stating that he was unvaccinated, Djokovic has continually refused to reveal if he had received the jab, and said in 2020 that he was "opposed to vaccination."
The prior day, Djokovic wrote that he'd been granted a medical exemption to travel Down Under for the tournament, even as the nation continued to struggle with a surge of COVID-19 cases. However, the Australian Border Force later confirmed that he had been ordered to leave the country by Thursday after he "failed to provide appropriate evidence" for his exemption.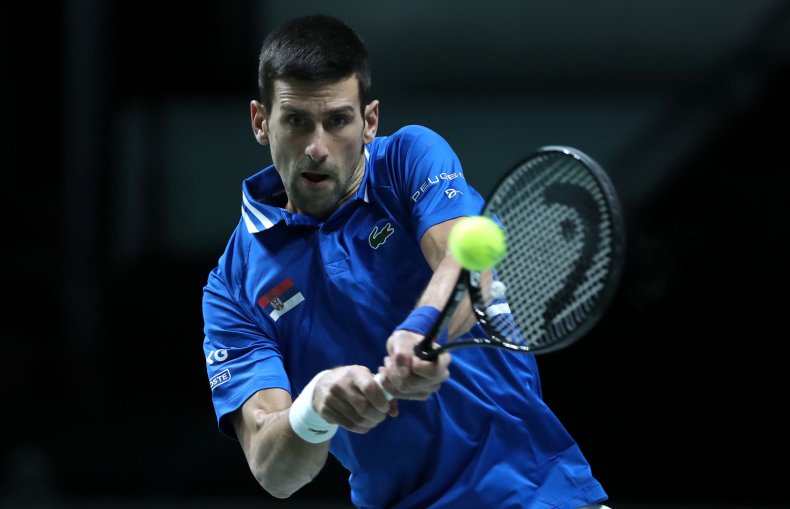 The state government of Victoria has mandated that all participants in the Australian Open, including all players and fans, provide proof of vaccination.
In the days leading up to Djokovic's visa revocation, many Australians expressed displeasure that the tennis star appeared to receive an exemption due to his status as an elite athlete, one who has won the Australian Open nine times.
Among those who spoke out was Australian Prime Minister Scott Morrison, who seemed to agree with the decision to revoke Djokovic's visa.
"Rules are rules, and there are no special cases," Morrison said of Djokovic during a press conference. "That's the policy of the government. That has been our government's strong border protection policies, in particular in relation to the pandemic."
"I also want to stress that ultimately, this is the responsibility of the traveler. It is for the traveler to be able to assert and back up their ability to come into the country consistent with our laws," Morrison continued. "If they don't comply with the rules, then the Australian Border Force will do their job, and they have done their job. This is nothing about any one individual. It is simply a matter of following the rules."
Djokovic has also previously spoken out about his skepticism regarding vaccine mandates, and Morrison stated later on that this may have caused border officials to draw their attention to him.
"When you get people making public statements about what they say they have and what they're going to do and what their claims are, well, they draw significant attention to themselves, and ... they can expect to be asked questions more than others," Morrison argued.
On the flip-side, vaccine-mandate protesters across social media had echoed support for Djokovic as the tennis star worked on appealing his visa cancellation.
However, one person who didn't was another tennis superstar, Rafael Nadal, who stated that "[Djokovic] knew the conditions since a lot of months ago, so he makes his own decision."
Newsweek has reached out to representatives for Djokovic for comment.