How To Make a Vegan Thanksgiving Dinner, From the First Plant-Based Butcher
Are you hosting a vegan Thanksgiving dinner and don't know where to start?
According to Axios, 2021 was America's "most vegan Thanksgiving ever," and with 10 percent of Americans over the age of 18 considering themselves as vegan or vegetarian as of January 2022, the likelihood of one of your guests wanting a plant-based alternative is pretty high.
Newsweek spoke to some television chefs, including the founders of "America's first vegan butcher shop," who shared their best recipes on what to make for vegans on Thanksgiving.
How To Make a Vegan Thanksgiving Turkey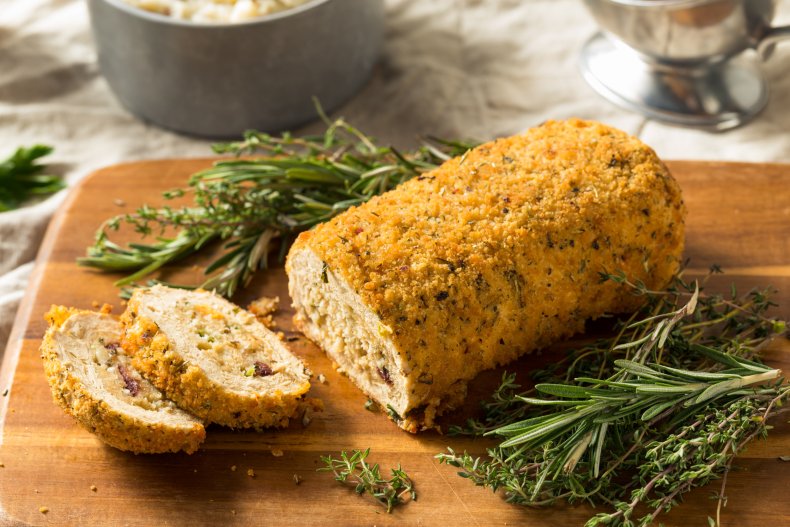 Aubry Walch, who co-founded The Herbivorous Butcher—dubbed to be "America's first vegan butcher shop" providing "deliciously deceiving meat-free meats"—with her brother Kale, told Newsweek: "Vegan turkey is delicious but like its animal counterpart, you can indeed have a National Lampoon's Christmas Vacation [the film starring Chevy Chase that sees family chaos ensues during a Christmas gathering] vegan turkey situation if you don't follow some very simple guidelines."
The vegan sibling duo have appeared on The Drew Barrymore Show and also previously featured on celebrity chef Guy Fieri's Diners, Drive-ins & Dives series on The Food Network television channel.
To get the best results for your vegan turkey, firstly make sure your turkey-free bird is fully thawed prior to baking. "Baking a frozen one could result in a cold center and a tough or burnt outer."
Secondly, be sure to have a mixture ready for basting, as you'll be basting the vegan turkey at the beginning and will also be reapplying the mixture every 20 minutes. "My favorite basting broth is just 2 cups of vegetable broth, 2 tablespoons of soy sauce and one tablespoon of oil," she said.
Third, cover the vegan turkey roast for the first three-quarters of its total time in the oven to "keep the roast nice and moist, and ensure that it doesn't brown too fast," Walch advised. The total time the meat-free turkey stays in the oven depends on its size, so check the label for the appropriate timing.
Finally, you can throw some vegetables into the pan with your roast. "I love to add potatoes, carrots, onions, and Brussel sprouts," she said.
How To Make a Vegan Soup for Thanksgiving Dinner
Walch said: "Side dishes are the heart of a Thanksgiving table. From scalloped potatoes to green bean casserole and Thanksgiving leftover meals such as vegan turkey à la king, there is one ingredient in common, either cream of mushroom soup or cream of chicken soup.
"There are no pre-made canned versions of either of those soups but don't fret, there's a simple way to make it yourself."
Whether you do the mushroom version or the cream of chicken version, both recipes begin with three tablespoons of vegan butter and six tablespoons of all-purpose flour. "If you're making cream of mushroom add 2 cups of chopped mushrooms into the butter and sauté for two to three minutes before you add your flour in," Walch said.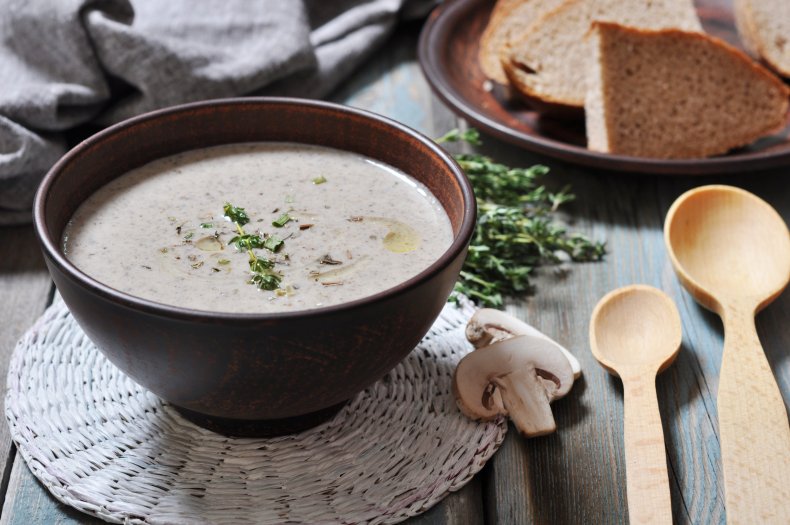 Ingredients
3 tablespoons vegan butter
2 cups sliced mushrooms (if making cream of mushroom only)
6 tablespoons all-purpose flour
½ teaspoon salt
½ teaspoon black pepper
4 cups vegetable or non-chicken broth
1 cup non-dairy half-and-half or unsweetened soy milk
Heat the vegan butter over a medium heat (sauté the mushrooms with the vegan butter if you're making that version of the soup).
Slowly add in flour, salt and pepper while continuously whisking until combined. Let flour brown for one to two minutes while stirring.
Then slowly add in broth, whisking continuously, until the mixture is smooth and is beginning to thicken. Reduce the heat and whisk in the non-dairy milk. Simmer uncovered for 10 minutes, whisking occasionally.
How To Make a Vegan Pumpkin Pie for Thanksgiving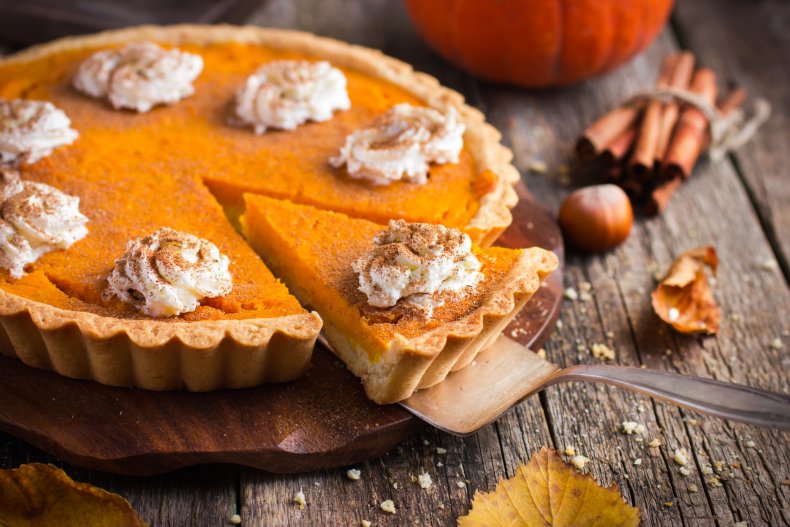 Walch said: "Vegan Thanksgiving desserts signify the holidays for me and one of the first desserts my mom learned to make when I went vegan was a pumpkin pie. Those warm spices, cinnamon, nutmeg, and cloves in the air are everything."
The chef said eggs and dairy are typically the ingredients that need to be swapped out before following the rest of the standard instructions for making pumpkin pie.
"The easiest egg replacements are either ground flax and water or cornstarch and water," said Walch.
The "flax egg equivalent" of one egg is made using a tablespoon of ground flax and three tablespoons of ice-cold water. The cornstarch egg equivalent is made with two tablespoons of cornstarch and three tablespoons of water.
Allow either mixture (flax or cornstarch version) to sit and thicken for three to five minutes, Walch said.
"To replace dairy milk, use your favorite plant milk. Coconut milk or coconut cream from the can works great for pumpkin pie. There are also several types of non-dairy creamers out there now and if you can get your hands on one of those it'll work great as well," she said.
Vegan Side Dishes For Thanksgiving Dinner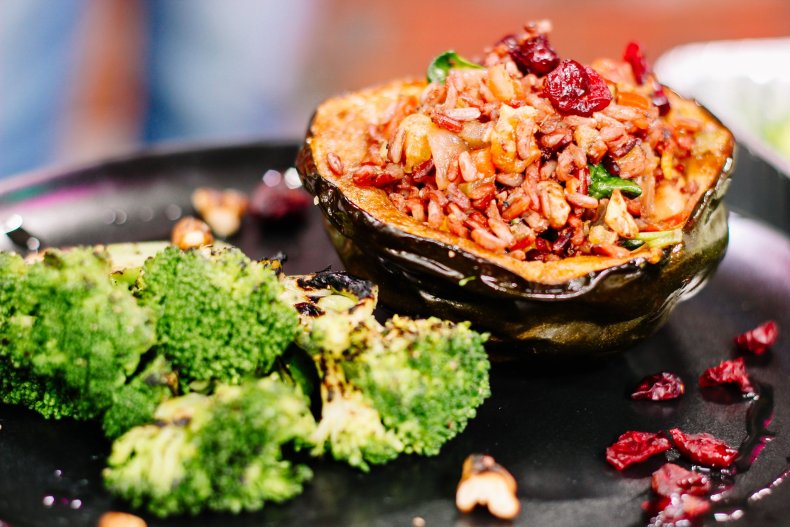 1. Vegan Stuffed Acorn Squash Recipe
The recipe for this stuffed acorn squash dish is from Chef Serge Krikorian from Vibrant Occasions and Cooking with the Kriks on YouTube. He also released a tutorial on the morning show segment The Vine series about this dish on Arkansas' THV 11 television station.
Ingredients:
2 acorn squash
1/2 cup harvest blend rice (Krikorian recommends the Ralston Family Farms brand)
1 teaspoon of vegan bouillon
1/4 cup diced yellow onion
1/4 cup diced celery
1/4 cup diced red bell pepper
1/4 cup diced green bell pepper
1/4 cup frozen sweet whole kernel corn
1 cup fresh spinach
1 teaspoon of minced garlic
2 tablespoons of extra virgin olive oil
1 tablespoon of tomato paste
1/4 cup canned chickpeas
1/4 cup chopped toasted walnuts, divided
1/4 cup craisins, divided
1/4 teaspoon of ground allspice
1/2 teaspoon of ground cumin
1/2 teaspoon of Kosher salt
1/4 teaspoon of course ground black pepper
Method:
Preheat the oven at 325 degrees Fahrenheit. Cut the acorn squash in half from stem to bottom and remove the seeds with a spoon. Rub olive oil onto the acorn squash and place it in the oven with the skin side up for 25 to 30 minutes, until it starts wilting on the outside. Then remove it from the oven and season it with a little salt and pepper to taste.
Meanwhile, combine the rice with 2.25 cups of cold water in a small pot. Add the vegan bouillon and bring to a boil over medium-high heat. Reduce the heat and let it simmer until all the liquid is absorbed and the rice is "al dente" (around 20 to 25 minutes).
Add the olive oil to a skillet on a stove on medium heat. Sauté the onions, red and green bell peppers and celery until the onions are almost translucent and the remaining vegetables are soft. This generally takes three to four minutes.
Add the corn, chickpeas, and fresh spinach and sauté it for another three to four minutes. Add the garlic, tomato paste and the remaining seasoning. Sauté this mix for another couple of minutes. Add the rice, ¾ of the toasted walnuts, and ¾ of the craisins.
Stuff the rice mixture into the acorn squash. You can garnish the acorn squash with cucumber aioli using the remaining walnuts and craisins (see the cucumber aioli recipe below).
2. Cucumber Aioli
Ingredients:
Half of an English cucumber, seeded
The juice of half a lemon
2 cloves of garlic, minced
1 tablespoon of extra virgin olive oil
½ cup vegan mayonnaise
1 tablespoon fresh cilantro, chopped
½ teaspoon of Kosher salt
½ teaspoon of course ground black pepper
Method:
Put all of the above ingredients (except for the mayonnaise) in a blender and blend it until it's well combined. Fold the mayonnaise into the mixture and refrigerate it for 15 minutes before serving.
3. Vegan Macaroni and Cheese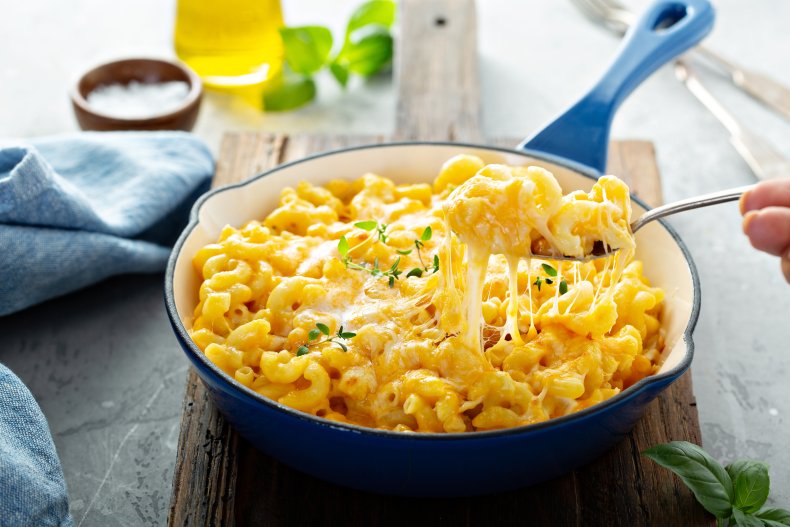 Chef Sasha Raj has been a staple on various television programs in Phoenix. Raj's vegan macaroni and cheese dish below was reportedly given five stars from the toughest critics—elementary school students. The recipe was developed through her partnership with Southwest Foodservice Excellence, an Arizona based food service provider specializing in K-12 grade nutrition.
Ingredients:
16 ounces of pasta (cooked according to the package instructions)
2 cups chopped potato
1 cup chopped carrot
1 cup chopped onion
1 cups chopped butternut squash
2 tablespoon of Dijon mustard
2 tablespoon of agave nectar
1/4 to 1/3 cup of nutritional yeast
1 tablespoon of garlic powder
1 tablespoon of onion powder
1 teaspoon of smoked paprika
Salt and pepper, adjust to taste
3 cups of full fat coconut milk (can also use oat milk or silken tofu instead)
2 to 5 cups of water from boiled veggies
Method:
Boil the veggies until fork tender, set aside and cool. Reserve 5 cups of boiling liquid.
Puree the vegetables, 2 cups of water, and 3 cups of coconut fat. Add in the spices, mustard, and agave as well as additional boiling water, if needed to thin. Puree the mixture until creamy and season it to taste (for extra creaminess, add in a puree of three cups of soaked raw cashew or sunflower seed to the mixture). Combine this with the macaroni pasta and serve.
Raj said: "This base works really well when paired with a toppings bar of vegetables or chili; alternatively, you can top it with breadcrumbs and bake until it's crunchy." But if you use breadcrumbs, be sure to make the puree a bit thinner, Raj noted. "This technique is greatly enhanced by using a roux [a mixture of flour and fat] as well."
What Are the Health Benefits of a Vegan Diet?
Newsweek previously researched the amount of calories in a traditional Thanksgiving dinner versus fast food chains, such as McDonald's, Wendy's and Domino's.
Robin Applebaum from the Calorie Control Council previously told Newsweek that an average Thanksgiving meal can contain approximately a whopping 3,000 calories. To put this in perspective, to burn 3,000 calories you would need to run for four hours, swim for 4.2 hours, or cycle for 3.75 hours straight.
One of the main benefits of a more plant-based diet is the increase in fiber. Getting more than 25g of fiber per day significantly reduces the risk of heart attacks, strokes, and type 2 diabetes, according to a major review in The Lancet, in 2019.
A 2015 study of different dietary patterns showed that vegans had an average daily fiber intake of 41g, compared with vegetarians, flexitarians and pescatarians at 34g. Omnivores get a mere 27g of fiber a day, on average.
For one man, going 80 percent vegan completely changed his life. John Junior, 34, from England, previously told Newsweek: "I was 30 stone in 2018 and I tried all sorts of stuff to lose weight. I had some veggie meals, along with meat and dairy, but I couldn't shift my weight, even though I was on a calorie deficit. It was really hard.
"I was depressed and had no motivation or energy. Even if I was doing something exciting, I would be fatigued. I had a lot of anxiety, and I used to get migraines every day.
"When I switched to more vegan food, the weight literally dropped off me: I lost almost 100 pounds in two years, which I find crazy.
"But I also feel so much better within myself. Within three months, I felt lighter and more alert. When I used to eat meat, I felt heavy afterwards. But, after changing my diet, I had more energy and felt less fatigued. It might sound mad, but I felt human. When I breathed in the air, it felt cleaner."
Do you have any amazing vegan recipes you want to share? Send them to life@newsweek.com with some details and they could appear in Newsweek.