4 Vegan and Vegetarian Thanksgiving Recipes To Add to Your Table This Year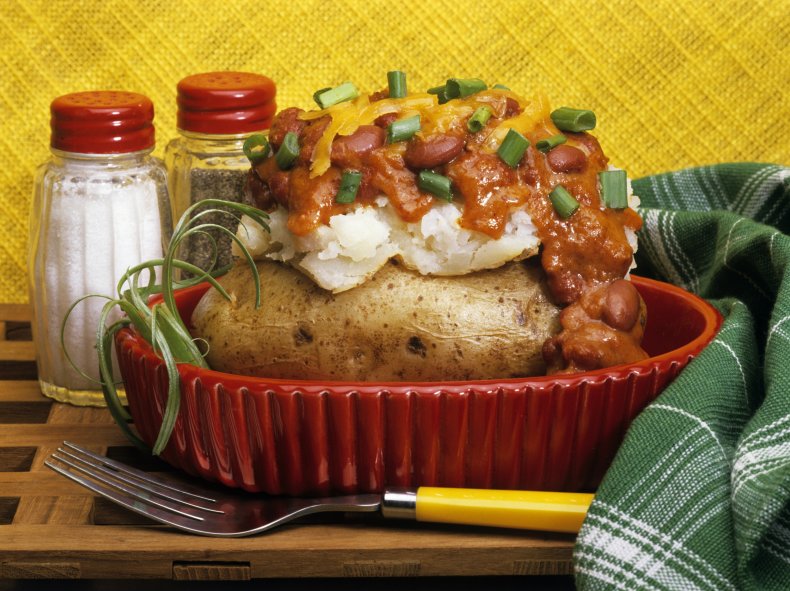 Although many of us cannot imagine Thanksgiving without meat and dairy products, there are plenty of vegetarian and vegan recipes available online for the holiday season.
Veggie Pot Pie (Vegetarian)
This recipe comes from All Recipes.
Ingredients:
2 tablespoons olive oil
1 onion, chopped
8 ounces mushrooms
1 clove garlic, minced
2 large carrots, diced
2 potatoes, peeled and diced
2 stalks celery, sliced 1/4 inch wide
2 cups cauliflower florets
1 cup fresh green beans, trimmed and snapped into 1/2 inch pieces
3 cups vegetable broth
1 teaspoon kosher salt
1 teaspoon ground black pepper
2 tablespoons cornstarch
2 tablespoons soy sauce
1 recipe pastry for double-crust pie
Steps:
Preheat oven to 425 degrees Fahrenheit (220 degrees Celsius).
Heat oil in a large skillet or saucepan. Cook onions, mushrooms, and garlic in oil for 3 to 5 minutes, stirring frequently. Stir in carrots, potatoes, and celery. Stir in cauliflower, green beans, and vegetable broth. Bring to a boil, then turn heat down to a simmer. Cook until vegetables are barely tender, about 5 minutes. Season with salt and pepper.
In a small bowl, mix the cornstarch, soy sauce, and 1/4 cup water until cornstarch is completely dissolved. Stir into vegetables, and cook until sauce thickens, about 3 minutes.
Roll out 1/2 of the dough to line an 11x7 inch baking dish. Pour the filling into the pastry lined dish. Roll out remaining dough, arrange over the filling, and seal and flute the edges.
Bake in preheated oven for 30 minutes, or until the crust is brown.
Falafel Mushroom Loaf (Vegan)
This meat-free meatloaf alternative was published on the blog "Epicurious."
Ingredients:
Nonstick vegetable cooking spray
2 1/2 pounds mixed wild mushrooms, trimmed
1 medium onion, coarsely chopped
1 garlic clove, peeled, smashed
1 teaspoon ground coriander
1 teaspoon ground cumin
1/2 teaspoon ground cardamom
2 tablespoons vegetable oil, divided
1 (15-ounce) can chickpeas, rinsed, drained
1 large egg
3/4 cup chickpea flour
3/4 cup coarsely chopped cilantro
1/2 cup coarsely chopped parsley
2 teaspoons kosher salt
1 garlic clove, peeled
1/2 cup tahini
5 tablespoons fresh lemon juice (from about 2 lemons)
1 teaspoon kosher salt
1 pomegranate, seeds reserved
2 tablespoons coarsely chopped min
2 tablespoons coarsely chopped parsley
Steps:
Preheat oven to 350 degrees Fahrenheit. Lightly coat a 8 1/2" x 4 1/2" x 2 1/2" loaf pan with cooking spray.
Working in batches, pulse mushrooms, onion, garlic, coriander, cumin, and cardamom in a food processor, scraping down sides as needed, until coarsely chopped, 30-45 seconds; transfer to a large bowl.
Heat oil in a large skillet over medium-high. Add half of the mushroom mixture and cook, stirring occasionally, until the edges begin to crisp, about 5 minutes. Transfer to another large bowl; repeat with remaining mushroom mixture.
Meanwhile, pulse chickpeas in food processor until coarsely chopped; add to bowl with cooked mushroom mixture. Add egg, chickpea flour, cilantro, parsley, and salt and gently stir to combine, being careful not to mash mixture too much. Spoon mixture into prepared loaf pan and bake until edges are browned and center is completely set, 75–90 minutes. Transfer pan to a wire rack and let cool 30 minutes, then invert onto a cutting board.
While meatloaf cools, purée garlic, tahini, lemon juice, salt, and 1/2 cup water in food processor until very smooth.
Slice meatloaf into 2" pieces and transfer to a platter. Top with Tahini Sauce, pomegranate seeds, mint, and parsley.
Loaf can be made 3 days ahead; Tahini Sauce can be made 1 day ahead. Keep both chilled.
Pumpkin Butter (Vegan)
This dessert spread is based on a recipe from Skinny Taste.
Ingredients:
3 1/2 cups or 1 (29-ounce) can pumpkin puree (not pumpkin pie filling)
2/3-1 cup packed brown sugar, muscovado sugar or coconut sugar
3/4 cup apple cider or juice
1/4 cup maple syrup (optional)
2 tsp vanilla extract
2-3 cinnamon sticks
1-2 tsp pumpkin pie spice, to taste
Steps:
Combine pureed pumpkin, vanilla, apple juice, spices, cinnamon sticks, sugar and maple syrup (if using) in a large saucepan; stir well.
Bring mixture to a boil. Reduce heat, and simmer for 30-40 minutes or until thickened. Stir frequently.
Adjust spices to your taste.
Stuffed Mushrooms (Vegan)
This comes from the blog, "High Vibes Lifestyle."
Ingredients:
30 white Mushrooms
1 small bunch of basil (or small package)
3 large cloves of garlic
¾ c Sun dried Tomatoes
1 8oz. tub vegan cream cheese
pinch of salt
Baking sheet with sides or baking dish
Steps:
Preheat oven to 450 degrees.

Take basil leaves off of stems and add them to food processor or blender. Process until basil is minced. Set aside in bowl. Repeat the process with the sundried tomatoes, and the garlic. Add all ingredients back into food processor, with the cream cheese, and pulse quickly until mixture is blended. Alternatively, mix by hand in a bowl until cream cheese has a whipped texture and mixture is blended.

Spoon mixture into mushroom caps and place on a baking sheet with sides to prevent spills in your oven.

Bake for 25 minutes. Mushrooms and filling will be browned, and there will be some juice in your pan when mushrooms are done. Cool slightly before serving. Serve warm.