Who Is Cilia Flores? Venezuelan Strongman Maduro's Wife Sanctioned by U.S. Department of Treasury
The U.S. Department of the Treasury updated the Office of Foreign Assets Control's specially designated nationals list on Tuesday, slapping new sanctions on three Venezuelan companies and six officials—including first lady Cilia Flores.
The OFAC's specially designated nationals list contains "individuals, groups, and entities, such as terrorists and narcotics traffickers designated under programs that are not country-specific." Sanctions include blocking individuals' assets and a ban on U.S. citizens from dealing with people added to the list.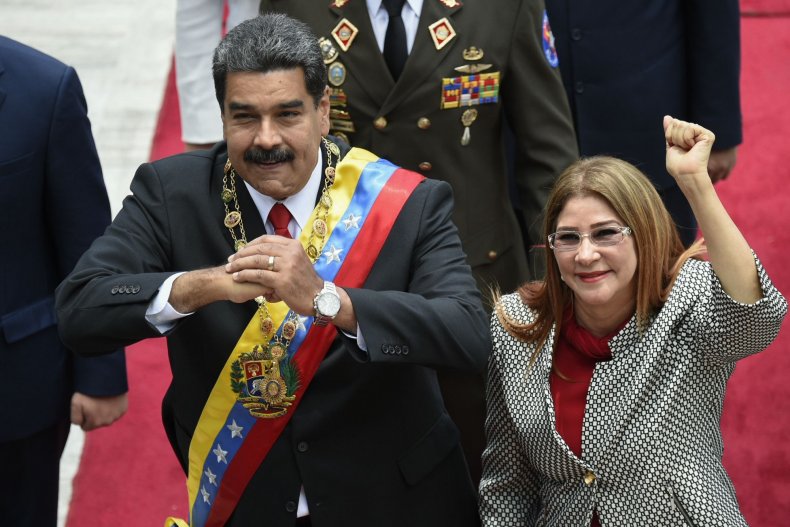 "President Maduro relies on his inner circle to maintain his grip on power, as his regime systematically plunders what remains of Venezuela's wealth. We are continuing to designate loyalists who enable Maduro to solidify his hold on the military and the government while the Venezuelan people suffer," Secretary of the Treasury Steven T. Mnuchin said in a statement. "Treasury will continue to impose a financial toll on those responsible for Venezuela's tragic decline, and the networks and front-men they use to mask their illicit wealth."
According to Mnuchin, OFAC has targeted "a key front man for designated President of Venezuela's National Constituent Assembly (ANC) Diosdado Cabello Rondon, and identified as blocked property a $20 million U.S.-based private jet as belonging to Cabello's front man."
In response, President Nicolás Maduro said that "I've never seen anything like this." During an event, he added: "If you want to attack me, attack me first but don't mess with Cilia, don't mess with my family, don't be cowards," according to BBC Mundo.
This is not the first time the Treasury has imposed sanctions on Venezuelan officials. High-profile members of the Maduro administration such as former Executive Vice President Tarek El Aissami and Cabello, "as well as front-men like Rafael Sarria whose relative anonymity is used to the benefit of senior officials," have been added, the statement said. The department also blames the Maduro administration for Venezuela's socioeconomic woes, citing that "three million Venezuelans will have departed Venezuela for neighboring nations to escape widespread poverty and its attendant hardships."
Known as the "First Revolutionary Combatant," Flores, 61, is seen as Venezuela's most powerful woman, having risen from humble beginnings in the small town of Tinaquillo. An accomplished public servant in her own right as a former attorney general, she became a staunch defender of the late Hugo Chávez's policies. After Chávez's failed coup attempt in 1992 against then-President Carlos Andrés Perez, she offered her services to Chávez at a time when he was incarcerated.
Since then, Flores and the deceased leader became friends. Flores met Maduro through Chávez, and married him more than 20 years later, in June 2013, according to Vanity Fair. Prior to marrying Maduro, she had three children with Walter Gavidia, a former member of Chávez's security forces.
In 2006, she became the first woman to lead Venezuela's legislative assembly. However, she has been accused of nepotism after nearly 40 of her relatives assumed several leading public service positions, Vanity Fair added.
In May, Canada also slapped sanctions on Flores, alongside 106 individuals linked to the Maduro administration. The order, which froze the officials' assets and bars them from living in Canada, was in response to "illegitimate and anti-democratic elections held in Venezuela on May 20."
Last week, Flores was recently seen with her husband enjoying a lavish meal at internet sensation Salt Bae's restaurant during Maduro's stopover in Istanbul. As Venezuela's first couple were gorging on Salt Bae's steaks, their feast spurred harsh criticism among Venezuelans at home and abroad.
This article contains a statement from President Nicolás Maduro