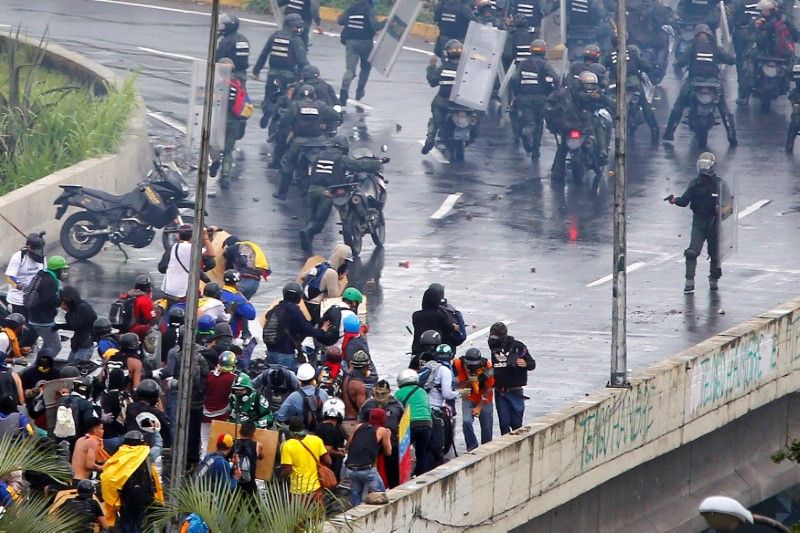 Venezuelan opposition activists battled security forces in Caracas on Monday at one of the largest demonstrations in recent weeks, aiming to dispel doubts about the movement's stamina after over two months of almost daily street clashes.
A teenager died of a gunshot wound in the latest clashes and several others were injured, bringing the death toll since April to at least 73.
About 10,000 protesters filled the streets and arching flyovers of the city's wealthy east. Faced with water cannons and volleys of teargas, a deep line of protesters threw rocks, petrol bombs and powerful fireworks from behind crude wooden shields.
"Day 80 of the resistance, and the people are not tired. Today, it is clear to anybody who was worried that the street had died down that it is not the case," Freddy Guevara, a lawmaker from the opposition Popular Will party, said at the protest.
A Reuters photo showed a member of the National Guard pointing what appeared to be a pistol toward a crowd of protesters. In a separate video showing what looked like the same scene, an official appears to be firing a pistol.
In an apparent reference to the incident, Interior Minister Nestor Reverol described an "improper and disproportionate use of force," saying on Twitter that several people had been injured and one killed. He said officers involved were being investigated, but also condemned the violence of the protesters.
The dead protester was named as Fabian Urbina, 17, shot in the chest, the local mayor said, adding at least 27 others were injured.
The National Guard is a wing of the military tasked with public order. The head of the guard on Sunday said his men would never use "weapons of war" against protesters.
"You have not seen anything, squalid ones," said Diosdado Cabello, a top leader of the Socialist Party, speaking at a separate pro-government protest earlier in the day, and using a popular epithet for the government's opponents. "What you have seen is just a little scratch."
The opposition accuses President Nicolas Maduro of dragging the oil-exporting country toward dictatorship by delaying elections, jailing opposition activists and pressing to overhaul the constitution.
Maduro contends the protests are part of a foreign plot to topple his government, and points to arson attacks on public buildings as evidence of what he calls terrorism.
Anti-government activists' anger has been fanned by shortages of food and medicines which have coincided with a spike in infant malnutrition and mortality.
"We don't have food, we don't have healthcare, we don't have a future," said a protester, who declined to give his name, speaking through a gas mask. "How is it possible that at 19 years old, I have to be here fighting?"
A young musician nearby played the national anthem on a clarinet, while tear gas grenades and rocks whistled past her. Green flashes and explosions echoed from apartment blocks, and two protesters flung themselves at armored vehicles, hitting the windows with clubs.
"We are here to show that we are not terrorists, we are only here to fight for our rights," said the musician, who gave her name as Hazel.
The protests began in April when the Supreme Court tried to usurp the powers of the opposition-controlled Congress.
Some marches have been smaller in recent weeks as violence has flared. But Monday's effort, matched by protests in several other parts of the country, demonstrated the movement still has momentum.
The opposition seeks to halt Maduro's plan to hold July 30 elections for a special assembly to rewrite the constitution, a move the opposition says is aimed at undermining democracy.
"We want to put pressure on the government, it cannot impose a new constitution," said telecoms engineer Luis Serrano, 22, resting at a medical station near the protest.