Venezuela Earthquake: 7.0 Quake Shakes Trinidad and Tobago, Grenada, Nearby Regions
UPDATE: 6:55 p.m. EDT—Nestor Luis Reverol, Venezuela's interior minister, wrote on Twitter that first responders were ready to "address any emergency" following Tuesday's earthquake.
It was not immediately clear whether there were any significant damage or fatalities.
UPDATE: 6:36 p.m. EDT—The Pacific Tsunami Warning Center revised its forecast following an earthquake north of Venezuela on Tuesday, saying there was no tsunami threat from the quake.
"Minor sea level fluctuations up to 30 cm above and below the normal tide may occur in coastal areas near the earthquake over the next few hours and continuing for up to several hours," the PTWC said.
The center previously said some waves were possible.
UPDATE: 6:18 p.m. EDT—The Pacific Tsunami Warning Center said based on preliminary information about the earthquake, "hazardous tsunami waves are possible for coasts located within 300 km of the earthquake epicenter."
The PTWC said waves were possible along the coasts of Grenada, Trinidad and Tobago and Venezuela. The center urged people located in threatened coastal areas to watch for information from national and local authorities.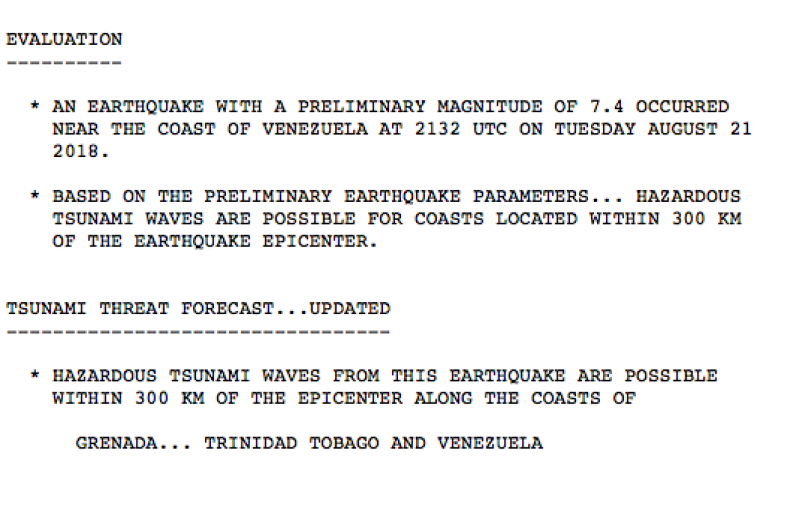 UPDATE: 5:56 p.m. EDT—The USGS revised the strength of Tuesday's earthquake from a 7.0 magnitude to a 7.3 magnitude. Buildings were evacuated in Caracas, the Associated Press reported.
Original story:
A 7.0 magnitude earthquake hit near Venezuela early Tuesday evening, the United States Geological Survey confirmed. The quake hit about 30 miles from Guiria, Sucre, Venezuela, at 5:31 EDT.
People reported feeling shaking in Grenada as well as Trinidad and Tobago and other places.
It was unclear whether there was any significant damage or injuries as a result of Tuesday's quake.
This is a developing story and will be updated as more information becomes available.