Venezuela Economic Crisis Could Cost Socialists in Election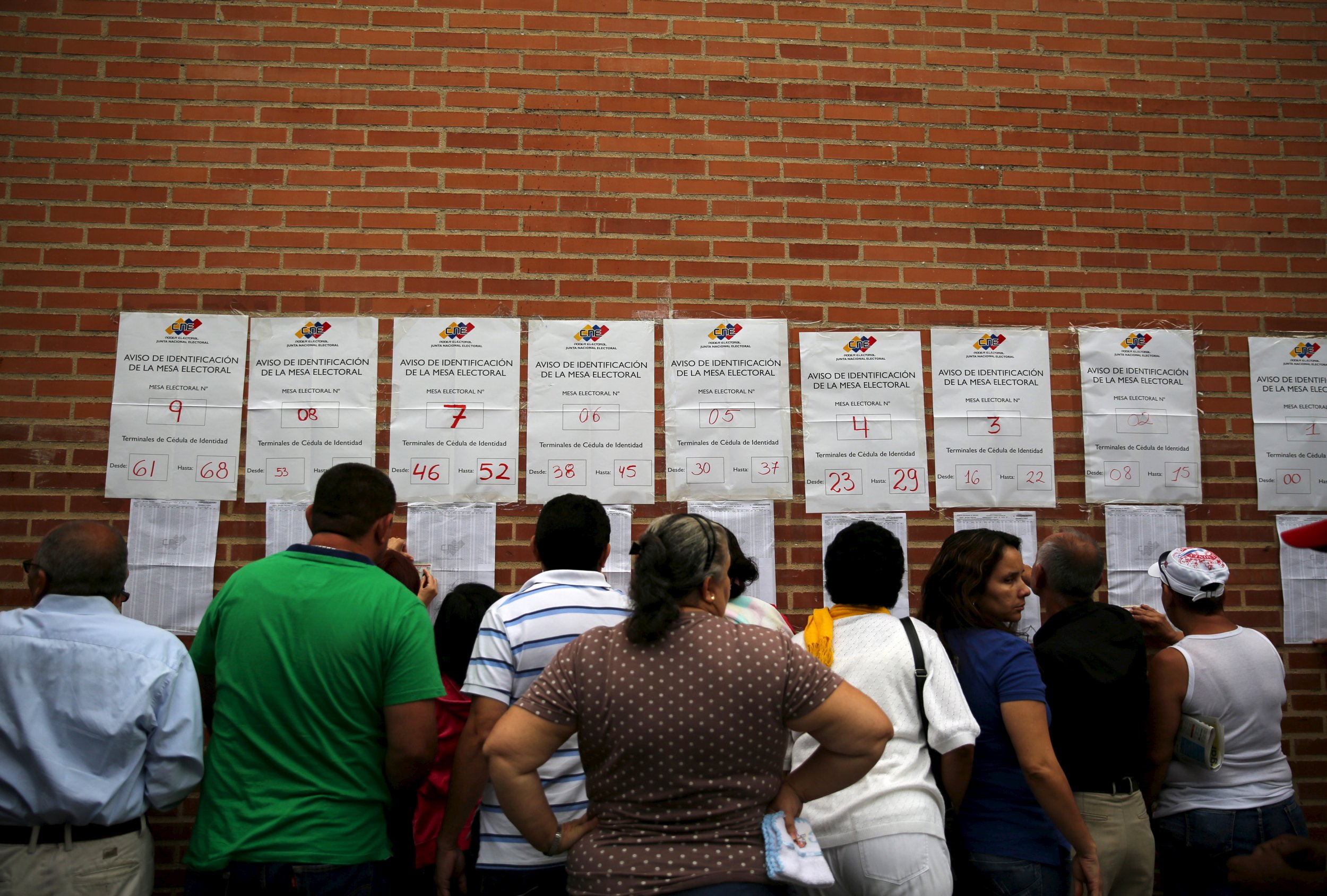 CARACAS (Reuters) - Venezuelans voted for a new legislature on Sunday in an election that may punish the ruling Socialists for a brutal economic crisis and give the opposition a long-sought platform to challenge President Nicolas Maduro.
Chronic product shortages and the world's highest inflation could hand "Chavismo" a first loss in the National Assembly since the movement's charismatic late founder, Hugo Chavez, took office in 1999, polls show.
Winning a majority of the 167 seats would not give the opposition power to overhaul the dysfunctional state-led economy. But it would shatter the Socialist Party's aura of invincibility and could embolden foes to seek a recall of Maduro in 2016.
It would also deal another blow to Latin America's left after Argentina swung to the right in last month's presidential election.
"Our time has arrived," said Diana Rodriguez, 37, a teacher and mother of two who was voting in affluent east Caracas while dressed in white in solidarity with imprisoned opposition leader Leopoldo Lopez and other activists in jail.
"At other times, we went to vote with doubts and pessimism, if I'm honest. This time, everyone is totally clear. This country is no longer 'Chavista.' Chavez died and no-one can stand the man who's replaced him and sunk our beautiful country."
A former bus driver and foreign minister, Maduro, 53, ran a feisty campaign, appearing at rallies with pro-government candidates to a backdrop of Afro-Caribbean drumming as red-shirted supporters wave flags.
Invoking Chavez's name at every turn, Maduro urged his supporters out on Sunday with tweets showing images of his former boss and mentor. "Chavez's people, let's vote for a perfect victory," he exhorted.
In a few areas, government supporters woke voters up with horns and fireworks before sunlight. More than 163,000 soldiers were guarding voting centers around the nation, with long queues of hundreds and more seen from dawn.
Latest polls showed Maduro's popularity had bounced towards the end of the campaign, leading some analysts to predict the opposition's victory would be narrower than first thought.
One of the government's central messages—that the opposition plans to dismantle popular Chavez-era welfare programs such as subsidized food—has hit home with some.
"I will vote as I always have done because I have a lot to thank this government for," said Isabel Guerra, a voter in the central mining city of Puerto Ordaz.
RESULTS DUE IN EVENING
Political analysts point out that the Socialist Party benefits from a geographic distribution of seats that favors historically pro-government rural areas over cities.
That could mean the overall vote will not be precisely reflected in the number of seats won by each side.
The practical impact of a potential opposition victory would depend on how large a majority it wins.
Taking two thirds of the seats would allow Maduro's adversaries to sack cabinet ministers as well as name directors of the National Electoral Council, which critics accuse of routinely favoring the ruling party.
With a simple majority, lawmakers could pass an amnesty law to seek the release of jailed politicians such as Lopez, who was arrested for leading 2014 anti-government protests.
They could also open investigations of state agencies, interrogate cabinet ministers and pressure for the publication of economic indicators such as inflation that have been kept under wraps as the economy has unraveled.
Last year's collapse in oil markets has left the OPEC member struggling to pay its bills, while rigid currency and price control systems have spurred product shortages.
Supermarket lines that snake across several blocks are a common sight. Black market re-sellers provide everything from dollars to eggs for those who can afford them.
The election will have no immediate impact on Maduro's term in office, which expires at the start of 2019.
But the opposition can seek a recall referendum next year by collecting about 4 million signatures.
Polls close at 6:00 p.m. local time (5:30 p.m. EST), with results expected around 10:00 p.m. local time.