Billionaire Blackwater Founder Wants His Mercenaries in Venezuela to Topple Maduro: Report
Erik Prince, the billionaire founder of the infamous Blackwater security firm, has reportedly lobbied for thousands of his mercenaries to be deployed to Venezuela to break the stalemate that has settled between President Nicolás Maduro and his U.S.-backed rival, Juan Guaidó.
According to a Reuters report, Prince has been meeting with influential supporters of President Donald Trump and wealthy Venezuelans living in exile to build support for his plan, which would see up to 5,000 Spanish-speaking troops sent to the beleaguered South American nation at a cost of around $40 million.
According to two sources with knowledge of Prince's pitch, the operation would begin with intelligence gathering and later develop into combat and stabilization missions. The idea is to create a "dynamic event" that would break the stalemate between the two opposing camps, one source told Reuters.
In January, Guaidó—the 35-year-old leader of the National Assembly, controlled by Maduro's opponents—declared Maduro's regime illegitimate and used a clause in the national constitution to declare himself interim president until new elections could be held. Guaidó and his supporters argued that Maduro's victory in last year's presidential election was invalid, citing opposition boycotts, voter suppression and electoral irregularities.
The U.S. and a host of South American and European nations have recognized Guaidó as the legitimate president and called on Maduro to cede power. But with the backing of the country's powerful military as well as continued support from Russia, China and Cuba—among others—the leftist firebrand has remained in office.
Despite the efforts of President Donald Trump's administration, the military has refused to abandon the dictator. According to Reuters, Prince now believes it is time to turn to private contractors to topple Maduro.
One of the sources said Prince's mercenaries would consist of "Peruvians, Ecuadoreans, Colombians, Spanish speakers," as the presence of such troops would be more acceptable than Americans. Guaido's international supporters have been accused of engaging in imperialism in their efforts to force Maduro from office.
One source said that Prince had held meetings on the matter as recently as mid-April, though Guaidó's spokesperson, Edward Rodriguez, told Reuters the opposition had not spoken with him. An anonymous source said to be "familiar" with the White House's thinking added that Trump's administration would not support a plan of this nature.
Lital Leshem, the investor relations director at Prince's private equity firm, Frontier Resource Group, had previously confirmed that Prince was working on a solution to the crisis in Venezuela, "just as he has a solution for many other places."
However, spokesperson Marc Cohen told Newsweek that Prince "is not and has no plans to operate or implement an operation in Venezuela."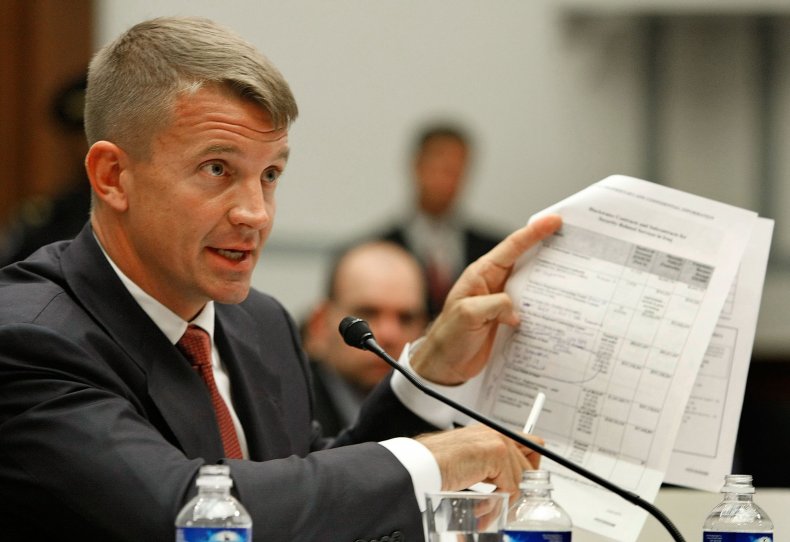 This article has been updated to include a statement from Frontier Resource Group.
Correction: An earlier version of this story mistakenly said Prince reportedly planned to begin with combat operations. He reportedly planned to begin with intelligence gathering.