Venezuela Blames Trump as It Nears Possible Bankruptcy Under Maduro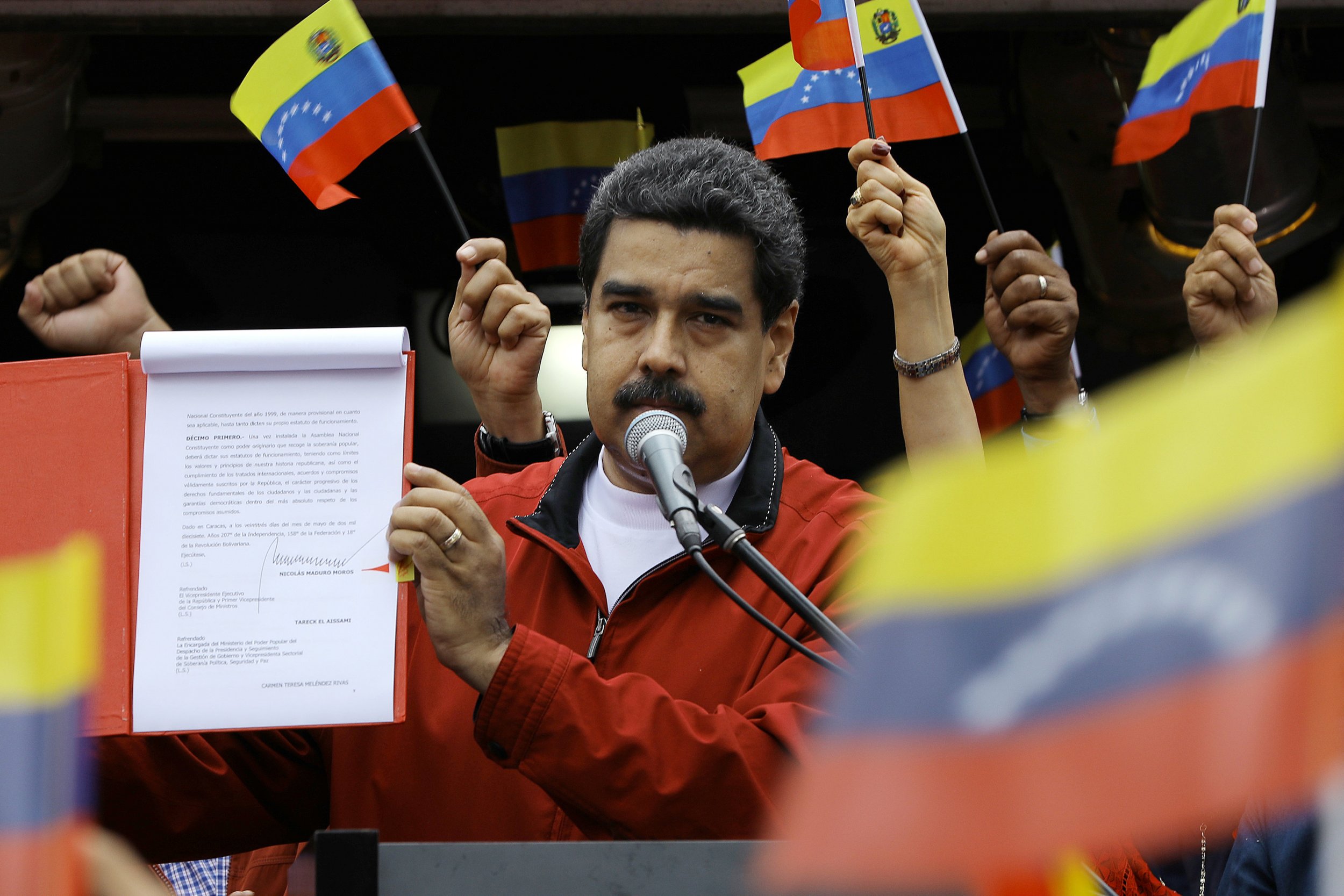 Venezuela could be days away from a financial collapse if its oil empire falls behind on crucial debt payments—a result that would further accelerate the nation's chaos under President Nicolás Maduro.
But Maduro's government is already blaming someone else for the potential crisis: President Donald Trump.
"We are starting an era where the dictatorship of the 'dollar boss' will not be imposed and we're ridding ourselves from this supposed threat of Trump," Venezuelan Vice President Tareck El Aissami said on state-run TV in September.
Trump levied sanctions over the summer on Venezuela as Maduro tightened his grip on the country and effectively turned it into an authoritarian regime. The Venezuelan strongman's government is now blaming Trump for a debt crisis that has hovered over the nation for years.
But Trump and Congress said Maduro is getting exactly what he deserves for his violent rule.
"They do not have the economy, they've made terrible economic decisions," Senator Marco Rubio told CNBC Tuesday. "Their moment is coming."
It could be coming within the next week.
Venezuela's state-run oil company Petróleos de Venezuela (PDVSA) faces a $984 million debt deadline on Friday. Reports this week said the company has made good on two missed interest payments and earmarked money ahead of the deadline.
But PDVSA also has to ensure a $1.2 billion maturing bond payment by November 2, or else lose control of the U.S.-based oil company Citgo.
Fears of Venezuela going bankrupt have spread since at least 2014, when plummeting oil prices were taking a toll on Venezuela's economy. In recent months, PDVSA has struggled to make payments on multimillion-dollar bonds. Furthermore, rating agency Fitch downgraded Venezuela's credit to "CC"— two ratings above default— in late August. The agency followed in the footsteps of Standard & Poor, which rated Venezuela's rating to "junk" in July.
Despite the effects of the sanctions, experts believe that PDVSA will be able to pay its bonds because such restrictions provide a greater incentive for Maduro to keep investors happy if he wants to remain in office, according to Bloomberg. Rafael Ramirez, former head of PDVSA, told the publication the company has "all the resources to honor its liabilities." He said the company was not in a position to fail.
But such payment in the coming days will come at the expense of money allotted to purchase food and other basic needs for the nation's impoverished citizens.
"[The Maduro administration] is signing its death warrant if they decide to honor its bonds and avoid default instead of feeding their own people," Roger F. Noriega, senior fellow at the American Enterprise Institute and former U.S. ambassador to the Organization of American States, told Newsweek. "They want to use every trick in the book to scrape off money. What this means is a drastic measure because the scarcity of goods will be greater, and it puts them on a slippery slope."