Nicolas Maduro Says Venezuelans in Florida Were Involved in Alleged Assassination Plot
Venezuelan President Nicolas Maduro blamed Colombia and Venezuelan immigrants living in Florida for participating in Saturday's drone strike, which he alleged was an assassination attempt.
"I want to explain to the government of the United States and the government of Colombia in detail all the evidence that leads us to accomplices and those directly responsible living in the state of Florida," the president said in a television address on Tuesday.
Although Maduro did not specify who in Florida he was blaming for the attack, approximately half of America's 225,000 Venezuelan-born immigrants lived in Florida in 2016. This number has increased since, as hundreds of thousands flee from the deteriorating economic situation in Venezuela.
Maduro quickly launched retaliatory measures to the alleged assassination attempt.
On Wednesday, reports indicated that Venezuela's constituent assembly is launching proceedings to try opposition lawmakers for involvement in the reported drone strike. Constituent assembly chief Diosdado Cabello initiated a session to strip lawmakers of their parliamentary legal immunity, which would allow them to be charged for the weekend's alleged assassination attempt.
Maduro accused exiled opposition leader Julio Borges and lawmaker Juan Requesens of planning the attack. While making the accusation, the president referred to Requesens, an opposition member of the Justice First party, as one of his "craziest and most psychopathic" opponents and said "several of the declarations indicated Julio Borges. The investigations point to him."
Borges rebuffed the allegations on Twitter, and said that no attack occurred. "Neither the country nor the world believes you when it comes to this farce of an attack, we all know that it was staged to persecute and repress those of us who oppose your dictatorship," he said.
Requesens and his sister Rafaela, a student leader, were subsequently arrested in their apartment, the Justice First party reported. Rafaela was released.
The detainment of Requesens followed the detentions on Sunday of six people for alleged involvement in the reported attack.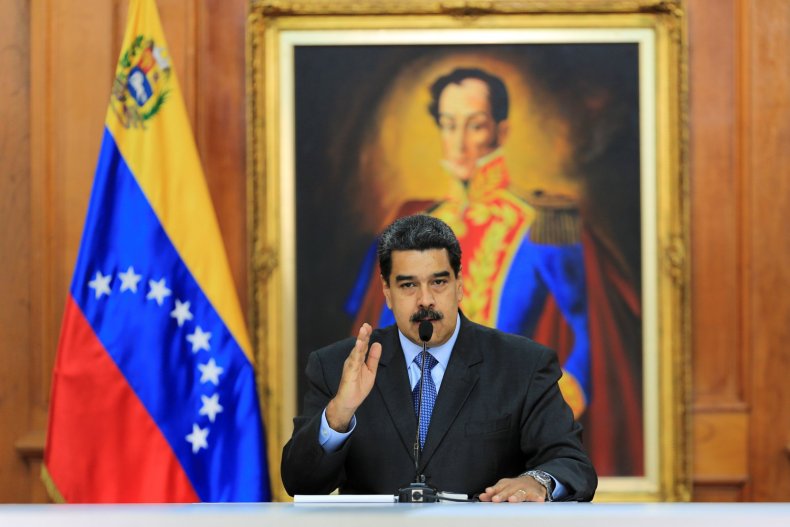 Maduro has faced protracted protests during his presidency, as Venezuela's economy has collapsed. The country's inflation reached 82,766 percent over the last 12 months ending in July, Reuters reported. The International Monetary Fund said that the country's consumer prices would increase1 million percent this year.
Widespread protests demanding that Maduro step down have occurred since 2016. State security forces have arbitrarily killed hundreds of people and opened fire on protesters.
Foreign governments and human rights monitors have criticized the deterioration of civil liberties in the country as Maduro has consolidated his power.
"The government has been repressing dissent through often-violent crackdowns on street protests, jailing opponents, and prosecuting civilians in military courts. It has also stripped power from the opposition-led legislature," Human Rights Watch wrote in its 2018 World Report. "Due to severe shortages of medicines, medical supplies, and food, many Venezuelans cannot adequately feed their families or access the most basic health care. In response to the human rights and humanitarian crisis, hundreds of thousands of Venezuelans are fleeing the country."