Venezuela Jail Riot: Dozens Killed After Fire Engulfs Facility
A fire has ripped through a jail in Venezuela, killing dozens of prisoners following an attempted breakout.
At least 68 people died at the police command and detention center in the city of Valencia, Carabobo state. A number of people reportedly burned to death during the blaze, which is said to have started after inmates set mattresses alight.
There were clashes by the facility, where relatives of the inmates had gathered and police tear-gassed the crowd outside.
One woman outside the jail, Dora Blanco, told local media: "I am a desperate mother. My son has been here a week. They have not given any information."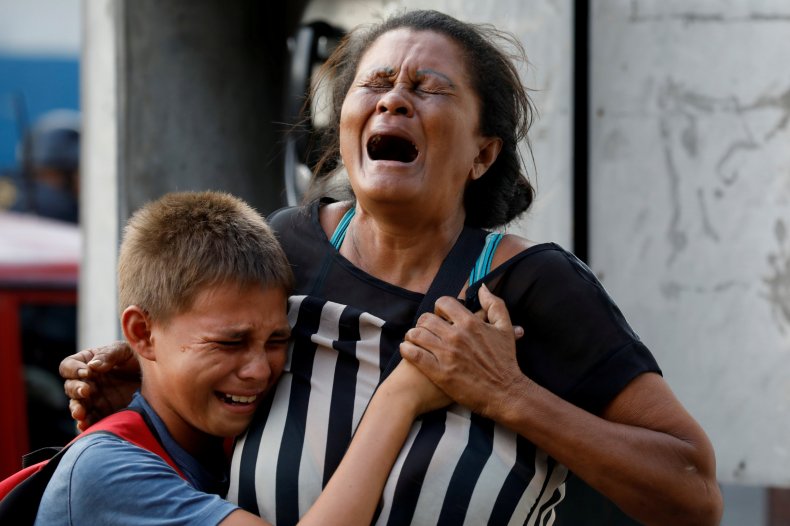 Carmen Caldera, a parent of one of the inmates, told CNN information was being withheld from her.
"I want to know about my child. I don't have any information on him, I don't know anything. We want information about our family members. We need information. Look at how desperate we are."
The country's head prosecutor, Tarek William Saab, tweeted the death toll, which included two women believed to have been visiting the cells.
"The State Prosecutor's Office guarantees to deepen investigations to immediately clarify what happened in these painful events that have left dozens of Venezuelan families in mourning," he wrote.
State official Jesus Santander told Reuters: "Forensic doctors are determining the number of fatalities." A policeman was shot in the leg and was in a stable condition and firefighters had extinguished the flames, he added.
Venezuela's prisons are notoriously overcrowded and are lawless, with prisoners often carrying weapons and using drugs. The level of overcrowding forces authorities to send convicts to temporary facilities such as the one in Valencia, 160km west of the capital Caracas.
Earlier in March, 58 prisoners escaped cells on Margarita Island, and last August 37 people died in a prison riot in the state of Amazonas. In April, clashes between gangs at a prison in Barcelona saw around a dozen die.
Activist Humberto Prado said: "There are people who are inside those dungeons, and the authorities do not know they exist because they do not dare to enter."