Venezuela: Deadly Crackdown on 'U.S.-Backed Coup' as Maduro Rival Claims Presidency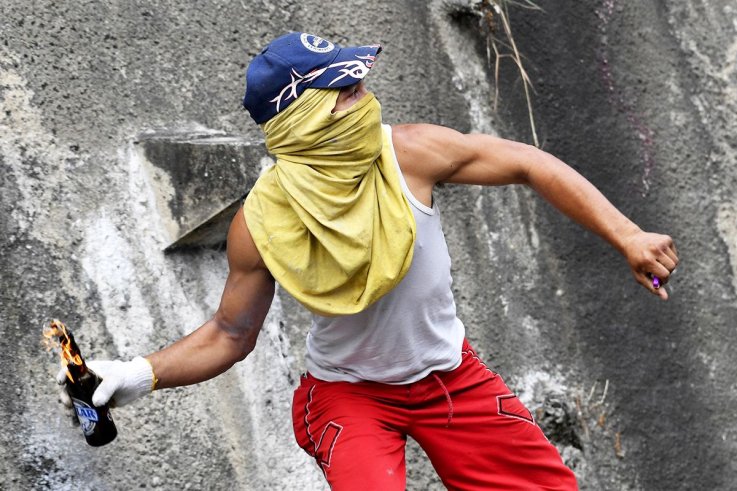 An international crisis is heating up after the U.S., Canada and several Latin American countries recognized Venezuela's opposition leader Juan Guaido as interim president of the Latin American nation.
Russia, Turkey and Iran, meanwhile, support the embattled President Nicolas Maduro. Russian senator Alexei Pushkov has called the situation "an attempted coup" backed by the U.S. China has also urged the U.S. to stay out of the crisis.
In response, Maduro has broken off diplomatic ties with the U.S. and has given all American diplomatic personnel 72 hours to leave the country.
Addressing a crowd of red-shirted supporters gathered at the presidential palace in Caracas, Maduro cited previous U.S.-backed military coups in Guatemala, Chile and Brazil. "Don't trust the gringos," he said. "They don't have friends or loyalties. They only have interests, guts and the ambition to take Venezuela's oil, gas and gold."
Sixteen people have been reported killed this week as armed riot police and members of the military attempt to quell protests against Maduro's government.
Erika Guevara-Rosas, Amnesty International's Americas Director, said: "Protesting cannot be synonymous with death in Venezuela. Using bullets in an attempt to silence those who make legitimate demands for their human rights further reduces the chances of a peaceful resolution to the serious institutional and human rights crisis that the country has faced in recent years."
An Amnesty report released last year found the Venezuelan government responsible for "one of the worst human rights crisis in its history" as it intentionally used "lethal force against the most vulnerable in society". The report revealed that more than one-fifth of the homicides committed in Venezuela in 2016 were at the hands of the security forces. https://www.amnesty.org.uk/press-releases/venezuela-government-responsible-one-worst-human-rights-crisis-its-history-new
Maduro, who has presided over a deepening economic crisis that has left millions in poverty, began a new term this year following an election that was boycotted by the opposition.
Since he took over from his late mentor Hugo Chavez in 2013, the country has faced shortages of food and medical supplies, leading to widespread illness and malnutrition.
Hyperinflation has rendered money all but worthless. The International Monetary Fund predicts Venezuela's rate of inflation will hit a staggering 10 million percent this year.
UN chief Antonio Guterres, speaking at the World Economic Forum in Davos, appealed for dialogue to prevent the political crisis spiraling out of control. "What we hope is that dialogue can be possible, and that we avoid an escalation that would lead to the kind of conflict that would be a disaster for the people of Venezuela and for the region," he said.
In the slideshow below, Newsweek looks at the crisis unfolding in Venezuela, where 16 people have been reported killed in the crackdown on street protests.