Venezuela's Maduro Enjoys Salt Bae's Steaks and Cigars While His Country Starves, Drawing Social Media Backlash
Venezuelan strongman Nicolás Maduro and his wife Cilia Flores were seen enjoying a hearty meal while internet sensation Salt Bae cut pieces of meat for them at his Istanbul restaurant. The now-deleted images on Instagram have drawn harsh criticism from social media users as millions of Venezuelans have dealt with malnutrition and a deepening humanitarian crisis.
Salt Bae, whose real name is Nusret Gökçe, told his 15.7 million Instagram followers on Monday that he "thanked the President of Venezuela for visiting." Another 30-second video showed Maduro smoking a cigar and donning a t-shirt emblazoned with the salt-sprinkling gesture that made the Turkish butcher famous. In a third video, Maduro surrounded by heavily armed men hugged Salt Bae, telling him: "I'll see you in Caracas soon, thank you."
Maduro briefly visited Turkey after last week's trip to China and Russia, where he struck trade agreements to help Venezuela's ailing economy. Meanwhile, Gökçe shared a series of photos with the president under the caption "I love Venezuela."
As Maduro and his wife enjoyed Salt Bae's feast, Venezuela continues to grapple with the largest exodus in the Western Hemisphere to date. U.N. figures show that nearly 2.3 million nationals have left their country in recent years, while other numbers indicate that 4 million emigrated from the South American nation due to hyperinflation, food and medicine shortages, as well as economic deprivation. At least 1.3 million Venezuelans who departed from the country are suffering from malnourishment, according to the U.N.
In light of Venezuelans' plight, Salt Bae's videos sparked outrage on social media. Venezuelans have left messages in English and Spanish on Salt Bae's videos criticizing the chef's patronage. Other users have also shared their views on Twitter.
"I don't know who this weirdo #Saltbae is, but the guy he is so proud to host is not the President of #Venezuela. He is actually the overweight dictator of a nation where 30% of the people eat only once a day & infants are suffering from malnutrition," Republican Senator Marco Rubio of Florida wrote on Twitter Monday night.
The legislator went on to say that "This guy [Salt Bae] who admires dictator @NicolasMaduro so much actually owns a steakhouse in, of all places, #Miami. It's called NUSR-ET STEAKHOUSE MIAMI located at 999 Brickell Avenue, Miami, FL 33131 The phone number is 1 305 415 9990 in case anyone wanted to call," in an apparent call to rally his 3.6 million followers against the chef.
"Venezuela's economy has collapsed, 3/4 of the population say they struggle to find enough food, there is no medicine, over 2 million people have fled since 2014 and even toilet paper is in short supply, but Maduro is sucking back on a cigar at Salt Bae," Robin Wigglesworth, U.S. markets editor for the Financial Times, tweeted on Monday.
"Venezuela is dying of hunger and Nicolás Maduro is eating in Turkey thanks to renowned chef Salt Bae. What do you think? That's how things are…you be the judge," Telemundo journalist Danibett Zuniga wrote on Twitter.
"While there is no meat in Venezuela, Maduro went out to eat with Salt Bae in Turkey," website Talcual tweeted.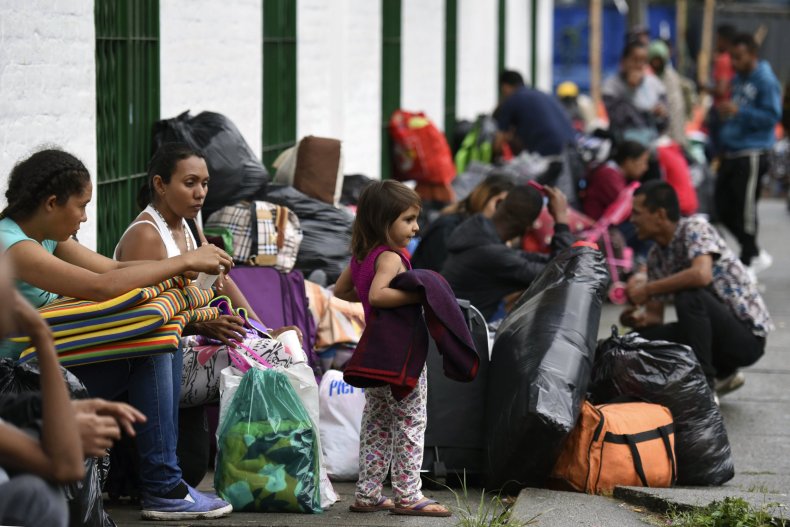 A poll by Venezuela-based Meganalisis released Monday found that 30 percent of Venezuelans often eat only once a day, and 84 percent of those surveyed support a multinational intervention if it means to change their country's dire situation. "There's a level of desperation and hopelessness in the country that has people saying 'Let's get aid' regardless of how it comes in or where it comes in from," Ruben Chirino Leañez, vice president of Meganalisis, told The Miami Herald.
Earlier this year, another study by three Venezuelan universities revealed that locals had lost an average of 11 kilograms, or 24 pounds, in body weight in 2017. Sixty percent of the people surveyed said they had woken up hungry for months because they didn't have the money to purchase food.