Criminals in Venezuela Are Using Food to Recruit Children Into Gangs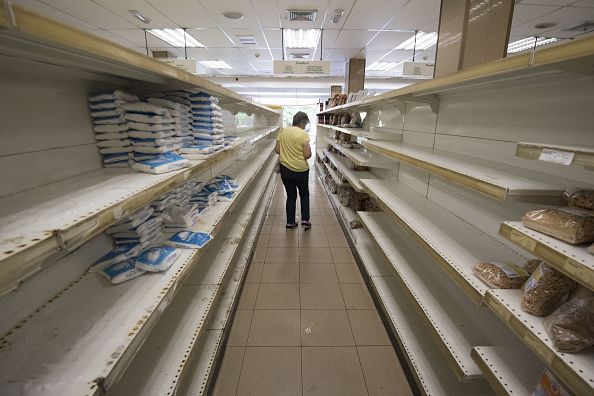 Venezuelan gangs are using food baskets instead of money or phones in order to recruit children in poor areas to join gangs.
The food shortages in Venezuela have started to shift the type of crime in the country. Experts are calling them "hunger crimes" and are seeing phones and luxury items being replaced with food to recruit children, the Miami Herald reported.
"This is a new phenomenon because it's something that we never had in this country: crimes committed because of hunger," Roberto Briceño León, director of the Caracas-based Venezuelan Observatory for Violence (VOV), told the Herald.
Venezuela currently has one of the biggest crime rates in the world. The VOV's latest report found that gangs are using the ongoing problems many families in the country are having to recruit children into joining their gangs.
"This type of crime has been increasing, and now we see how criminal groups are starting to steal food, how individuals who before did not steal have now started to steal food," Briceño said in a telephone interview with the Miami Herald.
The observatory's data found that 75 percent of people who die as a result of the criminal violence are under 30 years old.
"Crime gangs are gaining ground in conquering thousands of youths who are joining in the violence and whose destiny is death, prison and the frustration of so many dreams and hopes forged by their families and communities," the report stated.
Venezuela is suffering one of the worst economic crises in modern history, one that has forced millions of Venezuelans to eat just once a day and has left supermarkets empty of food.
In December, thousands of angry Venezuelans protested a pork shortage after they were promised by President Nicolás Maduro that they would receive it for Christmas; it was part of a monthly subsidized food ration given to the poorest areas of the country. Maduro went on state TV and pointed the finger at Portugal for failing to deliver the pork.
"It was all set, because we had bought all the pork there was in Venezuela; we bought it all. So we had to import, and so I gave the order and I signed the payments. But they went after the bank accounts, they went after the two giant ships that were coming. They have sabotaged us," Maduro said.