Venezuelan President Nicolas Maduro survived what officials said was an assassination attempt Saturday as drones loaded with explosives detonated while he was delivering a speech in Caracas. Footage from state television showed Maduro, along with his wife, Cilia Flores, looking to the sky and wincing in the middle of the president's speech before the picture cut to a wide shot of hundreds of soldiers who then frantically dispersed. Loud bangs could be heard before the broadcast was shut off.
"At exactly 5.41pm in the afternoon several explosions were heard," Information Minister Jorge Rodriguez told the nation in a live address following the incident, according to the Associated Press. "The investigation clearly reveals they came from drone-like devices that carried explosives."
Rodriguez said the president was "fine" but that seven people were injured. He also claimed that the "attack" was carried out by the Maduro government's right-wing opposition.
"After losing the vote, they failed again," Rodriguez said, reported the BBC. No group has yet claimed responsibility.
The government's version of events has been disputed but firefighters at the scene. Three anonymous officials told the AP that the incident was caused by a gas tank explosion in a nearby apartment.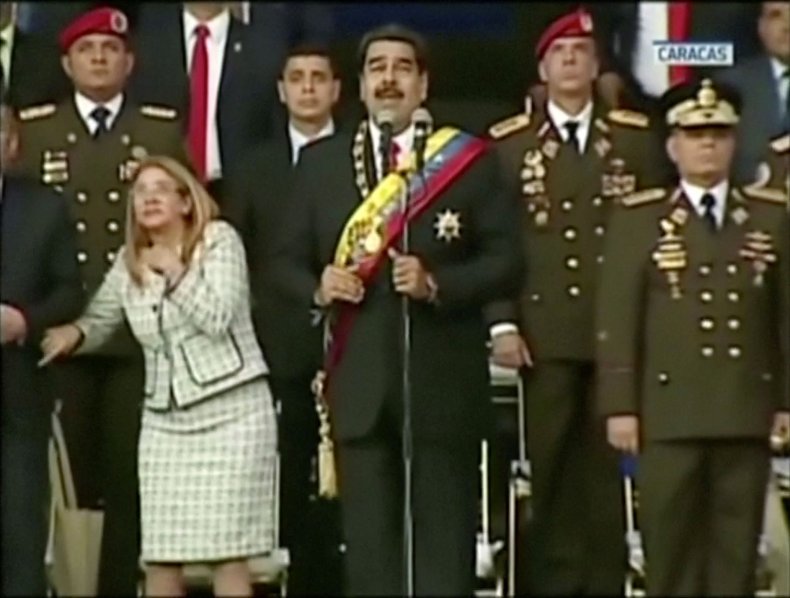 Maduro was re-elected to another six-year term in May after an election that critics claimed was rigged in his favor. Anti-government protests have engulfed Venezuela for months, with the opposition holding Maduro responsible for an economic collapse that has precipitated chronic shortages of food and medicine.
The death toll in the most recent violence topped 100 people on Thursday, according to the AP.
In 2013, Maduro replaced former President Hugo Chavez, who claimed he was the target of multiple assassination attempts during his 14 years in office. But falling oil prices have decimated the country's economy, leading to skyrocketing inflation and widespread protests. Maduro has claimed that he is a victim of an "imperialist" plot to bring down his socialist government and gain control of the country's oil wealth.
Last June, a former police helicopter pilot attacked the country's Supreme Court when dropping grenades from a stolen helicopter. He was killed in a police raid earlier this year.