Venezuela's Diplomat Reads A Book During Donald Trump's U.N. Speech Attacking Country
President Donald Trump railed against Venezuela during his annual speech at the United Nations General Assembly on Tuesday, but the leftist-led Latin American country's delegate did not appear impressed.
The Venezuelan diplomat spent the speech reading a book rather than listening to the president.
The U.S. has cut ties with the Venezuelan President Nicolás Maduro, sponsoring a self-declared bid for leadership by opposition-controlled National Assembly head Juan Guaidó. Since then, Washington has attempted to oust the government in Caracas via political and economic pressure as part of Trump's self-styled "maximum pressure" strategy that the president vowed would continue during Tuesday's speech.
"The dictator Maduro is a Cuban puppet, protected by Cuban bodyguards, hiding from his own people while Cuba plunders Venezuela's oil wealth to sustain its own corrupt, communist rule," Trump said at the gathering. "Since I last spoke at this hall, the United States and its partners have built a historic coalition of 55 countries that recognize the legitimate government of Venezuela."
He continued, saying that "to the Venezuelans trapped in this nightmare, please know that all of America is united behind you," but representative Daniela Rodríguez appeared to ignore the appeal, instead, reading a book about Venezuelan revolutionary Simón Bolívar, considered the father of the ruling United Socialist Party's ideology.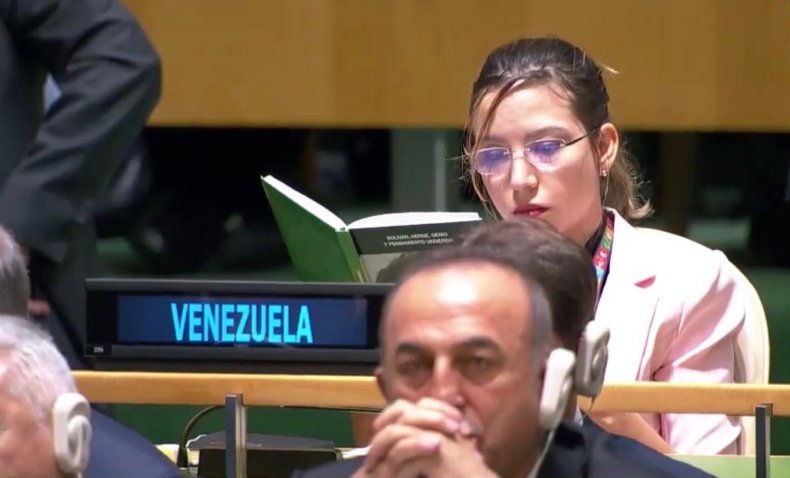 Though much of Latin America and Europe, along with other close U.S. partners abroad, have sided with Guaidó, Maduro retained the recognition of fellow leftists in regional countries like Bolivia, Cuba, Mexico and Nicaragua, as well as Russia, China, Iran, South Africa and others. The U.N. continues to recognize Maduro too, despite pressure from Washington, though representatives of both factions in Venezuela were set to make their case in New York this week.
In a tweet following the speech, Rodríguez tweeted a picture of the book, entitled "Bolívar heroe, genio y pensamiento universal [roughly: "Bolívar hero, genius and universal thought"] and wrote: "This is the book I read while @realDonaldTrump, desecrated the General Assembly of the #ONU with his xenophobic and imperialist speech. Long live Bolivar! Long live Venezuela! Long live the Venezuelan people who do not bow to any empire! #HandsOffVenezuela"
Trump took the opportunity to rail against socialism not only in Venezuela, but across the world and also in the U.S., where a growing number of politicians have embraced the ideology. These include some of Trump's most vocal critics, such as one of his potential 2020 challengers—Senator Bernie Sanders.
"One of the most serious challenges our countries face is the specter of socialism, it's the wrecker of nations and destroyer of societies," Trump said. "Events in Venezuela remind us all that socialism and communism are not about justice, they're not about equality and they're certainly not about the good of the nation. Socialism and communism are about one thing only, power for the ruling class."
"Today I repeat a message for the world that I have delivered at home," he added. "America will never be a socialist country."
Supporters of Guaidó have accused Maduro of political corruption and mishandling the country's troubled economy, which has been further strained by the Trump administration's sanctions. Maduro's backers, however, point to a long history of Washington's intervention across Latin America, where the U.S. has for decades sought to suppress leftist movements.
This article has been updated to include the name and a follow-up tweet by the Venezuelan delegate.