Caracas Calls Trump Admin 'Cowboys' for Bounty on Venezuela's Top Judge
The move by the U.S. to issue a multi-million dollar bounty for Venezuela's top judge has been branded "illegal and coercive" by the country's foreign minister.
On Tuesday, U.S. Secretary of State Mike Pompeo said the Chief Justice Maikel Moreno took part in transnational organized crime and $5 million would be offered to anyone who can provide information leading to his arrest and/or conviction.
Pompeo says Moreno, an ally of the socialist president Nicolás Maduro, who himself has been with issued with a $15 million bounty by the U.S., received bribes in a number of criminal and civil cases.
In a statement, the U.S. State Department said that Moreno had received money or property as bribery payments to influence the outcome of civil and criminal cases.
"Moreno Perez received the bribes in exchange for judicial actions in over 20 judicial cases, such as directing lower-court judges to release specific defendants or to dismiss particular cases," the U.S. State Department said.
Pompeo said in his own statement: "The United States continues to stand with the people of Venezuela in their fight against corruption and for the peaceful restoration of democracy."
On his Twitter account where he describes himself as a "militant socialist" and a "patriot," Venezuela's foreign minister, Jorge Arreaza, tweeted his disdain for the U.S. move.
He said that his government "rejects the illegal and coercive actions of the Donald Trump government that, in the style of the cowboys of the Wild West, disrespects the Supreme Court of Justice and its President…based on false accusations."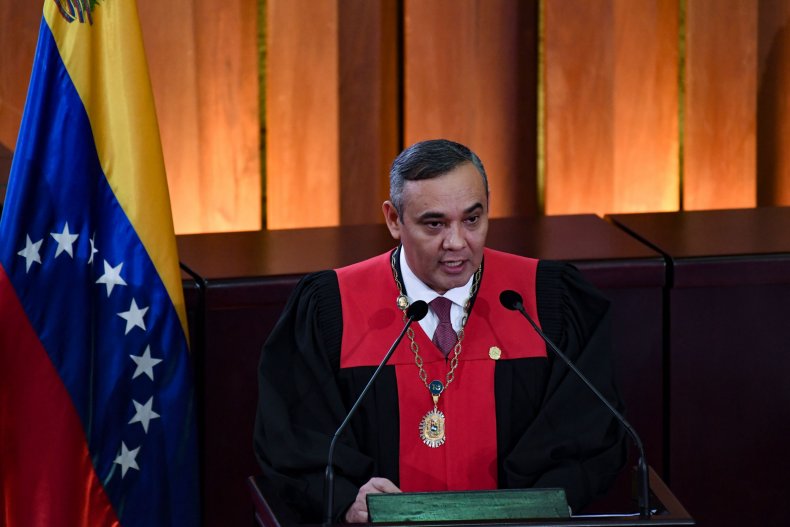 On March 12, 2020, Moreno was charged in the Southern District of Florida with money laundering and illegal property transactions.
Federal prosecutors said that he received millions through bank accounts in Miami, which he spent on chartering aircraft, watches, luxury goods and property, the Miami Herald reported in March.
When he applied for a U.S. visa in 2016, Moreno claimed to make only $12,000 a year from his job but investigators found that he had received about $3 million through his Bank of America account in Miami between 2012 and 2016, the paper reported.
Moreno has dismissed the $5 million bounty, saying that "this is not the first time that the mouthpieces of the North American empire seek to attack me with their clumsy attacks, full of manipulation and lies."
The Trump administration is trying to oust Maduro as president as the South American country's economic crisis deepens and along with dozens of other countries, recognizes opposition leader Juan Guaidó as the country's legitimate leader.
U.S. federal prosecutors have charged Maduro with money laundering offenses, which he says are politically motivated.