What's Happening in Venezuela? U.S.-Backed Guaidó Claims Police Are at His Home as Maduro Vows to Defeat 'Coup'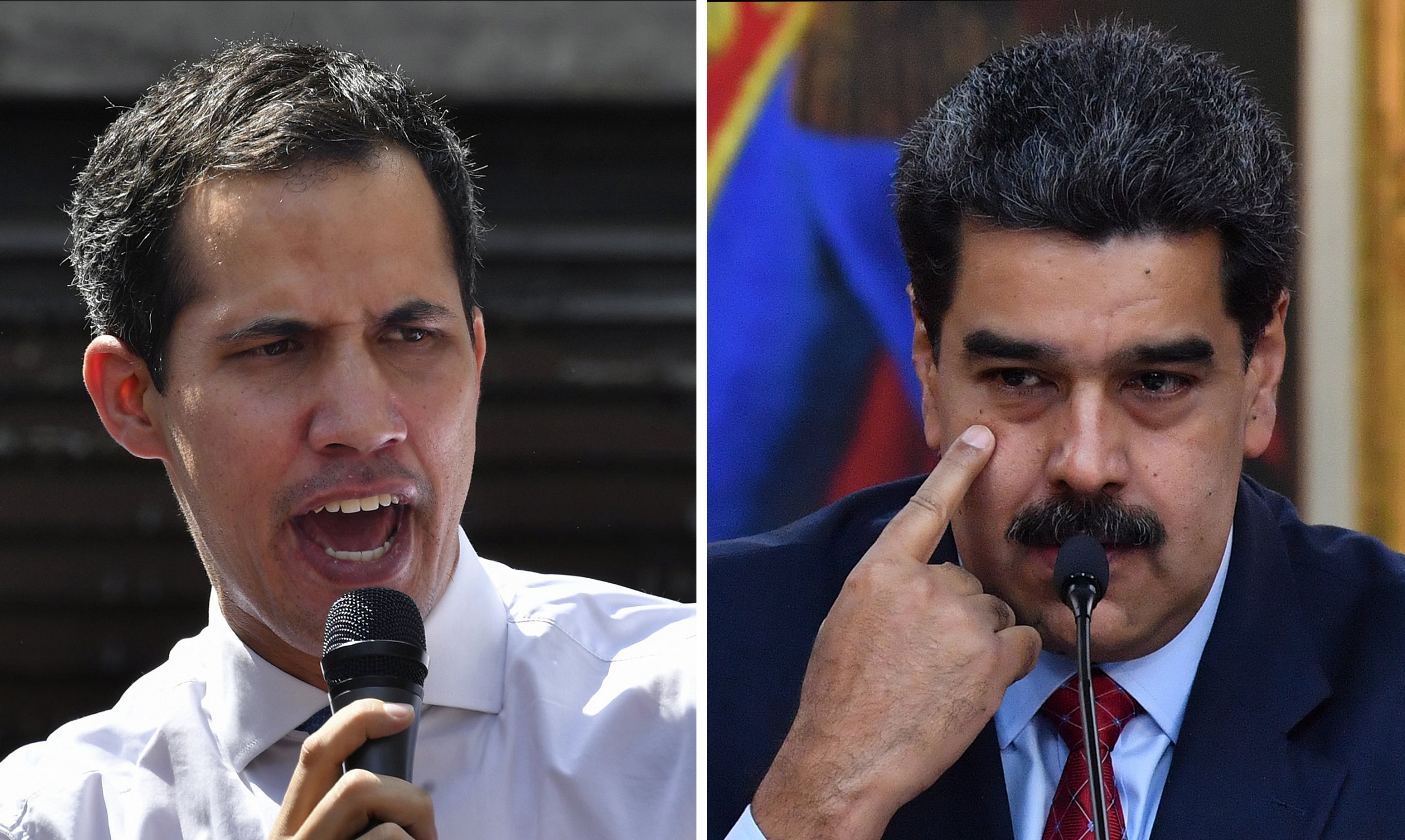 As Venezuelan President Nicolás Maduro vowed to defeat what he perceives to be a foreign conspiracy backed by the United States, the country's self-proclaimed interim leader has claimed that police were in his home.
Juan Guaidó declared himself "acting president" last week in a move recognized by the U.S. but dismissed by Maduro, who was sworn in for his second term earlier this month amid protests about mounting economic woes as well as alleged human rights abuses and election fraud. As the U.S. stepped up pressure against Maduro, Guaidó delivered a speech Wednesday at the Central University of Venezuela in Caracas, but then informed the crowd that he would be heading home to a potential standoff with international consequences.
"At this moment, there are police special forces in my house. They want to see [my wife] Fabiana…. The dictatorship thinks it will intimidate us. I am holding them accountable for everything that could happen to my 20-month-old baby. From here, I am heading home to protect my family, and I am also inviting diplomatic representatives to go with me to find out the true intentions of the special forces," Guaidó said, according to Russia's state-run Sputnik News.
In a follow-up tweet, Guaidó said that the country's Special Actions Force was "in my home, in my family's home," and warned that he would hold "Nicolás Maduro responsible for the integrity of my daughter who is there."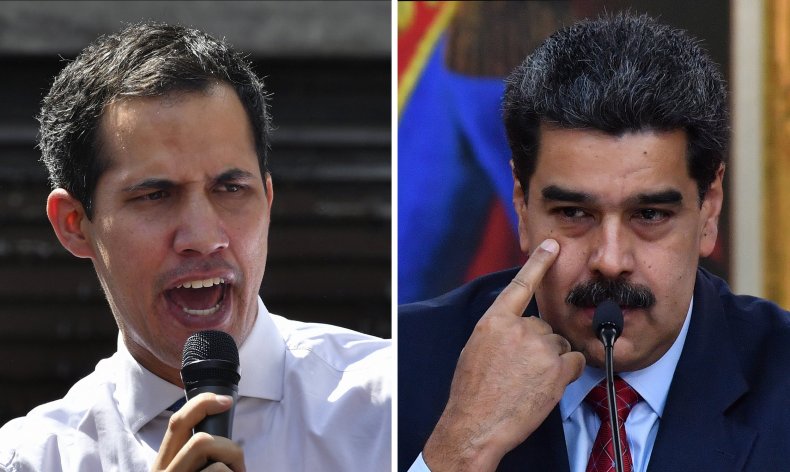 National security adviser John Bolton, a vocal opponent of Maduro in Washington, has warned of "serious consequences" should any harm come to Guaidó. Florida Senator Marco Rubio, another outspoken critic of Venezuela and other left-wing governments in the region, tweeted that "the world is watching & the consequences will be severe if any [harm comes] to him or his family," before reporting that Guaidó had left his home with his child.
Maduro, meanwhile, posted videos on his social media account showing him among the military, known officially as the National Bolivarian Armed Forces of Venezuela, which has stood behind the socialist leader throughout the crisis.
"The coup d'etat orchestrated by imperialism has served to cultivate consciousness, strengthen leadership and deepen our preparation #FANB, to defend sovereignty and constitution. It's time for loyalty and victory!" Maduro tweeted.
Maduro has received support in Latin America from leftist-led Bolivia, Cuba, El Salvador and Nicaragua, as well as Dominica, Suriname, Saint Kitts, Nevis, Saint Vincent and the Grenadines in the Caribbean. He was also backed from abroad by Belarus, China, Cambodia, Equatorial Guinea, Greece, Iran, Laos, North Korea, the Palestinian government, Russia, South Africa, Syria and Turkey.
Meanwhile, Guaidó has been endorsed by nearly every other Latin American state, as well as the U.S., and foreign allies that include Albania, Australia, Canada, Georgia, Haiti, Israel, Kosovo, Morocco, Taiwan and the United Kingdom.
Mexico and Uruguay also continue to recognize Maduro but plan to hold an international conference in hopes of resolving the dispute peacefully. Russia, a staunch ally of Maduro's, has also volunteered to mediate.
Maduro has agreed to participate in talks, though Guaidó's envoy to Washington, Carlos Vecchio, said at an Atlantic Council meeting Wednesday that the opposition was "not willing to participate in any dialogue of the type that Maduro is interested" and that the "only thing we will accept is our agenda: How do we negotiate his exit?"