Venezuela Warns of U.S. Attack, Increases Military By A Million As It Boosts Ties with Russia, China, Iran
Venezuela has warned that the U.S. and two of its close Latin American allies are planning to launch a military intervention against the country's socialist leadership, which Washington has sought to depose.
Investigative website The Grayzone published an article Saturday detailing a high-level, off-the-record Center for Strategic and International Studies event where U.S. and Latin American officials allegedly discussed the potential use of military action against the government of Venezuelan President Nicolás Maduro. In response, Venezuelan Vice President Delcy Rodriguez took to social media Monday to say that the U.S. was teaming up with Venezuelan neighbors Colombia and Brazil to stage an attack.
Rodriguez tweeted Monday that the "international community and its multilateral legal bodies must know that a criminal plan is underway to attack Venezuela militarily!" She said the U.S. and its allies' "pathetic show of recognition" for National Assembly head Juan Guaidó, who declared himself the country's interim president in January, "only masks the intervention in Venezuela."
She added: "U.S., Colombian and Brazilian officials who plot to ignore the will of the people of Venezuela through military violence are committing crimes against humanity and are internationally responsible! The same goes for those 'Venezuelans' who join in on this crime!"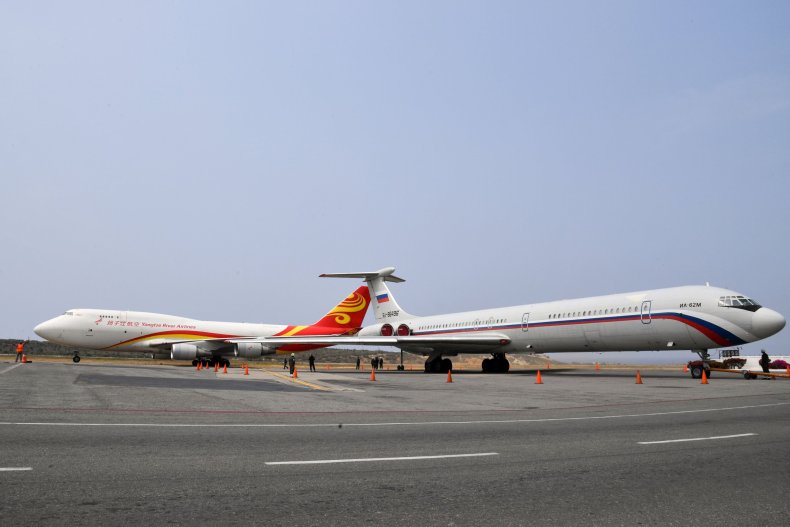 That same day, CNN cited an unnamed Pentagon official who revealed that White House national security adviser John Bolton had instructed acting Defense Secretary Patrick Shanahan to begin looking into military options to deter the presence of Russia, China and Cuba in Venezuela. The initial planning was reportedly being conducted by the Pentagon's Joint Staff and the Southern Command, although one official said the Pentagon was not eager to go to war.
Facing the most serious challenge so far to his position, Maduro has managed to retain the support of his armed forces in spite of various attempts by Guaidó and foreign nations to sway their loyalties. As international powers feuded over the situation in Venezuela over the weekend, Maduro ordered 1 million more people to join the civilian National Bolivarian Militia, part of the National Bolivarian Armed Forces (FANB) that he commands through the Ministry of People's Power for Defense.
"Maduro is undermining the constitutional duty of the Venezuelan military by unilaterally expanding the untrained and undisciplined armed militia," Bolton tweeted Tuesday. "He does not trust the FANB, which must exist to protect the people of Venezuela."
Venezuela has long accused the U.S. of attempting to unseat the ruling United Socialist Party, dating back to an attempted 2002 coup against Maduro's predecessor, the late Hugo Chávez. Maduro himself has survived a number of reported attempts to remove him from power, including an apparent assassination attempt via explosive-laden drones in August.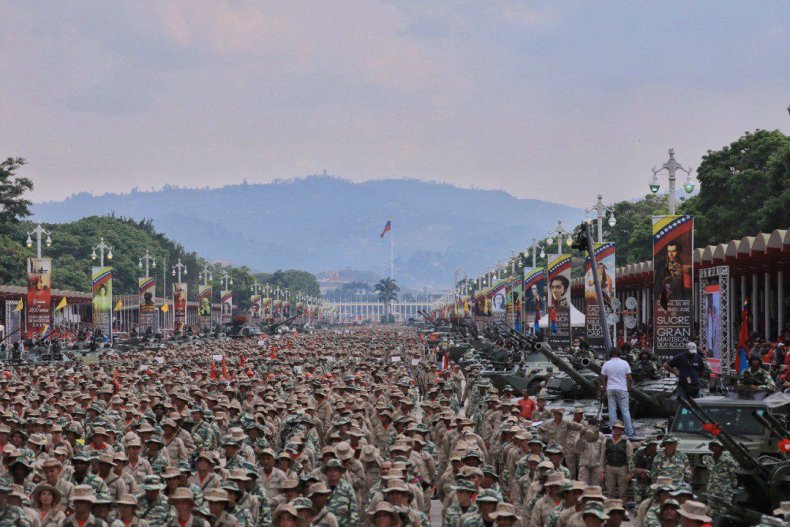 President Donald Trump and his top officials have repeatedly warned that "all options" are open in ensuring Maduro's departure amid a major economic crisis blamed by opponents on his government's mismanagement and exacerbated by U.S. sanctions. Since backing Guaidó's claim to the presidential office in January, the White House has cut off all ties to Maduro, increased sanctions and has urged him to leave his position.
While much of Latin American has stood by Guaidó, Maduro has retained significant support from Cuba among other fellow leftist-led states, as well as larger powers abroad, such as Russia, China and Iran. These three nations have recently sent delegations to Caracas to bolster Maduro's government and address the country's deteriorating conditions. This led Bolton to invoke the 19th-century Monroe Doctrine, used initially to oust European colonial powers and, later in the 20th century, to counter mostly socialist and communist movements deemed adversarial to U.S. interests in the Western Hemisphere.
Over the weekend, Russian, Chinese and Iranian officials all blasted remarks by Bolton and Secretary of State Mike Pompeo, who traveled to Chile, Paraguay, Peru and Colombia to rally support for the Trump administration's vision for Venezuela.