Lately there have rightly been a flurry of articles marking the 10th anniversary of the Syrian conflict. The situation deserves to be in the news: half the population has been displaced and 6 million have fled the country. But in the Americas there is a similar exodus, from Venezuela, and it deserves attention too. This is a tragedy in the American hemisphere, and while the politics are fraught, the U.S. has unique leverage. A bold and strategic humanitarian response is compelling and within reach.
Five million people have fled Venezuela. The reasons given to International Rescue Committee (IRC) staff at the Simon Bolivar International Bridge to Colombia and elsewhere are simple: Life is intolerable. They tell us of power outages that result in a lack of basic necessities like clean water, of health facilities where doctors and nurses don't have medicine, medical supplies or PPE to safely treat them and of their desperate need for work so they can afford food and medicine for their families.
Despite its magnitude, the Venezuelan displacement crisis has received a fraction of the resources dedicated to other crises of similar scale. The $1.4 billion requirement for the 2020 regional humanitarian response plan was less than half-funded. A donor conference last May raised just $2.79 million—literally a drop in the bucket. Whereas aid dollars per Syrian refugee reached $5,000 in 2018, they have peaked at $300 per Venezuelan.
The Quito process, a progressive regional effort to promote a coordinated response, has yet to meet its ambitions. Instead of comprehensive integration of refugees, there is a patchwork of policies across hosting states. Some countries like Colombia have stepped up in historic ways, granting Venezuelans legal status for 10 years that makes it easier for them to work and get access to public services. Other countries have retracted friendly policies as the crisis continues. Chile, Ecuador and Peru moved Venezuelans from a visa-exempt status to requiring visas, passports and other documentation to legally enter and access basic services—requirements which often prove too high a bar for refugees to meet.
The United States recently made a promising move by designating temporary protected status for over 320,000 Venezuelans already in America in need of humanitarian protection. This is a step forward in U.S. policy for Latin America. The focus of the previous administration on politics within the country meant neglect of humanitarian needs. Protected status in the U.S. alone is not going to solve the second largest displacement crisis in the world. Hosting countries in Latin America with overextended and under-resourced health and education systems are struggling to meet the needs of Venezuelan refugees. Shelter, health care, education and employment are missing for the millions of Venezuelans who fled their homes.
COVID-19 made matters worse. Latin America is suffering a pandemic-induced economic downturn. Regional GDP contracted by about 7.5 percent last year, and the extent of recovery in 2021 will be limited. Food insecurity is on the rise; a staggering 200 million people in Latin America were classified as food insecure before the pandemic. With inadequate resources for citizens, refugees are getting left out of national responses to the pandemic.
In Peru, Venezuelans are excluded from government stimulus measures and social safety nets responding to the impacts of COVID-19. There is also a risk refugees will be left out of COVID-19 prevention, testing and vaccine efforts, threatening a perpetuation of the pandemic as variants arise and spread.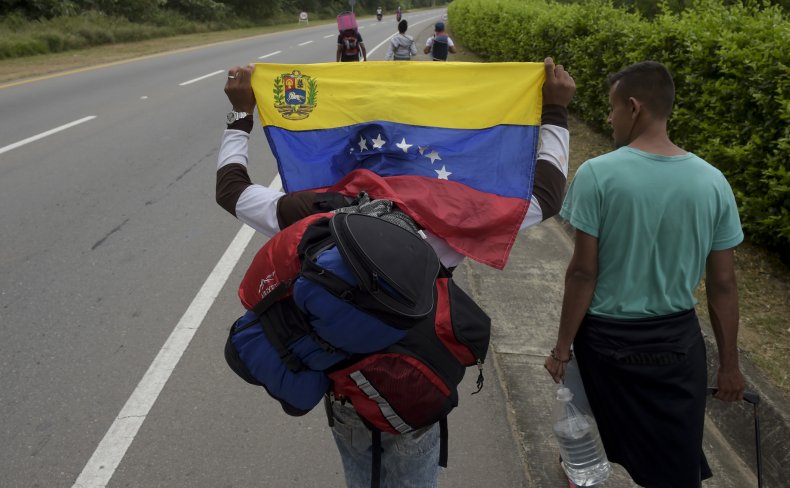 These circumstances call for a re-imagined approach. The region urgently needs to adopt coordinated strategies to handle refugee flows. It cannot do so without adequate support and recognition by the international community. This is a regional and global crisis that requires shared responsibility.
Thankfully, the Biden administration pledged a new direction on U.S. policy in Latin America. There is no better way to demonstrate that shift than by making a hemisphere-wide response to the Venezuelan displacement crisis core to its agenda for the Summit of the Americas, which it will host this year. The administration should come to the table with an innovative solution: a regional refugee compact, offering support to countries hosting refugees in return for policies that offer them basic services and employment opportunities.
Ahead of the summit, the Biden administration should convene host and donor governments, international financial institutions like the World Bank and U.N. agencies responsible for refugees and migrants to agree to a regional compact that harmonizes refugee policies across host nations and commits long-term donor financing for their implementation. The agreement would prioritize—and funding would support—all host governments in the region to implement similar laws for refugees to gain legal entry and stay, access public health care and education and access formal employment.
We saw indications of the potential of this approach in the Middle East and Africa. Success is dependent on three things.
First, long-term financing that can help improve people's well-being over time, not just provide their next meal. Second, return on that financing in the forms of agreed policies that can enable inclusion of refugees into public health care, public education and formal labor markets. Finally, inclusion of refugees in host communities on the basis of independent, objective and trustworthy information, such as through programs like the IRC's InfoPalante project.
The Biden administration has to make up for long-term neglect at the southern border. The response to the crisis in Venezuela is separate but related. A regional approach to those fleeing Venezuela would address the need for safety and security well before they reach the U.S. border. There is no quick fix.
The approach we are suggesting can at least ensure that doctors, factory workers and teachers can contribute to the countries of Latin America to which they flee, and offer dignity and security consistent with stability in those countries.
Marianne Menjivar is the director for the Venezuela Crisis Response of the International Rescue Committee (IRC) since 2018, where she supports Venezuelans with direct programming in Colombia, via local partners in Venezuela and through strengthening organizations in Ecuador, covering the two main migration corridors to/from Colombia and to/from Peru.
David Miliband is president and CEO of the International Rescue Committee (IRC), where he oversees the agency's humanitarian relief operations in more than 40 countries and its refugee resettlement and assistance programs in 26 U.S. cities. From 2007 to 2010, he was the 74th secretary of state for foreign affairs of the United Kingdom, driving advancements in human rights and representing the U.K. throughout the world.
The views expressed in this article are the writers' own.