Venezuelan Forces Shoot Protesters Demanding Aid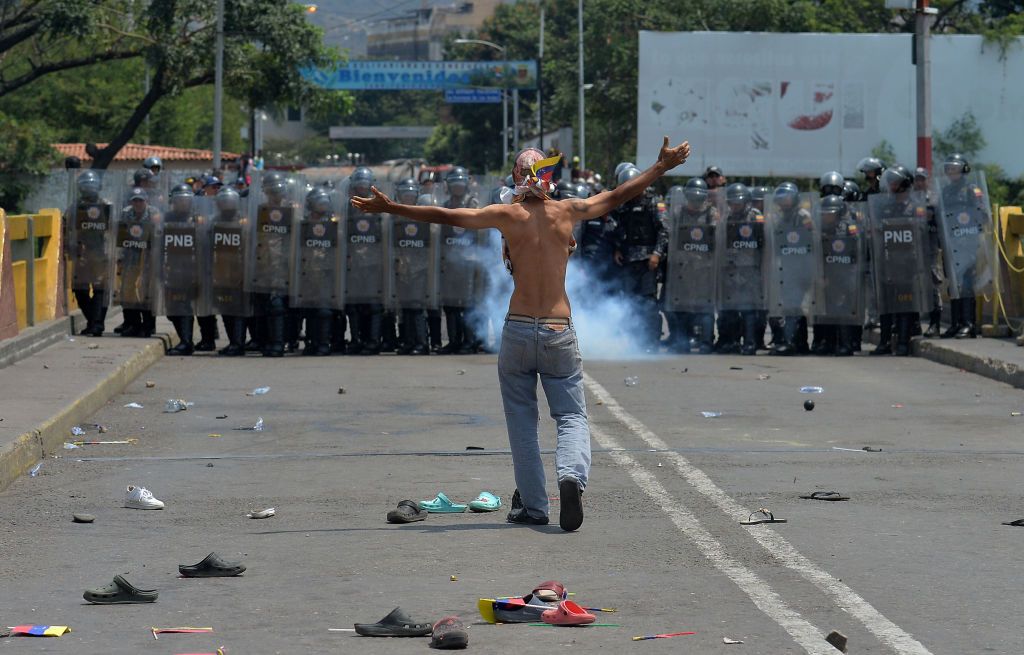 Troops loyal to Venezuelan President Nicolás Maduro fired tear gas and rubber bullets at protesters trying to collect and transport embargoed U.S. aid across the border from Colombia and Brazil.
Clashes between security forces and demonstrators also left 300 people injured, Agence France-Presse reported, citing civil defense officials in Colombia.
At Santa Elena de Uairen, a crossing on the southern border with Brazil, a 14-year-old boy was killed when troops opened fire on civilians seeking to collect the aid, according to rights groups. At least two people were killed in clashes in the town, according to a doctor at a local hospital who spoke to Reuters.
Human rights group Penal Forum told the news agency it recorded 29 injuries from bullet wounds and two deaths across Venezuela in clashes with troops on Saturday.
The clashes come amid a recession that has reduced millions to poverty.
Opposition leader Juan Guaidó has called for the aid, which is stockpiled on the Colombian border, to be transported into the country. But Maduro denies there are food and water shortages and claims the aid is a bid to subvert his government.
Guaidó has declared himself interim president and is recognized as the country's leader by several nations, including the U.S. He had given the government until Saturday to allow the aid to be delivered into the country or see civilians march it over themselves.
After Saturday's violence, he called for the international community to consider "all options" to oust Maduro from power.
"Today's events force me to make a decision: to formally propose to the international community that we must have all options open to secure the freedom of our country," Guaidó said on Twitter.
U.S. Secretary of State Mike Pompeo condemned the violence by Venezuelan forces.
"The U.S. condemns the attacks on civilians in #Venezuela perpetrated by Maduro's thugs. These attacks have resulted in deaths and injuries. Our deepest sympathies to the families of those who have died due to these criminal acts. We join their demand for justice. #EstamosUnidosVE," he tweeted Saturday.
Vice President Mike Pence plans to have his first meeting with Guaidó on Monday, with the U.S. expected to impose new sanctions on Maduro in response to the weekend's violence.
"If there is any type of violence, or if there is any type of negative reaction from the hierarchy of the Venezuela armed forces, there may also be measures that are announced by the vice president and other countries in regards to closing even further the international financial circle," a State Department official told Reuters, speaking on condition of anonymity.
Amnesty International called on Venezuelan government forces to halt their violence towards protesters.
"We demand that Nicolás Maduro put an end to the use of force. The security forces must refrain from using weapons of war and other firearms against the population, and the pro–Nicolás Maduro armed groups must be dismantled," said Erika Guevara-Rosas, Americas director at Amnesty International.
"Armed attacks against the population constitute serious human rights violations and crimes under international law," she said.