Venezuelan Police Charge Against Doctors, Patients During Health Care Shortage Protests
This week, patients and doctors joined forces to protest in public hospitals across Venezuela, demanding an increase in salaries and medicine supply. Meanwhile, the plea from some of the demonstrators, who chanted "genocide perpetrators" outside the Health Ministry headquarters in Caracas, the country's capital, was met with a police attack.
Authorities prevented doctors and patients from entering the ministry's facilities, according to Latin American news channel NTN24, cited by Latin American Herald Tribune. Health Ministry Luis Lopez refused to meet with the group of protestors, the news outlet added.
The country's dire situation has sparked massive protests. According to Medicos Por La Salud, a nongovernmental organization, Venezuelans can't have access to 80 to 95 percent of all medication; alcohol, aspirin or cleaning products are difficult to find. Furthermore, transplant patients haven't received necessary medications since last year, while HIV-AIDS patients have experienced medicine scarcity since 2009.
"My daughter is a heart disease patient who depends on many medicaments that I can't find," a protester told website infobae while carrying her four-year-old child. "She needs a heart transplant that can be performed in Argentina, but I can't find help."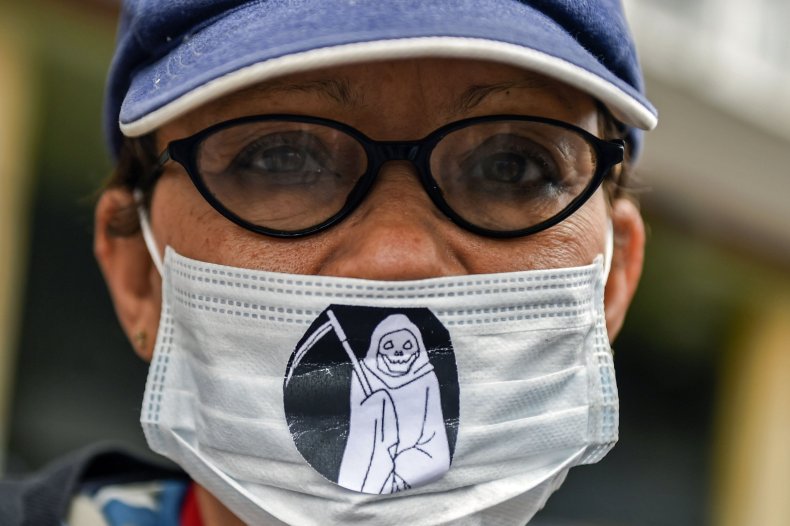 Patients and their relatives have implored President Nicolás Maduro to open a "humanitarian channel" that would allow the supply of medicine and other pharmaceutical goods, the website added. Hospitals are also ill-equipped, as many of them don't have 79 percent of the materials needed to perform surgeries.
To make matters worse, medical personnel are leaving their jobs because they are not being paid enough. Based on a report by Venezuelan newspaper El Carabobeño, biweekly salaries hardly reach $5, in a country in which inflation rate could reach as high as 13,000 percent this year, according to the International Monetary Fund.
"With this salary, it's even harder to buy a kilo of cheese," a medical worker told the newspaper. "It's difficult to talk to the minister of health, but we won't stop protesting. It's our right, and we deserve a just salary."
Maduro is seeking re-election next month, in an attempt to rule the country until 2025. Last month, he announced a 64 percent increase in salaries, which is equivalent to $1.3 million bolivares or $36.6 on the official exchange rate, Agence France-Presse reported.