Venezuelans Turn to Rotten Meat Amid Spiraling Crisis
Some Venezuelans have resorted to buying spoiled meat as power outages continue to plague the South American country amid what has become the country's worst economic collapse in history.
"Of course they eat the meat—thanks to Maduro. The food of the poor is rotten food," Johel Prieto, a butcher in the city of Maracaibo, where at least four butcher shops have begun selling spoiled meat, told The Associated Press.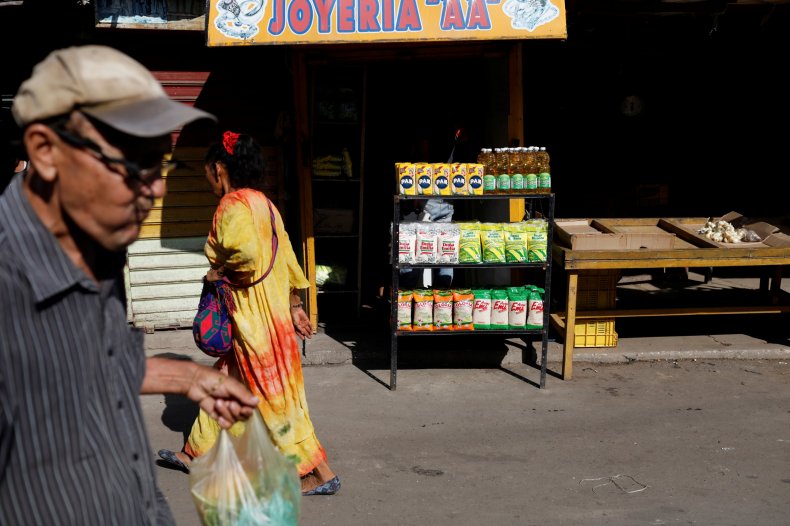 Power outages that began nine months ago have left the city, once known for its oil riches, with failing refrigerators. The rest of the country is also suffering from a lack of running water and electricity, for which Venezuelan President Nicolas Maduro blamed the United States and other capitalist countries.
"It smells a little foul, but you rinse it with a little vinegar and lemon," Yeudis Luna, who ate the meat along with his three children, told the AP. "I was afraid they would get sick because they are small, but only the little one got diarrhea and threw up."
Six states began rationing power in March because of a drought that lowered water levels and hampered the hydroelectric power generators that use the water to run.
"We have spent 14 hours without electricity today. And yesterday electricity came and went: for six hours we had no power," Ligthia Marrero, a resident from the western state of San Cristobal told Reuters at the time.
Venezuelans have been going to neighboring countries for years as they flee the political and economic crisis that is taking place in their home country. They've been able to enter Colombia and Ecuador by just using identity cards, but Ecuador, which has been seeing more than 4,000 migrants at its border every day for the past 15 months, recently changed its rules, saying that migrants would also need a passport to enter the country.
Colombian officials have said that the move will only create more problems on their side of the border, where vulnerable migrants will be trapped.
"Demanding a passport is not going to stop migration because this population is not leaving the country for pleasure but out of necessity. The first thing that will happen…is that it will see an increase in undocumented migration. That brings a lot of problems with it," the director of the Migration Colombia agency, Christian Kruger Sarmiento, told the BBC.