Venezuela's Economic Crisis Has Forced Some Doctors, Other Professionals to Become Prostitutes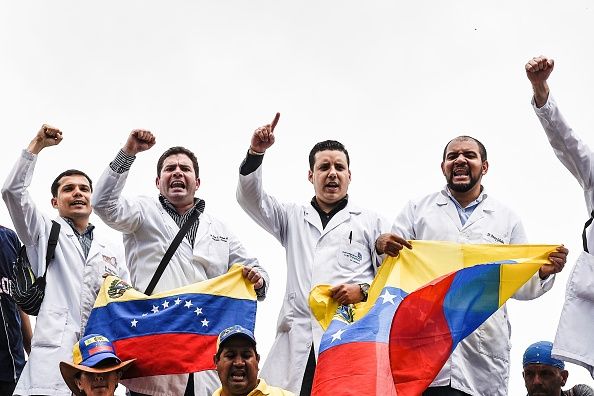 On Monday, a group of Venezuelan doctors protested in front of the World Health Organization's office in Caracas, arguing that the agency is not doing enough to pressure the Nicolás Maduro government and request additional assistance, as the South American country grapples with nearly 85 percent shortage of medicines.
Venezuelan doctors face a host of challenges, from a crippling hospital infrastructure to insufficient vaccines and antibiotics that could easily control diseases such as diphtheria and measles, according to Reuters. To remedy some of these problems, the Maduro administration increased doctors' monthly salary by 50 percent in March, from $71.2 to $106.8 in U.S. dollars. But for many, this is a pitiful increase because of hyperinflation in Venezuela — which could hover at around 1,600% this year according to the International Monetary Fund— making it harder for doctors to make ends meet.
Venezuela's economic woes have forced some female doctors and other professionals to become sex workers, according to a recent report by The Miami Herald. Brothels along the Colombia-Venezuela border, particularly those sitting by the Arauca riverbed, have witnessed an increase of Venezuelan women selling their bodies for $25 an hour.
"We've got lots of teachers, some doctors, many professional women and one petroleum engineer," an Arauca resident told The Miami Herald. "All of them showed up with their degrees in hand [from Venezuela]."
A January 2017 report by BBC Mundo found that in the Colombian municipality of Saravena, Arauca, a department that shares borders with Venezuela, nearly 200 Venezuelan women have turned to the world's oldest profession hoping to buy food and other basic products. The most recent report by the group Women Finding Freedom Association revealed that nearly 6,500 Venezuelan women have become sex workers in Colombia.
Dozens of doctors and activists are also protesting during the Pan American Health Organization's 29th Pan American Sanitary Conference in Washington D.C. this week, urging the agency to add more pressure on the Maduro administration. "There's a complicit attitude because they haven't denounced things," a Venezuelan doctor told Reuters. [Venezuela] is an unlivable country, and no one is paying attention."
The Pan American Health Organization, the WHO's regional office, released a statement in Spanish saying that it reasserts its compromise to collaborate with its Venezuelan office. "The organization reiterates its disposition to listen, talk and work with all of the parties involved in the field of healthcare in Venezuela to join efforts and improve the health of the Venezuelan population."
As the economic crisis fuels mass emigration, Venezuela's health issues can be exported to other countries because those leaving could have some pathogens in incubation period, doctors told Reuters.