Venezuela's Maduro Attacks 'Fascist' Protesters For Setting Man On Fire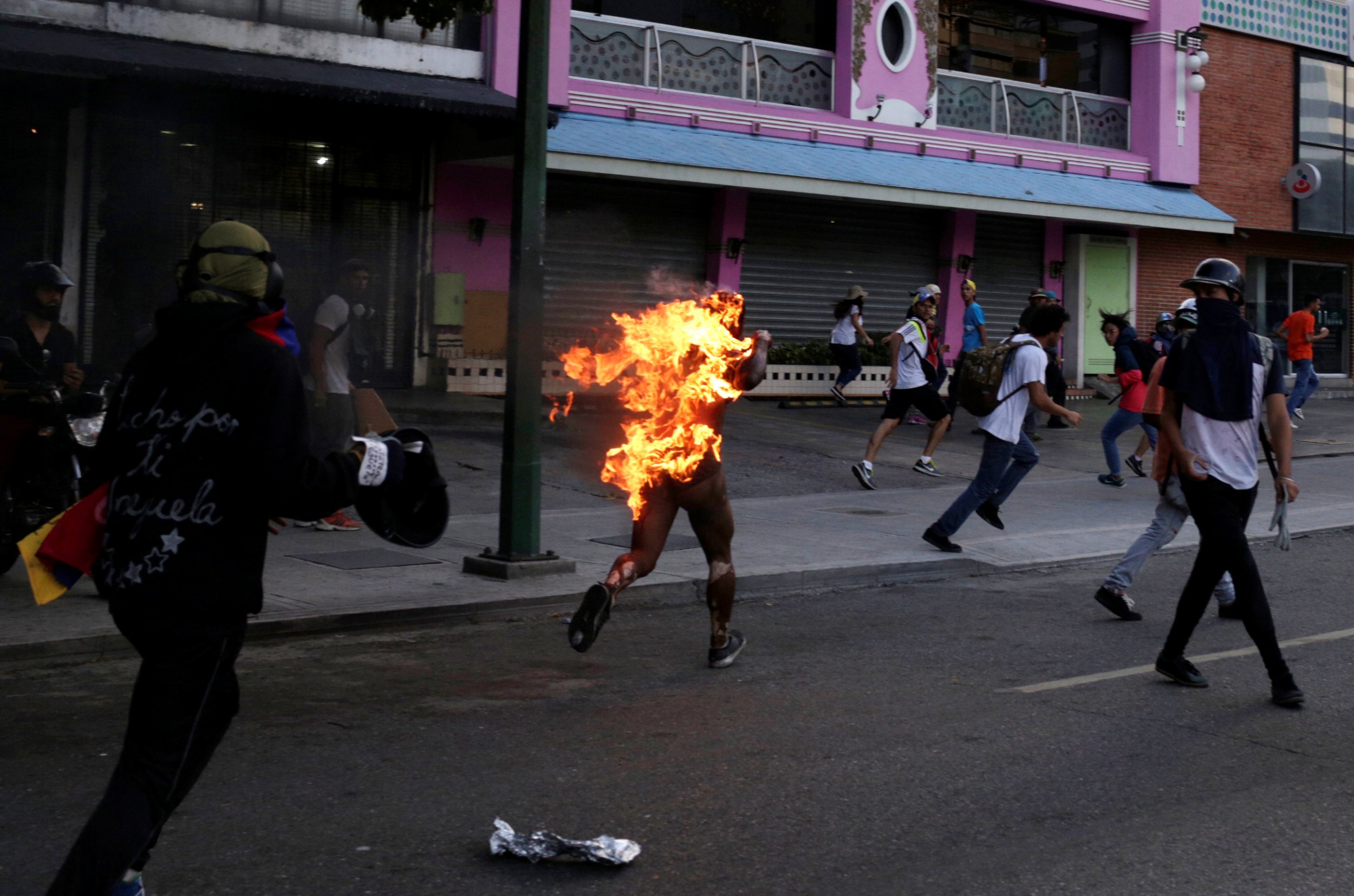 Venezuela President Nicolas Maduro excoriated opposition protesters on Sunday for setting a man on fire during a demonstration, accusing them of targeting him for being pro-government.
"A person was set on fire, beaten up, stabbed... They nearly lynched him, just because he shouted out that he was a 'Chavista'," Maduro said, referring to the ruling socialist movement set up by his predecessor Hugo Chavez.
Witnesses to the incident on Saturday afternoon, including a Reuters photographer, said the crowd had accused the man of being a thief.
About 100 people, who had been participating in anti-Maduro protests, surrounded him, doused him in gasoline and set him alight in Plaza Altamira in east Caracas, the witnesses said.
Though some in the crowd said he should die, others helped him and the man survived.
Showing a video of the incident on state TV, Maduro identified the man as Orlando Figuera, 21, saying he was being treated in hospital for severe burns.
Images from the scene showed him running near-naked with flames on his back.
"Burning a person because he seems a Chavista is a hate crime and a crime against humanity," Maduro said on his weekly TV program, also showing another video of someone being beaten up, as well as images of protesters throwing Molotov cocktails.
The 54-year-old president says protesters are seeking a violent coup against him with U.S. help, and are increasingly persecuting "Chavistas" at home and abroad.
Earlier this week, he compared it to the Nazi treatment of Jews.
"Venezuela is facing ... a coup movement that has turned into hatred and intolerance, very similar to Nazi fascism," he reiterated on Sunday.
Venezuela's opposition says Maduro has become a dictator, wrecked the OPEC nation's economy, caused desperation by thwarting an electoral exit to the political crisis, and unleashed repression and torture on protesters.
"Maduro, Murderer!" can be seen daubed on roads and walls in many parts of Caracas.
The main demand of opponents, who now have majority support after years in the shadow of the ruling Socialist Party, is for a national vote.
But authorities blocked an opposition push for a referendum last year, delayed state elections, and are resisting calls to bring forward the next presidential election scheduled for late 2019.
Most opposition marches are now turning violent when security forces block their way, with masked youths from a self-styled "Resistance" movement hurling stones and petrol bombs at lines of National Guard troops who use teargas and water cannons to turn them back.
Even before the latest spasm of political unrest, Venezuela was already one of the world's most violent countries, with an average last year of 60 homicides per day, according to the government.
Lynchings have become commonplace, killing about one person every three days.
In six weeks of anti-Maduro unrest, at least 47 people have died, including supporters of both sides, some bystanders, and members of the security forces.
Both sides quickly publicize and condemn violence from the other side, while often underplaying wrongdoing within their own ranks.
The government is particularly upset at harassment of officials and their relatives, accused by foes of enjoying the fruits of corruption.
One recent video showed the daughter of Jorge Rodriguez, a powerful government mayor who is a hate figure for the opposition, walking along an Australian beach being screamed at by two bystanders: "Thanks to your father, people are dying in Venezuela."
Another video appears to show a former minister sitting at a bakery in Doral, Florida—heavily populated with anti-government Venezuelan emigrants—being harangued by other customers, who chant "Get Out!" and force him to leave.
A Twitter feed is even available that lists government supporters abroad, with photos of them and their friends, places of employment and study.
Many in the opposition accuse members of government of illegally enriching themselves and their families, allowing them to travel the world and enjoy luxury hotels while Venezuelans suffer a crippling recession at home, having to skip meals and queue in hours-long lines at shops.
The issue has divided opposition supporters, many delighting in seeing "Chavistas" squirm while others say it is wrong.
"It's not morally or politically correct to harass the children of officials," opposition leader Freddy Guevara, a hardline proponent of street resistance, said recently, adding that it would discourage children from criticizing their parents as several have done recently.