Venice Flooding Sees More Than 85 Percent of City Underwater as Right-Wing Mayor Blames Climate Change
Venice has been hit by severe flooding which has left more than 85 percent of the Italian city underwater, including many of its famous squares.
By late Tuesday evening, the high-water mark had reached a peak of 187 centimeters (74 inches) in what was the highest tide to affect the popular tourist destination for more than 50 years, Associated Press reported.
This is second only to the high tide seen during the infamous flood of 1966, which caused water levels to rise to a record 194 centimeters (76 inches.)
The city's right-wing Mayor Luigi Brugnaro blamed the floods on climate change.
"The situation is dramatic. We ask the government to help us. The cost will be high," Brugnaro said in a tweet. "This is the result of climate change."
As the flood waters began to recede slightly he added: "It will be a long night. The fears of a few hours ago are now being replaced by an assessment of the damage done. A high tide of 187 cm is going to leave an indelible wound."
On Wednesday, Brugnaro said he would ask to the government to declare a state of emergency in the city in order to release funds that will help address the situation, Reuters reported.
The mayor also called for the completion of an off-shore barrier project which has faced long delays, cost overruns and scandals. The construction of the sea barrier—known as MOSE—began in 2003, however, it is not expected to be completed until 2022.
Flooding in Venice is often caused by southerly winds which bring high tides into the city.
Italian emergency services reported that a 78-year-old local man was killed overnight after suffering an electric shock while using a water pump to remove water from his home, according to Reuters.
St. Mark's Square—the main public square of the city—was covered by more than 3 feet of water, as strong winds produced waves on the surface.
Meanwhile, the nearby St. Mark's Basilica was also flooded for only the sixth time in 1,200 years. Worryingly, four of those instances have occurred in the last twenty years. At present, the extent of the damage to the historic church is not clear.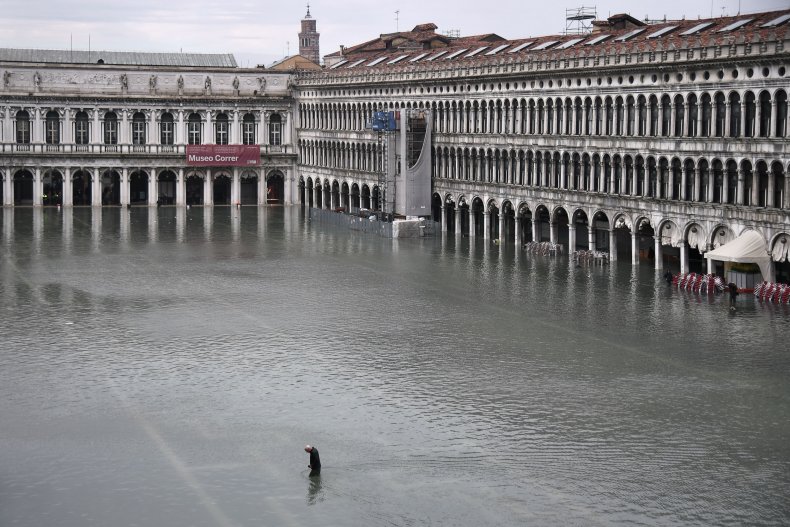 Many businesses have also been flooded and some schools were closed in the interests of safety, Sky News reported.
Images on social media show tourists and locals wading through the high water and taxi boats grounded on walkways by the side of the city's canals. The Italian coastguard is now providing extra boats to be used as water ambulances.
The tide fell to around 145 centimeters on Wednesday, however, officials say that it would likely rise again to 160 centimeters over the course of the day, Reuters reported.
The graphic below, provided by Statista, shows the historic tide levels in Venice.