Venice Flooding Pictures and Videos Show Highest Water Levels in 50 Years
Venice, Italy, is facing severe flooding after heavy rainfall, which caused tides to rise to the highest level the city has seen in 50 years, according to the BBC. In a video taken in front of the flooding, Mayor Luigi Brugnaro said that he would declare the city in a state of emergency on Wednesday. He also asked the Italian government for help in combating climate change. He said, "Now the government must listen. These are the effects of climate change. The costs will be high."
Photos and videos show the destruction caused by the flooding. Brugnaro shared many photos on his own Twitter. In many of these, Brugnaro waded through flooded streets in rubber boots. He also showed structures that have been destroyed by the flooding and boats washed up alongside city streets. High water levels in doorways also show how much flooding has occurred.
According to the Weather Channel, 70 percent of the city is under water. Strong winds and seasonal high tide caused the massive flooding. When the water level measures at 39 inches, about 5 percent of the city is under water. The water level was expected to reach 55 inches. The BBC reported that the levels peaked at about 74 inches. The only time the level has been higher was in 1966, when it reached 76 inches.
Photos taken after the storm show streets, tourist attractions and religious sites that have been affected and damaged by the flooding. Many can be seen walking through flooded streets in thick rubber boots, while others walk along small raised bridges to keep dry.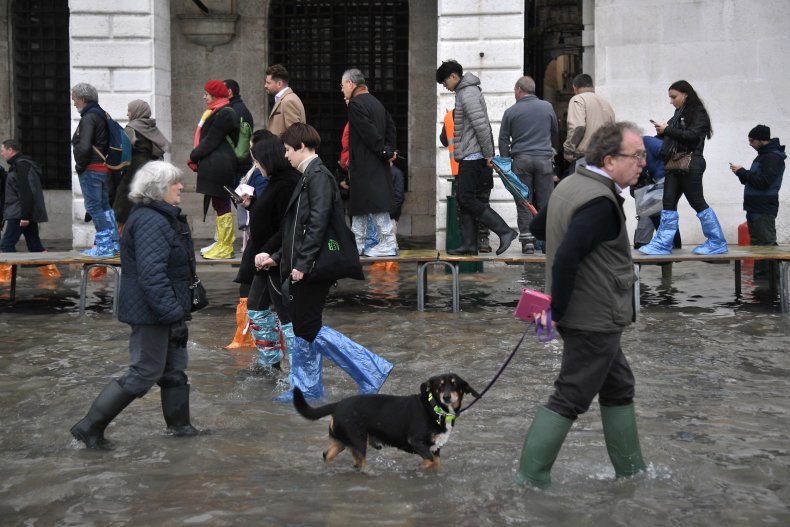 St. Mark's Basilica was also flooded. Photos show that water entered the cathedral, causing damage to many religious artifacts that are stored inside.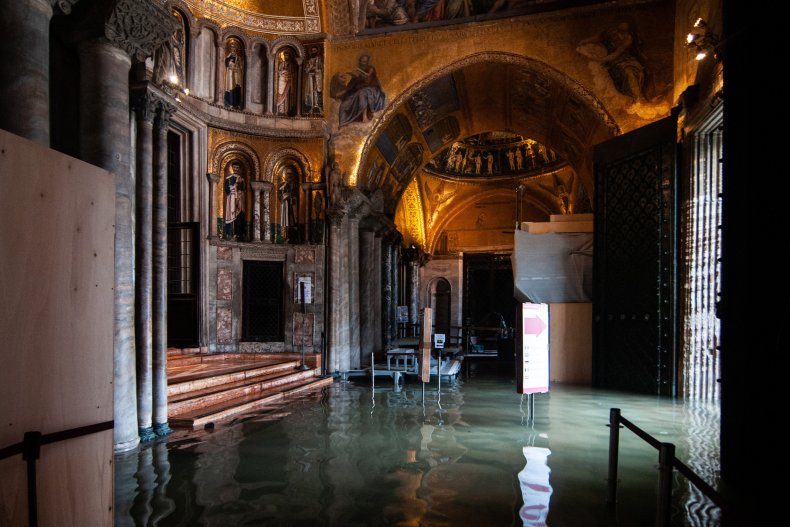 On Twitter, Brugnaro encouraged business owners to document the destruction, in order to facilitate receiving government aid.
In 2003, a project was launched to create an offshore barrier that would prevent this kind of devastation in Venice. Due to delays, poor funding and scandals, construction of the barrier has been delayed, and it is expected to be completed in 2022.
At least two have died as a result of the flooding, The Independent reported. A man in his 70s was killed by a lightning strike while using an electric water pump. Details of the other death are unknown.
Reuters reported that, after dropping Wednesday morning, water levels are expected to rise throughout the day.
The graphic below, provided by Statista, shows the historic tide levels in Venice.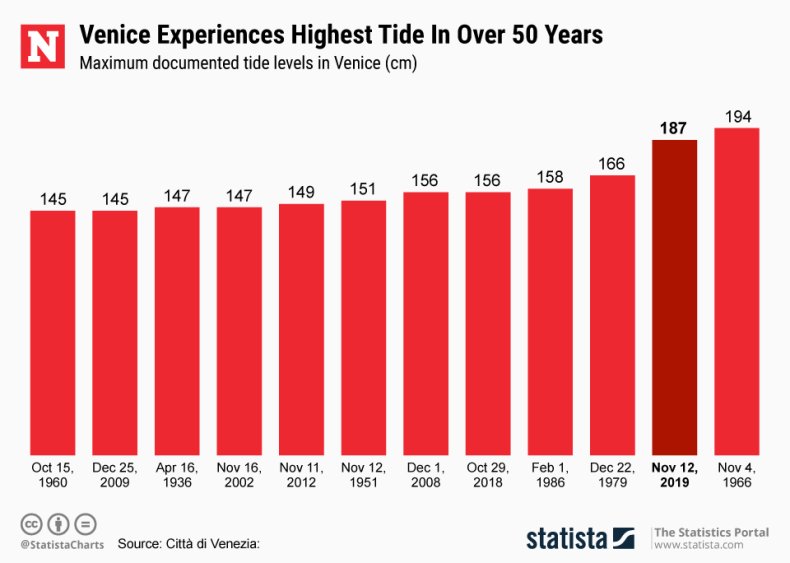 This article was updated to include an infographic.