Venomous Brown Snake Found Hiding in Child's Lunch Box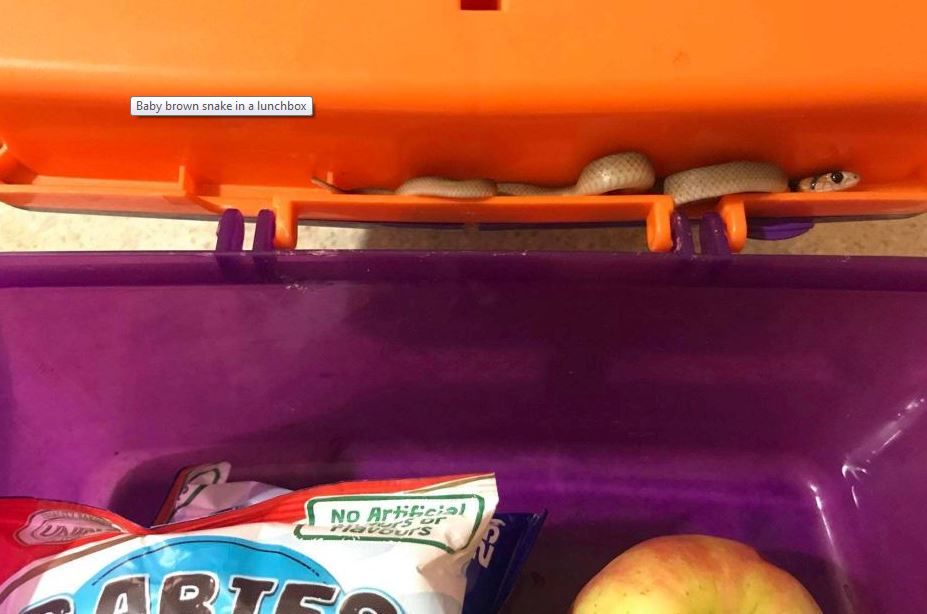 A mother in South Australia got a surprise on Monday when she found a deadly, highly venomous snake tucked in the lip of her child's lunch box. The baby brown snake is native to the region and considered by some experts to be the second most venomous land snake in the world.
Snake Catchers Adelaide posted a photo of the find on its Facebook. Page administrators wrote that they had been sent the photo for identification after a mother found it while packing her child's lunch.
"Not really what you expect to see when you check if (your) child ate their fruit," Snake Catchers Adelaide wrote, after identifying the slithering reptile as a hatchling baby brown.
The accompanying photo shows the tiny snake inside the lip of the orange-and-purple lunch box. Despite its young age and small size, baby browns have the potential to be just as dangerous as their adult counterparts, reported Australian Geographic in 2017.
In an interview with BBC, reptile handler Rolly Burrell said the snake was removed from the mother's home without incident. He had advised her to close the box and take it outside after the woman reached out for help.
"It's very lucky that she spotted the snake," Burrell told BBC. "A little kid would not even feel the bite from something so small."
Burrell added that it's typical for brown snakes to hatch this time of year, but that his organization had been receiving an uptick in calls this season compared to previous years.
"We're doing about 50, 60 calls a day and they're all baby brown snakes," he said.
Eastern brown snakes are found in many different habitats, including forests, pastures savannah woodlands and other environments. The fast-moving reptile is most active during the day, perhaps lending to the higher number of encounters in Australia with this particular type of snake, according to Live Science.
In 2017, The Guardian reported that most victims from deadly snake bites in Australia were bitten near or at their home. The brown snake was responsible for 23 of the 35 fatalities recorded by the National Coronial Information System since 2000.