Venomous Snake Found Alive Inside Aldi Lettuce Bag
Supermarket chain Aldi has launched an investigation after an Australian couple were shocked to find a live poisonous snake in a bag of lettuce.
A juvenile pale-headed snake was found in a two-pack of lettuce which Alexander White and his partner, Amelie Neate, bought in an Aldi supermarket in Mosman, Sydney, on Monday.
White's mother, Lesley Kuhn, went to social media to warn shoppers this week to check groceries carefully, after they made the surprise discovery.
"Check packaged lettuces carefully. Last night my son found a baby pale-headed snake in with his baby cos lettuce from Aldi," she posted on the Facebook group Mosman Living. She posted pictures of the poisonous reptile slivering over the lettuce leaves.
A snake handler from the non-profit Wildlife Information, Rescue and Education Service (WIRES) arrived to retrieve the animal, which was transferred to a heated container.
The supermarket said it was not sure how the snake found its way into the bag.
"We've worked with the customer and the team at Wires to identify the snake's natural habitat, which is certainly not an Aldi store!" an Aldi Australia spokesperson told The Sun.
"We are now working closely with our produce supplier to investigate how this incident could have possibly occurred."
The discovery of the reptile drew a lot of attention on Facebook, with some users calling it an "awful" and "nasty" find. Others were able to see the funny side, with one user saying: "Like I needed another reason to loathe salad."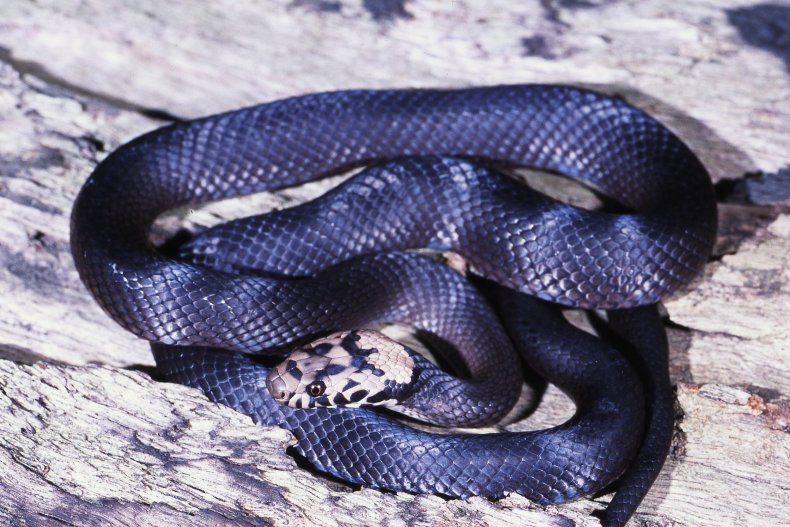 Responding to these comments on Facebook, Kuhn confirmed that the snake was "very much alive" when they found it and that her son initially had not realized how dangerous it was.
The Australian Museum says on its website that there have been no recorded fatalities from the pale-headed snake, but added that its bites can cause "a severe headache, blurred vision, localized pain, and abnormal bleeding."
John Grant from WIRES said the discovery was highly unusual.
"We've never seen anything like this," Grant told Australia's ABC News.
"We assume, and it's only an assumption, that because it was a juvenile it was picked with the lettuce and it's survived the whole process."
The snakes mostly live in hollowed and barky trees in New South Wales and Queensland in the eastern part of Australia. The animal is being released in Toowoomba, Queensland, where the lettuce was picked.
Snakes have frequented Aldi groceries before. In 2017, one was found to have flown all the way from Costa Rica to Scotland in a pineapple. The Scottish Society for Prevention of Cruelty to Animals (SPCA), an animal welfare charity, safely collected the serpent.