Venomous Snakes Could Be on the Loose in South Carolina After Hurricane Florence Flooding
As Hurricane Florence continues to bear down on North and South Carolina bringing heavy rainfall and powerful winds, residents have braced themselves for the storm's impact.
While they might expect flooding and storm surges, Hurricane Florence could also bring another hazard. As with other major storms, Florence could move animals, such as snakes, from their natural habitats and displace them into people's homes, Myrtle Beach Online reported.
Thad Bowman of Alligator Adventure in North Myrtle Beach, South Carolina, told the publication that the flooding from the storm could hit snake habitats along waterways, lifting the snakes into the floodwaters.
Bowman advised people to not go outside during the storm. If anyone should get bitten by a snake, he said to find the nearest hospital as soon as possible to get checked out, according to Myrtle Beach Online.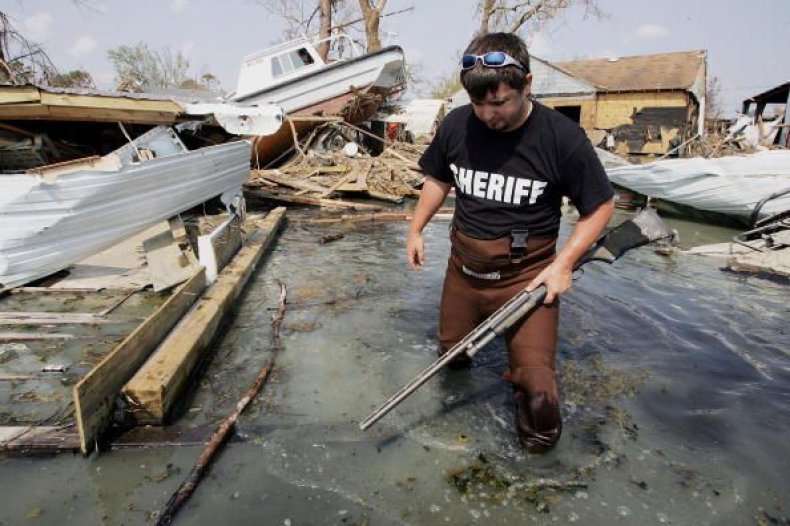 Horry County in North Carolina is home to dangerous snakes, including the cottonmouth and the copperhead snake, according to Myrtle Beach Online. The snake bites can be easily treated by medical professionals, so officials urge people to find help if they are bitten as quickly as possible.
"They inject venom, which causes tissue destruction, platelet loss, causes bleeding, it can cause death," Gerald O'Malley with Grand Strand Hospital told Myrtle Beach Online.
A spokesperson from the Florida Fish and Wildlife Conservation Commission told Newsweek in an emailed statement that snakes were "more likely to be seen with higher water levels post-storm." The commission suggests that to avoid snake bites, "leave snakes alone, stay out of tall grass unless you wear thick boots, and keep hands and feet out of areas you can't see."
Bruce Stein, the National Wildlife Federation's associate vice president for conservation science and climate adaptation told Accuweather that seeing snakes during flooding is common, and that if people should come across one they should not panic.
"Keep your eye out for snakes and avoid them, but also don't overreact. Not every snake is poisonous; in fact, most snakes aren't poisonous, and snakes do an awful lot of good in terms of keeping rodent populations down and other sorts of things," Stein said.
This is not the first time hurricane damage has caused the displacement of potentially dangerous wildlife. During Hurricane Irma in 2017, the Florida Department of Health tweeted in September 2017 that residents needed to "be alert to wildlife," because dangerous animals could be right in their backyard.
"After storms, be alert to wildlife—snakes, alligators, etc., may have been displaced as a result of strong winds or rain," the department tweeted following the storm.