Venomous Spitting Zebra Cobra That Terrorized Community Was Secretly Loose For Months
A venomous African zebra cobra snake was reportedly missing for months, not the few days the Raleigh, North Carolina, community initially thought it was on the lam.
The Raleigh Police Department reported on June 28 the snake escaped its owner's home and that it was successfully located on June 30, indicating that residents were in danger for only a matter of days. However, attorney Anna Felts confirmed to Newsweek that Christopher Michael Gifford, the snake's owner, told animal control the snake was missing since November.
When police announced the snake was missing, they also reported a resident had called 911 with a sighting. During the call, the person told a dispatcher that they had seen a snake that they said looked like a python, although they acknowledged it "sounds crazy" because they're in North Carolina.
However, when animal control arrived to the location of the possible sighting, the animal was no where to be found and police warned residents to be on high alert because of the dangerous nature of the snake.
Not only is the African zebra cobra's bite venomous, it's one of the few snakes that can spit its venom at its prey, enabling it to harm from farther away. The animal's ability to spit its venom from various positions also means that it can do it when completely concealed, taking its prey by surprise.
An investigation was launched into the snake's disappearance after it was apprehended and police removed numerous reptiles from Gifford's home. On Wednesday, the department announced that 40 charges were filed against him for breaking a law governing the owning of venomous reptiles.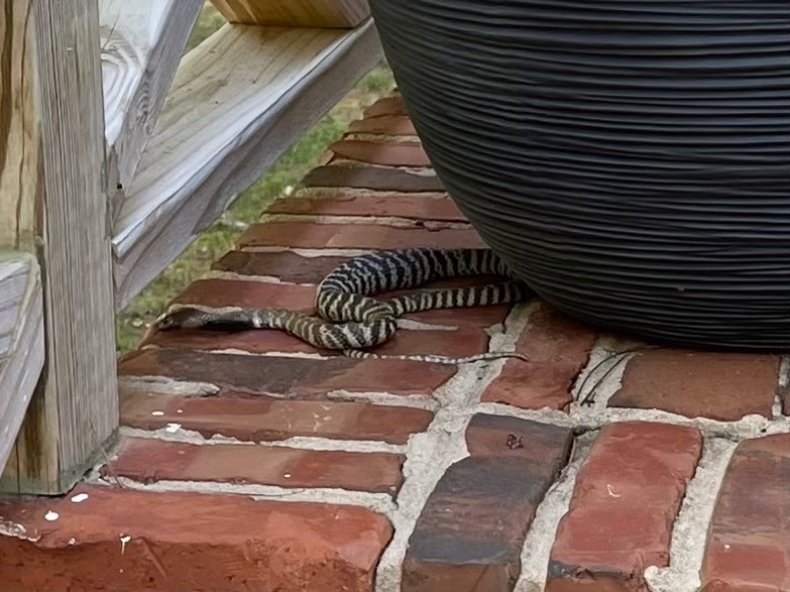 In North Carolina, it's not illegal to own venomous reptile as Giffords has built a reputation on TikTok for being a venomous snake owner. However, owners must follow specific guidelines, including immediately reporting when an animal is on the loose.
Owners must also keep the animals in an escape- and bite-proof cage that has an operable lock and clearly labeling the enclosures with the words "Venomous Reptile Inside." Labels must also include identifying information about the animal, the appropriate antivenin, and an escape recovery plan.
This isn't the first time animal control was sent to Gifford's home. In March, they paid him a visit after he was bitten by a green mamba, one of the most venomous snakes in the world. Animal control conducted a routine check of the animals and didn't find Gifford in violation of the statute, Felts told Newsweek.
Without another zebra cobra that's a different sex on the loose at the same time, Steve Mackessy, a snake expert at the University of Northern Colorado, told Newsweek people don't need to be concerned about a population of the zebra cobra becoming established in North Carolina. However, he said it's a good time to review the laws surrounding owning venomous species.
That's what one North Carolina lawmaker is trying to do. Raleigh City Council Member David Knight called what happened "irresponsible, reckless and dangerous" behavior and said it needs to be taken "seriously" because it could have had a tragic ending. He said he's considering proposing a ban on private and personal possession of the dangerous snakes.
Giffords faces 36 counts of improper closures, three counts of mislabeled enclosures, and one count of failure to report escape. Categorized as a Class 2 misdemeanor, the penalty for breaking the law is up to 30 days in jail if the person has no prior conviction or up to 60 days if they have more than five.