A man in eastern China suffered a near-fatal snakebite last week when he tried to catch a pit viper to make "snake wine."
The 63-year-old, identified by his last name Yu, underwent several hours of emergency treatment that ultimately spared his arm and saved his life, according to a hospital report published May 27.
Yu was admitted to Hangzhou Hospital of Traditional Chinese Medicine, in Zhejiang province, following his encounter with the serpent, which happened in a neighbor's courtyard.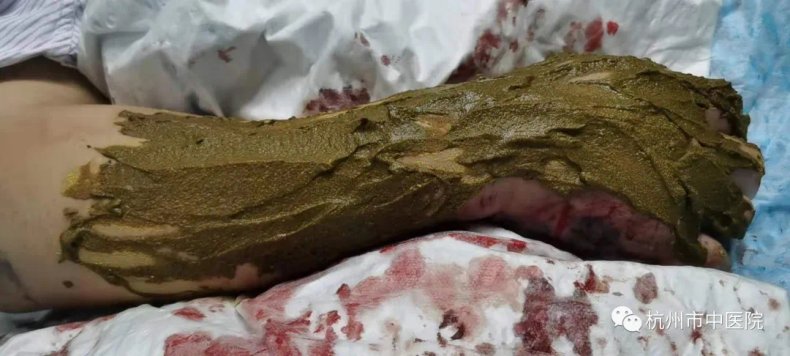 The report said Yu had been taking a walk after lunch one day, when a nearby resident noticed a pit viper outside their home. The species, known as a Chinese copperhead, is also called a "five-pace snake" and sometimes a "hundred-pace snake"—denoting the number of steps a snakebite victim can take before succumbing to its venom.
Yu, who had grabbed a shovel, said he wanted to kill the animal, which he described as a fully mature adult. However, he had a change of heart and decided to capture it alive to make snake wine, the hospital said.
The potent tonic is produced by infusing whole snakes—often alive—in rice wine or grain alcohol. It is consumed in some parts of Asia for its rumored medicinal properties, which range anywhere from curing diseases, to boosting vitality and improving sexual performance.
The Hangzhou hospital said Yu tried to pick up the viper and put it in a sack, but the predator turned and struck him on the right wrist.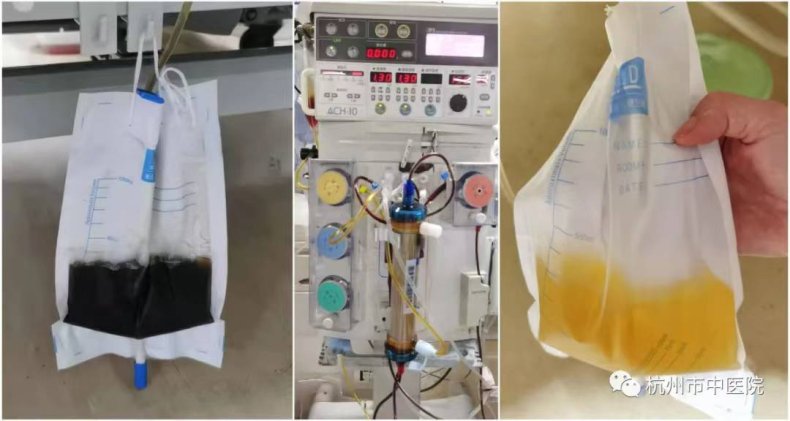 Blood gushed from Yu's arm and he felt a stinging pain. He tried to suck the venom out of his arm and washed his wound with clean water, but his gums began bleeding and his lips went numb a few minutes later, the report explained.
Yu began developing symptoms including tightness in the chest and difficulty breathing. He stumbled home and collapsed on the floor, leading family members to call an ambulance.
Thursday's report stated that Yu underwent emergency surgery and antivenom treatment. His urine turned black "like soy sauce," indicating coagulation abnormalities, the hospital added.
Medics feared he could develop disseminated intravascular coagulation, which in his case was caused by inflammation and could have resulted in blood clots forming throughout his body. The condition could have proved fatal, said the report.
Yu underwent two hours of blood and plasma transfusions, swapping out 2,500 milliliters of fluids until his urine returned to its regular color and his coagulation functions returned, the facility noted.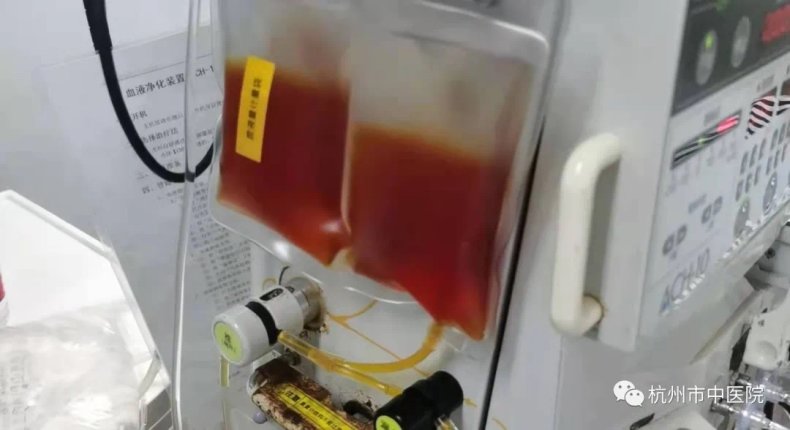 Swelling in Yu's right arm continued, but he was in stable condition. The hospital did not say when he would be discharged.
Some of the earliest mentions of snake wine can be found in Shennong Bencaojing (The Classic of Herbal Medicine), a Chinese book folk medicine dating back to around 200 and 250 CE.
While the snakes themselves are not consumed, venomous species are chosen for the supposed curative qualities of the drink, in which the toxins in their venom have been dissolved by ethanol.
The snakes often drown in the alcohol during the process, which takes place in glass jars.