After Weinstein Showdown, Venue Cancels Actor's Hour Event
After Harvey Weinstein showed up and was publicly shamed at Actor's Hour, a New York City "pop-up speakeasy" for performers, the venue scheduled to host the next installment of the show has cancelled the event. Bushwick venue House of Yes was set to welcome Actor's Hour on November 18, as Brooklyn Vegan reports, but publicly announced they were pulling out in light of the disgraced film producer's repeated attendance at the events.
According to an interview the event's producer, Alexandra Laliberte, gave BuzzFeed News, Wednesday's installment of Actor's Hour was the second that Weinstein attended.
The venue released a statement Friday afternoon, explaining that it has no plans to host the former movie mogul anytime soon. The statement released on Twitter also provided background including that Weinstein had allegedly attended Actor's Hour prior to the incident on Wednesday. The venue management made it clear that Weinstein is not welcome, writing, "Harvey Weinstein has NEVER BEEN to House of Yes and NEVER will be." They also called for apologies from Laliberte, and cancelled House of Yes's partnership with Actor's Hour.
The statement concluded, "We are moving forward with cancelling the event while the producers take their time to collect their thoughts and figure out how to heal the harm they caused by having Harvey Weinstein present at 2 of their events."
Actor's Hour shared its own statement to Instagram, which Laliberte's also posted on her personal Instagram profile. The post addressed Weinstein's presence, telling "I welcome and encourage an open dialogue between myself and the community, when I did not receive any feedback on his presence, I chose not to turn him away when he returned." Laliberte also wrote, "I am deeply saddened that this was not only triggering for attendees, but that they ultimately felt unsafe."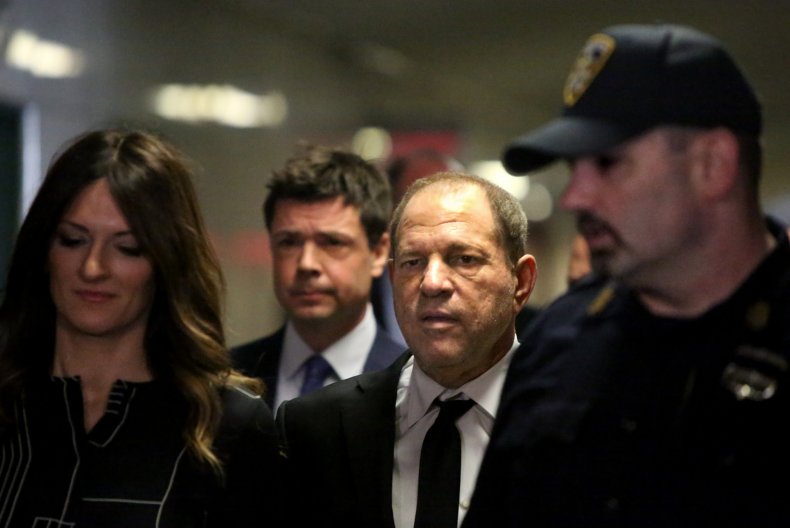 The statement also acknowledged both Kelly Bachman's performance, which was met with heckles, and Zoe Stuckless' confrontation. The note said, "By the time she was walking out-it was too late. She should not have been encouraged to leave." The producer wrote that they felt it was not handled correctly due to "fear and inexperience." Actor's Hour sought to open a dialogue after stating, "I want to sincerely apologize to any people-male or female-who were re-traumatized, hurt or felt disrespected this week at Actors Hour."
Bachman, a standup comedian, performed improvised material speaking about her experience as a rape survivor and called Weinstein, "The Freddy Krueger in the room." Stuckless and another performer, Amber Rollo, both confronted Weinstein directly before being asked to leave Actor's Hour.
House of Yes, Actor's Hour, and representatives for Harvey Weinstein did not immediately respond to requests for comment.