Vermont Lawmaker's Bill Would Allow Emoji on License Plates
Vermont state Representative Rebecca White has introduced a bill to the House that would add six emoji to the list of allowable symbols on license plates.
The emoji would not be in place of existing letters or numbers on plates, according to TV station WPTZ. Instead, registrants could choose one of them to add to their current or new license plates.
The bill, which was introduced Wednesday, does not specify which six of the 3,019 emoji recognized by the nonprofit Unicode Consortium can be used on Vermont plates. The bill does not mandate an additional charge for adding an emoji.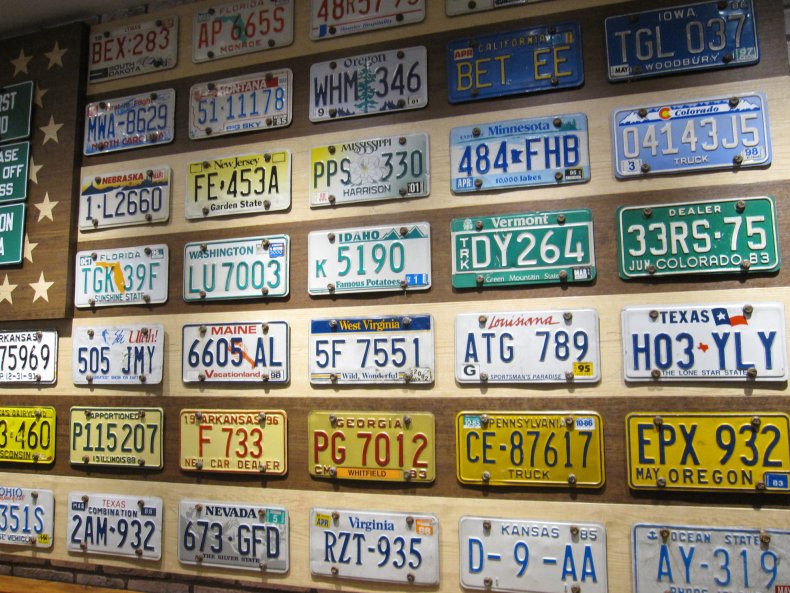 The state already has a number of alternate plates in addition to the standard white on green design. Drivers can opt for conservation plates featuring a variety of animals, and members of organizations like the Freemasons and the American Legion can have their logos displayed as well.
Vermont isn't the first place to introduce emoji license plates, although it would be the first in the U.S. The Australian state of Queensland allows drivers to add one of five emojis—"laugh out loud," "wink," "sunglasses," "heart eyes" or "smile"—to their plates for an additional 500 Australian dollars.
As with the Vermont proposal, the Queensland plates do not replace existing alphanumeric characters with the emoji but rather add them as supplementary elements.
Emoji, which are graphical representations of objects and emotions designed to be used in text message communication, were invented by Japanese artist Shigetaka Kurita in 1999.
Kurita was working for NTT DoCoMo, one of Japan's leading mobile communications providers, as it prepared to launch a mobile internet platform called "i-mode" in 1999. Looking for a way to deliver information without a lot of text, he created a set of 176 12-by-12-pixel icons, according to Wired.
They quickly became popular, and in 2007 a team at Google petitioned the Unicode Consortium, a nonprofit group that oversees which visual characters are standard across computer systems, to recognize them. It agreed and began indexing emoji in 2010.
That decision opened the door for emoji to appear on different software platforms and retain their meaning. Since then, the ranks of the little images have ballooned significantly, with dozens of new ones added each year.
Emoji have become a vital part of the modern lexicon. A 2015 study by software engineer Thomas Dimson revealed that a full 50 percent of comments on Instagram contained them. Another study, by tracking company Emogi, found that 92 percent of people online have used them. Those numbers rose rapidly when both Apple and Android added emoji keyboards to their mobile operating systems.