Vermont Gov. Phil Scott Becomes First Incumbent Republican Governor to Vote for Biden
Vermont Governor Phil Scott broke with his party on Tuesday and became the first incumbent Republican governor to publicly support Democratic nominee Joe Biden.
He told reporters outside of his office in Berlin that he voted for Biden in this year's presidential election.
"I put country over party," Scott said, according to Seven Days.
"It's been a bit of a struggle for me, but I ended up voting for Joe Biden," he added.
While other prominent Republicans have publicly endorsed Biden for president, Scott is the first GOP lawmaker currently in office to do so. The governor's said this marks the first time he has ever voted blue for a presidential candidate.
For months, Scott has said he would not vote for the Republican President Donald Trump, but had not stated who he would cast his ballot for.
"I've been quite adamant in not supporting the president," Scott said during a coronavirus new briefing in August. "I won't be voting for President Trump."
At the time, Scott said he had not decided whether or not he would vote for Biden but noted, "It's something that I would consider. I just haven't made that decision at this point."
Maryland Governor Larry Hogan and Massachusetts Governor Charlie Baker also said they will not support Trump but did not vote for Biden. Hogan told reporters that he wrote in Ronald Reagan, while Baker said he left his ballot blank.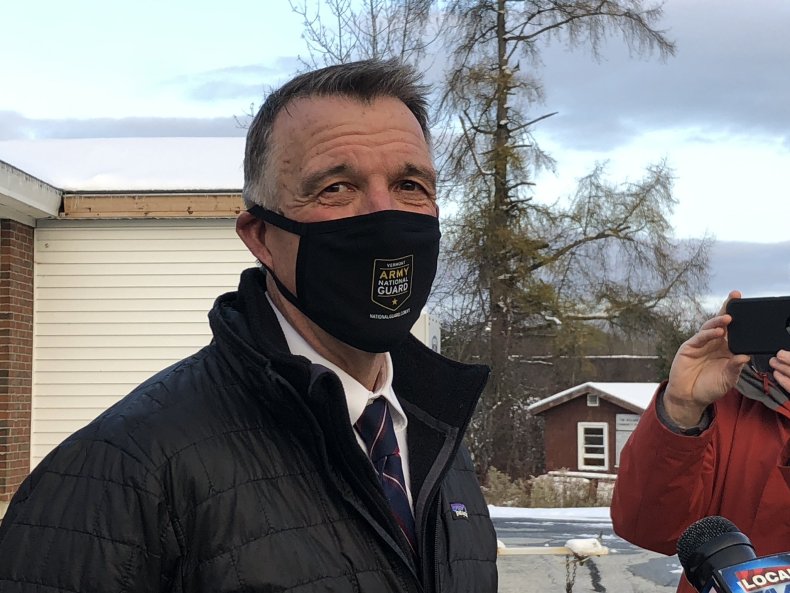 Scott has been a vocal critic of the president since he first ran for office.
In the last presidential election, he also did not support Trump. The governor said he wrote in former Republican governor Jim Douglas for president in 2016.
Back in February 2019, Scott supported the Democrat's impeachment inquiry, saying "I believe that the president abused his powers."
"I didn't vote for the president, and I don't believe that he should be in office," he added during a news conference.
Scott told reporters on Tuesday that he hopes Biden knows that if he wins the election, it will be because of more moderate voters like himself.
"It's also my hope that he will realize that it wasn't the right that got him elected, if he is elected," the governor said, according to Seven Days. "It wasn't the extreme left who got him elected. It's the moderates, the centrists—and that's where I am. Because if he's elected, it's because the moderates and the centrists came to his defense."
Scott is up for reelection himself this year against Democrat Lieutenant Governor David Zuckerman but is heavily favored to win.
Newsweek reached out to the Biden campaign and the Trump campaign for comment but did not hear back before publication.
Vermont has leaned Democratic in every presidential election since 1988, when the state went for President George H.W. Bush.