Vermont Wedding Photo of Maskless Guests and No Social Distancing Causes COVID Concerns
Officials in Woodstock, Vermont, urged residents to comply with municipal orders on face masks and physical distancing after a photo on social media sparked concerns about coronavirus transmission.
The photo, which gained widespread attention on Facebook over the weekend, pictured a large crowd of people seated shoulder to shoulder during a wedding ceremony at the Woodstock Inn and Resort on Saturday. None of the guests are wearing face masks, despite statewide regulations to curb the spread of the virus. State leaders announced mask requirements for Vermont residents and visitors over the summer, as public health authorities across the U.S. reported increasing virus cases. The requirements became effective on August 1.
"The Woodstock Village and Town leadership is well aware of and extremely concerned about the lack of masks and social distancing portrayed by a photo taken at a Woodstock Inn wedding event this past Saturday," Jeffrey Kahn, chairman of the Woodstock Board of Trustees, wrote in a Listserv message shared Sunday night, according to New Hampshire-based newspaper Valley News.
"The safety of our residents, business employees and visitors is of utmost importance to us," Kahn reportedly added in Sunday's message. "We must not become complacent about adhering to the Village mask ordinance. Wear your mask...be well."
In Vermont, where the incidence of COVID-19 has remained relatively low throughout the pandemic, compared with other parts of the country, officials have set detailed guidelines for interstate travel. The guidance allows individuals traveling to Vermont from certain states—Delaware, Maryland, New Jersey, New York, Ohio, Pennsylvania, Virginia and West Virginia, as well as Washington, D.C.—are permitted to enter without self-isolating if their home counties are reporting less than 400 active virus cases per million, and if they arrive using a personal vehicle.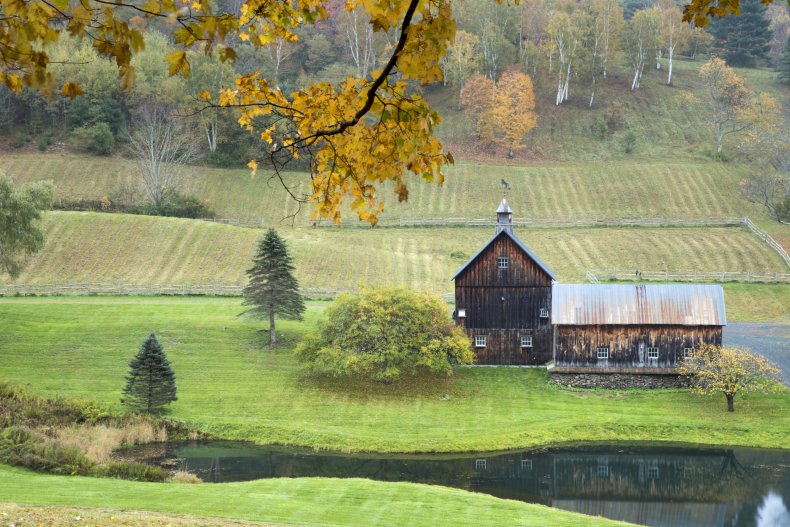 All other travelers are required to quarantine for 14 days, or seven days if they subsequently test negative for the virus, upon their arrival to Vermont. Those traveling from outside the state who plan to use public accommodations, like hotels, campsites or short-term rental properties, are also required to sign a certificate of compliance agreeing to follow Vermont's face mask and social distancing protocols. It is unclear how many people, if any, came from outside of Vermont to attend Saturday's Woodstock Inn wedding.
Stephanie Croteau, a representative from the Woodstock Inn's public relations firm, Redpoint, reportedly told Valley News the hotel's management personnel are reviewing regulatory procedures for future events in the wedding's aftermath.
"While we tried to comply with all guidelines, we agree that we need to further enhance adherence to both the town and state protocols.... We understand the concerns and will make every effort to reassure the community with added layers of protection moving forward," Croteau said in a statement, according to Valley News.
"After thoughtful and productive discussion with town and State leaders following the wedding event, we have conducted a thorough review of procedures and will be implementing further precautionary safeguards," the Woodstock Inn said in an additional statement sent to Newsweek on Thursday. The hotel described the photo of guests at Saturday's wedding as "an unfortunate misrepresentation" of the event, and noted that a seating plan accounting for social distancing protocols was provided for attendees, as were face masks.
"We understand, however, that perception is what matters," the Inn continued in its statement. "We pledge to do our collective best to ease any concerns, stay transparent in how we operate, and work with our community to keep it healthy and strong."
Newsweek reached out to the Woodstock Village Board of Trustees for comment but did not receive replies in time for publication.
This story was updated at 1:58 p.m. ET to include the Woodstock Inn and Resort's statement to Newsweek.