The 175,000 rapid COVID test kits, each containing two tests, that were made freely available on a Vermont state government website were claimed in less than five hours Wednesday, averaging to a rate of 614 test kits claimed every minute.
The website opened at 10 a.m., and the tests were gone 4:45 later by 2:45 p.m., state officials said.
Gov. Phil Scott's office provided the free tests in partnership with the National Institute of Health and Amazon. They will be delivered within two weeks, according to WFFF News in Albany, New York.
The release Monday is the first of two phases of the pilot program, with another 75,000 test kits totaling 150,000 tests to be released at an undetermined time.
"As expected, demand was very high and shows how much Vermonters understand the importance of testing as a way to protect their health and the people around them," Scott said in a statement, according to WFFF. "While we knew the limited supply would go quickly, this effort will help inform future decisions, as we continue to work to make testing as accessible as possible for all Vermonters."
Over the weekend, people lined up and waited for over two hours before at-home tests ran out at a distribution site outside Buffalo, according to The Buffalo News.
Although the distribution was scheduled to begin at 9 a.m. Sunday, cars backing up and causing a traffic jam on a nearby road by 7 a.m. led those running another New York site to start giving out the tests an hour early.
The federal government is preparing to distribute hundreds of millions of the at-home testing kits in the coming months through the United States Postal Service, with delivery reportedly scheduled to begin later this month.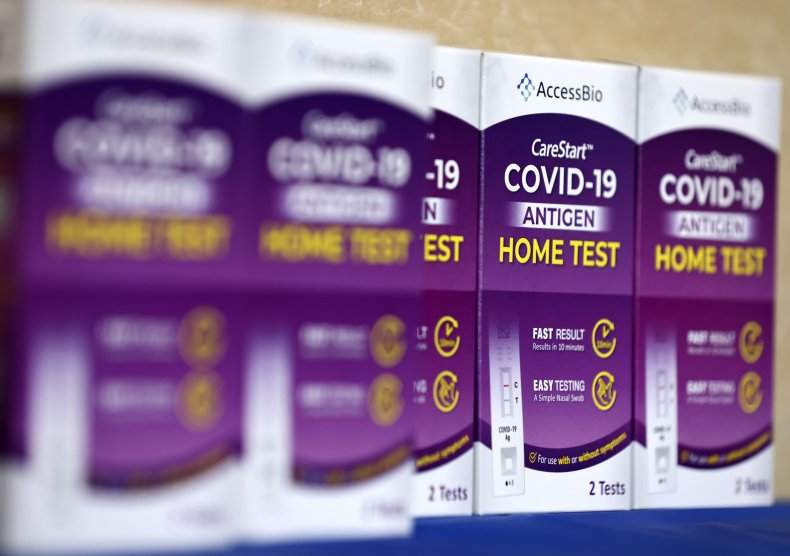 Households were allowed to order two kits containing a total of four tests that will be delivered to 87,500 households over the next one to two weeks, Scott's office said. The rapid test delivery program comes at a time when the state, with a population of more than 645,000, has seen a surge in COVID-19 cases.
The administration will continue to work to get more tests for Vermonters as supply allows, his office said.
Scott has said he hopes rapid tests will be readily available at local pharmacies for lower prices in the near future.
The Associated Press contributed to this report.
Uncommon Knowledge
Newsweek is committed to challenging conventional wisdom and finding connections in the search for common ground.
Newsweek is committed to challenging conventional wisdom and finding connections in the search for common ground.
About the writer
A 2020 graduate of Kent State University with a Bachelor's degree in Journalism, Aaron has worked as an assigning editor and reporter for KSU's student-run newspaper The Kent Stater, as well as a News Intern with WKSU Public Radio, Kent State's local NPR affiliate.