Vermont's Lone School District Thought to Be Without Mask Mandate Had Board Vote Against It
One school district in Canaan, Vermont, thought to be the only one in the state without a mask mandate, had the school board vote against the measure 5-1 last month, the Associated Press reported.
Vermont's Agency of Education has recommended its schools to mandate mask wearing. Canaan School Board Chair Dan Wade said the board does not oppose wearing masks amid the COVID-19 pandemic, only that they are against making it mandatory.
Wade told the Caledonian Record that he asked the Vermont School Boards Association if "we can actually enforce it and that was a very questionable point at that time and the answer was, 'no, I don't think we can.'"
However, the board is recommending masks be worn and has implemented the measure as mandatory on school buses.
There were 96 new cases of COVID-19 in the state recorded by the Vermont Department of Health on Friday.
"It's important to put COVID-19 numbers in context," Governor Phil Scott wrote on Twitter on Wednesday. "Despite what you may hear online, Vermont is in a better position than any other state to deal with COVID. The data is clear: vaccines are working and are the best tool we have to fight this virus."
For more reporting from the Associated Press, see below.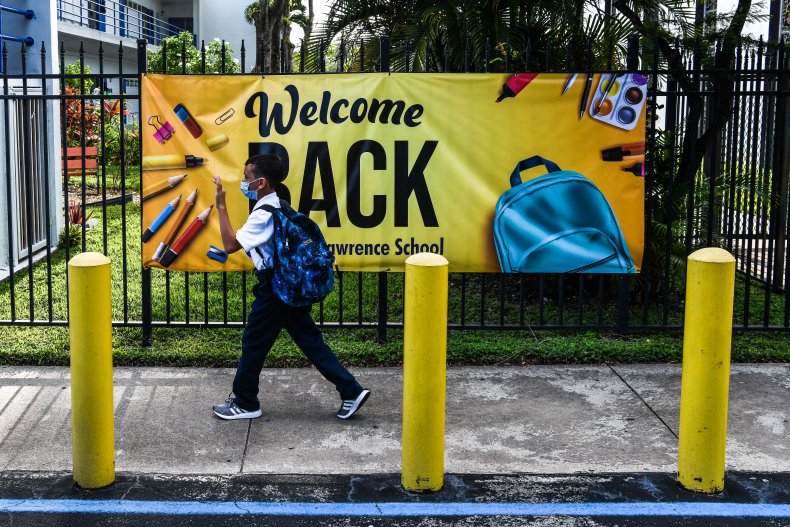 The board in the district that abuts the Canadian border and New Hampshire voted 5-1 last month to reject the state's recommended COVID-19 prevention measures, chiefly the use of face masks as school resumes.
Canaan Superintendent Karen Conroy said they have been promoting vaccinations and an anonymous survey found that 86 percent of those who responded were vaccinated.
She said that as she walked through the school Thursday, "all of my elementary classroom teachers were wearing masks, but the majority of students are not, based on their parent's choice."
Vermont's COVID-19 death toll reaches 280
On Friday, the statewide total of Vermont's COVID-19 infections since the pandemic began hit just over 28,700.
There were 31 patients in the hospital with COVID-19, including 11 in intensive care.
The state reported one additional fatality, bringing the statewide total since the pandemic began to 280.
The seven-day rolling average of daily new cases in Vermont has risen over the past two weeks from 111.43 new cases per day on August 18 to 148.29 new cases per day on September 1.
AP is using data collected by Johns Hopkins University Center for Systems Science and Engineering to measure outbreak caseloads and deaths across the United States.