Vermouth Cocktails Are the Bitter New Cocktail Trend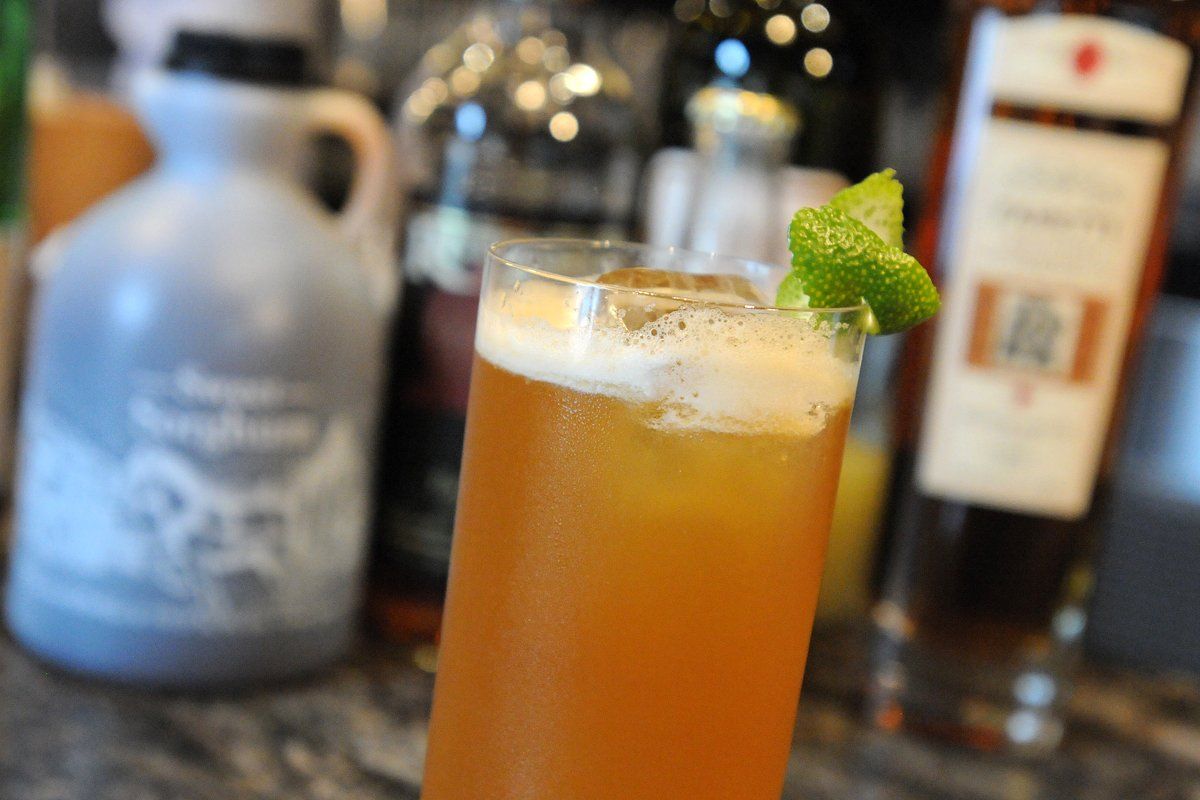 To Dushan Zaric, a Belgrade-born mixologist who presides over Manhattan's Employees Only speakeasy with a piratical air (his cufflinks are silver skulls), "a cocktail recipe is like a sheet of music." As Zaric mixes a Mata Hari—a spicy, rose-hued concoction that blends cognac, pomegranate, and lemon with a spill of house-made chai vermouth—he explains, "You give a sheet of music to different musicians and they will all perform it in different ways. The secret of a cocktail is not in the recipe, it's in the heart."
Zaric is part of a wave of thirsty purists whose passion for hand-batch vermouths and creatively engineered bitters is changing the American happy hour. When you think of vermouth, you may picture a dusty bottle that's trotted out on rare occasions for an elderly uncle, to make a Manhattan (sweet vermouth, rye, and a cherry), a bare-bones martini (gin or vodka with dry vermouth), or a Negroni (sweet vermouth, gin, and Campari). And it's true that the drink's origins are venerable. Vermouth and its bitter companions have roots in the Middle Ages, when monks fortified leftover wine so it wouldn't spoil, flavored it with wormwood (Wermut), and sold it as a pungent tonic.
But vermouth acquired a glittering makeover in the New World as the chosen quaff of bright young things in the jazz age, like F. Scott Fitzgerald's flappers and "slickers"—"good-looking or clean-looking" men with "brains," who sought to "get ahead, be popular, admired, and never in trouble." Bars at the Savoy and the Ritz looked to Europe for vermouth and bitters recipes to stretch their wines and spirits and add depth to the innovation they called the "cocktail." Today's barmen pay homage to this history with ingenious updates that draw on gourmet tastes to perfect the harmony of flavors. "Americans are still rediscovering food," Zaric says. "We've been obsessed with farm-to-table for a while, and now you have cocktails that are farm-to-glass, with people planting their own herb gardens to flavor their drinks. People are taking it to extremes."
In Manhattan perhaps the most dedicated exemplar of the bitters and vermouth trend is Amor y Amargo (Love and Bitterness, in Spanish), a tiny, tiled shrine to mellifluous libations that opened a year ago in the East Village. There, the Manhattan-born environmental lawyer Mayur Subbarao serves house-made sweet vermouth on tap ("the way Italians and Spaniards like to drink it") in the Torinese style, tinged with clove and orange peel—"bitter, spicy, and aggressive." Working with Janet and Avery Glasser, founders of the artisanal extracts company Bittermens, Subbarao also developed an amber vermouth redolent of apple and smoky orris root, flecked with vanilla bean. He, Avery Glasser, and a handful of magician-caliber mixologists have whipped up a drinks menu that blends bespoke vermouths with nuanced bitters, wines, and spirits, creating dozens of taste combinations that are not easy to decode—or to forget.
In the resonant Truth Prevails, the house amber vermouth mingles with Becherovka liqueur, whisky, and Bittermens Peppercake bitters. The White Negroni dives into the palate with a clean splash that hides a sharp kick. In it, herbal Alpine and mellow amber vermouths mingle with gin or tequila and Boston Bittahs. Nobly, the devoted barmen do not hoard their knowledge; their aim is to spread their art to the American cocktail hour, wherever it occurs. Early most evenings (before the bar's well-behaved guests have filled every inch of counter space) they can be seen pouring judicious samples of their array of exotic potions for curious patrons. One such visitor remarked to the barman Nick Bennett, "This is the smallest bar I've ever seen." Bennett, calm and bow-tied, replied, "It's not the size of your bar; it's the strength of your cocktails."