Vernon Jones Says Being Gay Is a Choice—'They Can Actually Change'
Republican congressional candidate Vernon Jones has argued that LGBT rights should not be compared with civil rights for Black people, saying being gay was a choice.
In February, the former president Donald Trump endorsed Jones in the race for Georgia's 10th congressional district only days after he exited the race for governor in the Peach State.
In an interview on Friday with former Trump aide, Steve Bannon, Jones said that "civil rights for Blacks, and gay rights for gays, are two different things."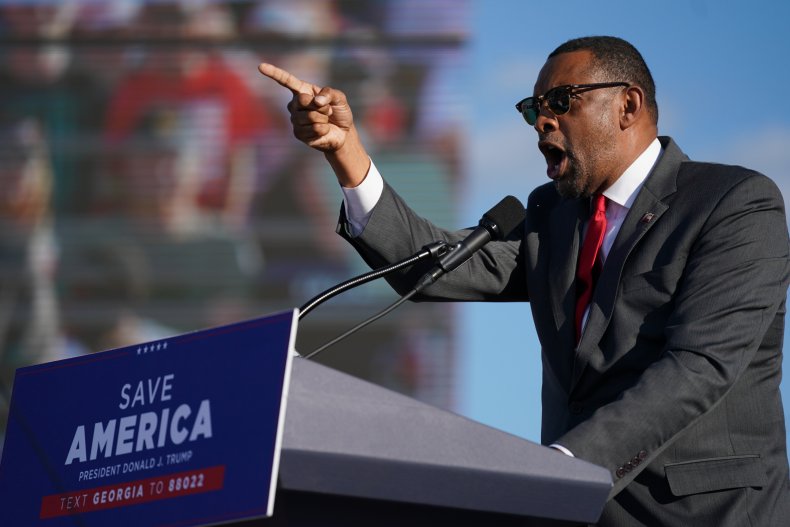 After Bannon responded, "they say it's the same thing," Jones interrupted with "but it's not the same thing."
"I don't know what you are unless you tell me what you are, if you're gay," Jones told the War Room podcast. "But when I walk in that room, you can tell that I'm Black. I'm Black from cradle to grave, let's not get that confused."
"They can actually change," Jones said in a comment that would put him at odds with LGBT advocates who have said that sexual orientation is what you are born with and not a choice.
"You can go from being straight, to being gay, to being transgender and all these other genders," he said. "But when you Black, I don't have a choice."
"When did gays come over in ships?" he added, referring to the slave trade.
Jones is renowned for making headline-grabbing statements. In February, he said that if elected to the House of Representatives, he would introduce articles of impeachment against President Joe Biden and Vice President Kamala Harris on his first day in Congress for a "betrayal of public trust."
"Then I'll cast my vote for President Trump to be Speaker and invite my colleagues to join me," he said.
Jones was a Democratic state representative who served multiple terms in the Georgia House before proclaiming himself a Republican in January 2021 as his last term expired.
While still a Democrat, he endorsed Trump ahead of the 2020 election before the former president returned the favor to Jones.
Before quitting the governor's race, Jones built his Georgia gubernatorial campaign around Trump's falsehoods that the state's election was stolen and promised another audit of the 2020 presidential ballot.
On February 8, he tweeted: "Hell, they even call me the Black Donald Trump!" In the race for the U.S. House, he faces more than 10 Republicans in the congressional district which includes urban and rural areas between Atlanta and Augusta.