Vernon Jones Says He's Tired of Being Asked to Clarify Contentious Remarks
Republican congressional candidate Vernon Jones has complained that he is "tired" of being asked to clarify controversial remarks.
Jones, an ex-Democrat whose run for a Georgia U.S. House seat has been endorsed by former President Donald Trump, lashed out at "liberal reporters" asking him to clarify a series of contentious comments in a tweet on Monday. The Georgia Republican has increasingly come under fire for his rhetoric since backing Trump in 2020 and switching parties the following year.
"I'm tired of liberal reporters reaching out to me for 'clarification,'" Jones tweeted on Monday. "Yes, I said Ilhan Omar hates Christians. Yes, I said being gay isn't the same as being black. Yes, I said Elon Musk is an AFRICAN-AMERICAN. Yes, I SAID WHAT I SAID."
In response to Newsweek's request for comment on how often he is approached to clarify controversial remarks, Jones said in a statement: "Too often. I will never back down to the liberal mob and I will never sugarcoat the truth. My focus is on serving the people of Georgia and putting America First - not the feelings of deranged leftists hellbent on destroying our country."
Jones' latest controversy came from comments that he made in response to Representative Ilhan Omar, a Minnesota Democrat, weighing in on a recent viral video of Christians singing worship songs to a captive audience during the flight of a commercial airplane.
Omar, who is Muslim, drew outrage from Jones and some others on the right for comparing the impromptu Christian concert with the way that Muslims might be treated if they were to disrupt a flight in a similar manner.
"I think my family and I should have a prayer session next time I am on a plane," Omar tweeted on Saturday. "How do you think it will end?"
"Why do you hate Christians, Ilhan?" Jones responded in a tweet on Sunday. "If the freedom of religion we enjoy here in America disturbs you, feel free to pack your bags and head back to Somalia, Sudan, or wherever you're from."
Jones also told Omar to "take your brother with you," possibly referring to an unsubstantiated conspiracy theory claiming that the congresswoman married her own brother. Despite a lack of evidence, the theory has continued to be pushed by Trump and others on the right.
Jones' remarks on LGBTQ people drew criticism earlier this month following an interview with former Trump adviser Steve Bannon. Jones compared civil rights for Black people with the gay rights movement, noting that the two issues were separate while claiming that others "say it's the same thing."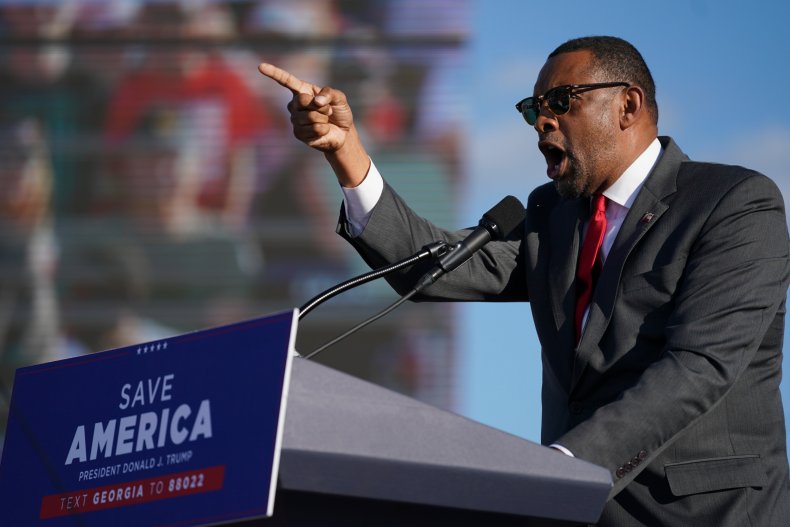 "I don't know what you are unless you tell me what you are, if you're gay," Jones said during the War Room podcast. "But when I walk in that room, you can tell that I'm Black. I'm Black from cradle to grave, let's not get that confused."
"They can actually change," he continued. "You can go from being straight, to being gay, to being transgender and all these other genders."
Jones has referred to Musk, who is white but was born in South Africa, as an "African American" multiple times this month, while supporting his Twitter takeover bid as a way to "take down Big Tech."
"Every time I call Elon Musk an African-American liberals seem to get really mad, so I'm going to keep calling him an African-American," Jones tweeted on Friday.
Prior to becoming a controversial Republican, Jones came under fire for multiple allegations of misconduct toward women while he was a Democrat. An article published by The Atlanta Journal-Constitution last May detailed multiple accusations that included alleged rape, harassment and threats.
Jones, who has accused the Democratic Party of serving as a "mental plantation" for Black people, has also pledged to immediately move to impeach and remove both President Joe Biden and Vice President Kamala Harris if he is elected to Congress.
Following the proposed double impeachment, Jones said he would "vote for President Trump" to become Speaker of the House, which would make Trump the next person in line for presidential succession—installing him as president without being elected.
Update 4/18/22, 6:47 p.m. ET: This story has been updated with additional information and background.