'Veronica Mars' Season 4: How to Catch Up With the Series, Books Before New Episodes Release
On July 26, a new season of Veronica Mars will release on Hulu. The season will consist of eight episodes focusing on Veronica finding the culprit behind a series of bombing attacks on her hometown of Neptune.
Veronica Mars debuted on television screens in 2004. It starred a high school student named Veronica Mars(Kristen Bell), who moonlights as a private eye. During the show's first season, Veronica was trying to solve the murder of her socialite best friend, Lilly Kane(Amanda Seyfried). All the while, Veronica had to navigate her high school social life. The show was canceled in 2007.
During its original run, Veronica Mars was critically acclaimed but struggled to maintain viewers. However, the show developed a cult following over the years, prompting several revivals, like a Kickstarter-funded film, a CW Seed webseries and two books. A new season of the show is just the latest development on this front.
Most of this content is considered canon to the upcoming season by the show's creators, and will likely act as a foundation to the storyline. If you'd like to catch up or brush up on your Veronica Mars before the new season, then we've got a guide for you.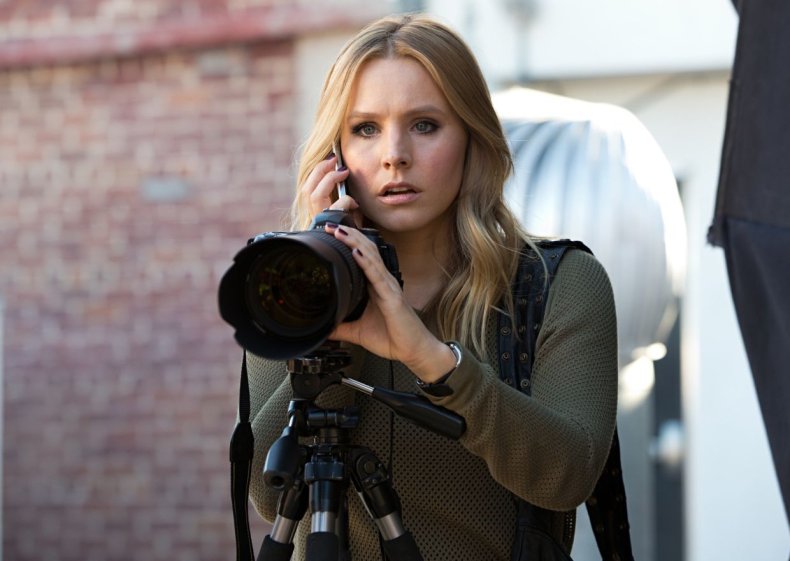 Veronica Mars (2004 - 2007 Series)
Reliving all those little moments that initially made you fall in love with Veronica Mars and her amazing friends isn't too difficult. According to Kristen Bell, the first three seasons of the popular show will be available for Hulu subscribers sometime this summer, presumably before the new season debuts. In the meantime, you can purchase your favorite episodes or the whole series on a few services.
Watch on Amazon, Google Play, Tunes, Vudu or YouTube.
Veronica Mars Season Four Proof of Concept (2007)
Unlike most of this list, this isn't canon, but it's an interesting watch nevertheless. In an attempt to appeal to network executives, creator Rob Thomas made a 12-minute 'pilot' for a potential fourth season of Veronica Mars.
In the proposed season, the show would jump forward four years ahead of the third season's conclusion and Veronica would change occupations from small-town private eye to L.A.'s newest FBI agent. In addition to the new scenery, Veronica's lovable friend group would be entirely replaced by her colleagues at the FBI. The pilot first appeared as an exclusive Season 3 DVD extra, but has since made the rounds on YouTube.
Watch on YouTube.
Veronica Mars (2014 Film)
The film takes place nine years after the end of Season 3. Veronica is now a renowned lawyer living in New York City with her college boyfriend, Piz (Chris Lowell). She's leading a relatively calm life until her old flame, Logan Echolls (Jason Dohring) reaches out for help. Logan has been accused of murdering his girlfriend, Carrie Bishop. The case brings Veronica back to her hometown of Neptune, California. She runs into many familiar faces while attempting to clear Logan's name. Similar to the series, the movie will be available on Hulu sometime this summer.
Watch on Amazon, Google Play, HBO Now, iTunes, Vudu, and YouTube.
Veronica Mars: The Thousand Dollar Tan Line (2014 Book)
Building on the momentum of the film, Thomas and writer Jennifer Graham penned a Veronica Mars novel, which debuted two weeks after the film and takes place almost immediately after the film's conclusion. Thomas has stated in interviews that both this book and its follow-up, Mr. Kiss and Tell, are canon to Veronica Mars and will not be negated by later content.
The book follows Veronica's attempts to find an affluent young girl kidnapped while enjoying spring break in Neptune. The Thousand Dollar Tan Line features very little romance, focusing more on the series' noir elements. Although the book is a lovely read, I strongly suggest you listen to the Kristen Bell-narrated audiobook version.
Read on Apple Books, Amazon, Barnes and Noble, and Google Play.
Listen on Apple Books, Audible, and Google Play.
Play It Again, Dick (2014 CW Seed Web series)
Shifting focus from Bell's character, this meta webseries / spin-off centers on side character Dick Casablancas and Ryan Hansen, the actor who portrayed him. In the eight-episode series, Ryan Hansen works to convince his former Veronica Mars castmates and Rob Thomas to return for a show exploring his character, Dick Casablancas who, like Veronica, has become a private eye.
It's not a necessary watch, but Play It Again, Dick only takes a little more than an hour to get through. It's perfect if you're craving more Veronica Mars content before the new season comes out. Tonally, the show is very distinct from Veronica Mars, sharing more DNA with Thomas' 2009 Show, Party Down. Play It Again, Dick was not announced to be included amongst the Veronica Mars content coming to Hulu this summer.
Watch on iTunes, Google Play, and YouTube.
Veronica Mars: Mr. Kiss and Tell (2015 Book)
Rob Thomas and Jennifer Graham again write a Veronica Mars follow-up novel. This time, Veronica has to uncover the source of some shady dealings happening around Neptune's ritziest hotel, the Neptune Grand.
Unlike the first book, this one focuses more on Veronica's love life, than her sleuthing. Mr. Kiss and Tell is also available as an audiobook, but Bell does not return to narrate. Bell is succeeded by award-winning audiobook narrator, Rebecca Lowman.
Read on Apple Books, Amazon, Barnes and Noble, and Google Play.
Listen on Apple Books, Audible, and Google Play.
The new, Hulu-exclusive season of Veronica Mars premieres on July 26.