The Very Best Documentaries of 2016 So Far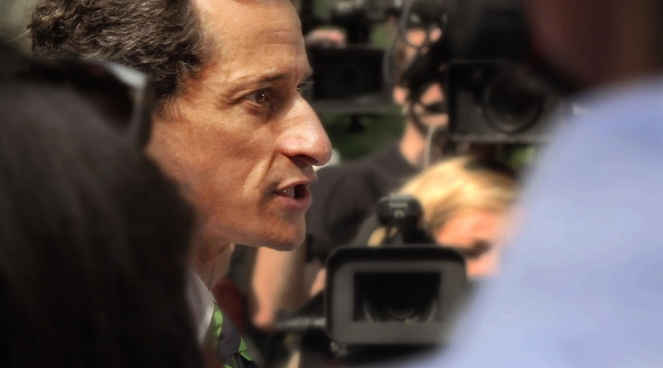 The world's a terrifying place, but at least that makes for good documentaries.
From Anthony Weiner's sexting disasters to Jackie Robinson's courage, these are the documentary films that have grabbed our attention in 2016 so far. It's not an exhaustive list, and surely there is more to come in the latter half of 2016.
A Beautiful Planet
It's not every day the gravity-bound public has a chance to see Earth the way astronauts do, in all its glory and with visible markers of environmental and geopolitical distress. Nor will most humans ever get to experience firsthand what daily life in the International Space Station looks and feels like, from small moments like drinking espresso or washing your hair in a weightless environment to the massive anxiety of embarking on a space walk. Actual astronauts were trained to film IMAX footage from the ISS for Toni Myers's A Beautiful Planet, an ode to the only planet known for certain to harbor life and a window into a coveted and almost fantastical career path. It's narrated by the soothing voice of Jennifer Lawrence and interspersed with articulate, sometimes even poetic interviews with the astronauts upon their return to Earth. The views are breathtaking—from the teal waters of the Bahamas to lightning dancing across nighttime cityscapes during a storm—and devastating—from the chilling darkness of North Korea after sundown to the "brown soup" of pollution above China. The film has a hopeful bent, trying to strike a delicate balance between pointing out the fragile state of the planet and inspiring viewers to believe they can do something to help save it, all while capturing the wonder of space exploration. Watch this one in IMAX 3D—it's worth it. —Stav Ziv
Eat That Question: Frank Zappa in His Own Words
Plenty has been said about Frank Zappa since the iconoclastic rocker and composer's 1993 death from cancer. That's fine and good, but that's not what this is: Eat That Question, a new Zappa documentary named after a song on the musician's Grand Wazoo LP, has virtually no interest in critical assessments or "experts" pontificating. Instead, as its subtitle suggests, the film lets the late Zappa speak for himself, drawing from a treasure trove of archival footage that includes unseen interviews and TV appearances. Some scenes are funny (Zappa lashing out at the mainstream media he so despised), others tense (Zappa's mid-'80s censorship battle with Tipper Gore), others sad (the rocker's final interview as he battled terminal prostate cancer), but it's all a revealing glimpse of Zappa's guiding philosophies and lifelong anti-conformism. —Zach Schonfeld
Jackie Robinson
History treats Jackie Robinson mostly as a myth, not a man: He was the humble ballplayer Brooklyn Dodgers owner Branch Rickey used to break baseball's color barrier, the secular saint who turned the other cheek when confronted with racism. White America has preserved this gleaming image of the icon, but the real Jackie Robinson was far angrier than history remembers, and he continued fighting fiercely for African-American rights long after his playing career came to an end. This is the Robinson who filmmaker Ken Burns—along with daughter Sarah and son-in-law David McMahon—examines in Jackie Robinson, which premiered in April on Burns's longtime home PBS. Some myths need to be dispelled, especially in the case of a complicated figure like Robinson, whose work as an activist is just as important now as it was 50 years ago. Interviewing everyone from Robinson's wife Rachel to President Barack Obama and the first lady, the Civil War and Baseball director does just that as he explores the misunderstood life of one of America's greatest civil rights pioneers. —Ryan Bort
Life, Animated
Owen Suskind is 23 and about to move into an apartment of his own for the first time in Life, Animated. In some ways he's like a lot of other young adults his age, nervous and excited to embark on a new chapter in his life. But in other ways, he's different. At three years old, Owen suddenly "vanished," his motor skills deteriorated and he spoke only in gibberish. His father describes feeling like his son was kidnapped. Diagnosed with autism, Owen didn't have another conversation with his parents or older brother for years. This documentary tells the story of Owen and the Suskind family and how they discovered that animated Disney films were the key to communicating with one another. In parallel tracks, Life, Animated traces Owen's childhood and his newfound adulthood, through rites of passage like graduation, independent living and a breakup. It moves gracefully between documentary footage, home movies and family photos, clips from Disney films and new drawings and animations. One is about the "protector of sidekicks," a role Owen imagined for himself as a child when he sat in the basement drawing character after character, always the sidekicks rather than the heroes. Life, Animated is a moving, exquisitely-made film about an autistic child growing up, a family finding its way and the passion for Disney that helped them through it all. —Stav Ziv
Lo and Behold: Reveries of the Connected World
Werner Herzog is always going to weird places, and his new feature-length documentary about the internet is no different than earlier ventures into Alaska or the Sahara. Whether he is in the UCLA room where the internet was essentially invented or in a West Virginia hamlet free of digital communication, Herzog teases out the promise, confusion and occasional terror of worldwide communication system that exists, perhaps, with all too few constraints. It is a testament to Herzog's curiosity that he can imbue something as ever-present as the internet with so much mystery and wonder. —Alexander Nazaryan
O.J.: Made in America
What makes O.J.: Made in America special is not so much how it offers an elucidating behind-the-scenes account of the trial of the century, but how it tells the story of the rise and fall of Orenthal James Simpson himself. His story is a complicated one, as beautiful and inspiring as it is tragic. It is the American dream encapsulated that turned into the worst kind of nightmare. Through Simpson's story, filmmaker Ezra Edelman tells the story of America, which is to say he tells the story of race in America. As we learn about the rise of Juice, we too learn about the Los Angeles police department's contentious relationship with the African-American community, and how these two stories converged in one of the most shocking and significant cultural events in the country's history. Edelman enlists everyone from friends to journalists to prosecuting attorneys to defense attorneys to the jurors themselves. The five-part series is nearly eight hours long, but the portrait it paints is so stunning that anyone with even a passing interest in O.J. Simpson—or America—will find every minute riveting. —Ryan Bort
Tickled
The first thing you learn while watching a documentary about tickling is that it's nearly impossible not to smile while watching someone laugh hysterically—even if you know the act is at the possible expense of another person's life. The last thing you learn? Even tickling can be a premeditated act of harassment. Tickled's David Farrier and Dylan Reeve, two New Zealand journalists who normally shy away from career-ending problems, are threatened with lawsuits not longer after beginning an investigation into the vitriolic, mysterious creator of a "competitive tickling" sports league in the U.S. The documentary's disturbing revelations about "tickle cells" that exploit young, often poor men and the failures of the U.S. justice system to protect the innocent will leave you out of breath—or enraged enough to stop laughing. —Margarita Noriega
Weiner
The world's top screenwriters couldn't write a political drama as insane as the real-life meltdown that unfolds in Weiner. Josh Kriegman and Elyse Steinberg's film is a genuinely gripping peak behind the curtain of Anthony Weiner's 2013 run for mayor of New York—just as it was engulfed by Weiner's various extramarital sexting scandals and on-camera tirades. It's about media, too, of course: Weiner (which is as impeccably named as its hero) shines a flashlight on the crusty, filth-infected rock under which the Manhattan tabloids operate, revealing how the dailies and late-night shows colluded to make "Carlos Danger" the name of the summer that year. The most remarkable thing about this movie is that it exists at all—that Kriegman and Steinberg were ever granted front-row seats to a political nightmare. In a telling scene, Kriegman asks the candidate point blank: "Why did you let me film this?" Weiner seems equally bewildered by the mystery. —Zach Schonfeld