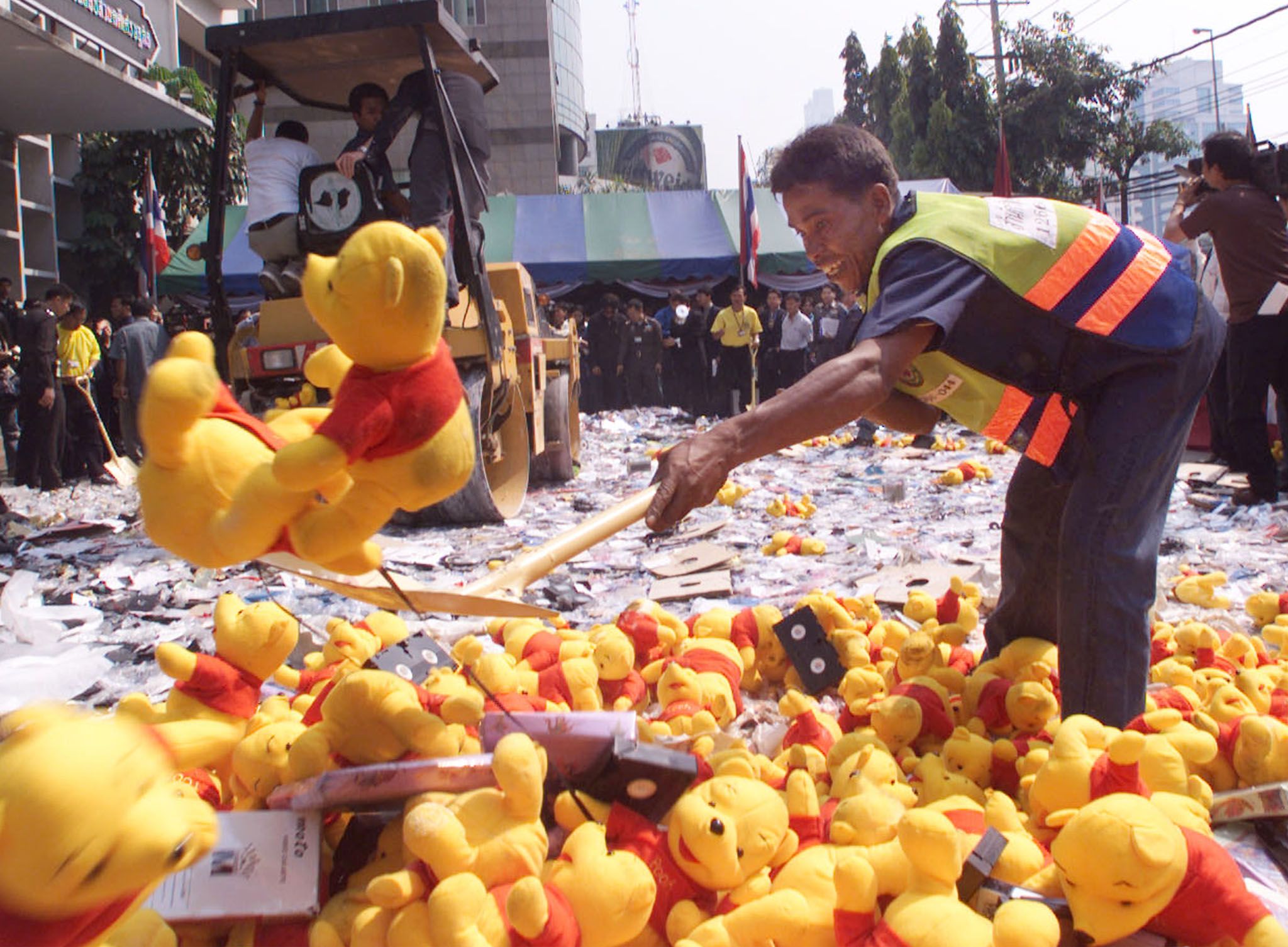 The viral Internet has its collective eyes fixed on a tiny town in central Poland, where local officials have reportedly blocked Winnie the Pooh from being instated as a local playground mascot because of the bear's improper attire and "dubious sexuality."
There's more, of course: "It doesn't wear underpants because it doesn't have a sex," an official apparently complained at a council meeting. "It's a hermaphrodite." And still more, from the Croatian Times:
Officials in the small town of Tuszyn, in central Poland, were meeting to decide upon a new patron for a children's playground when Winnie-the-Pooh was brought up.

But the suggestion was quickly rounded on by more conservative members.

Councillor Ryszard Cichy, 46, said: "The problem with that bear is it doesn't have a complete wardrobe.

"It is half naked which is wholly inappropriate for children."
In America, religious right talking heads have famously been more eager to direct their homophobic rage at another beloved fictional entity: Tinky Winky, from Teletubbies.
But Pooh Bear, the teddy bear who first popped up in a 1926 volume of stories by A.A. Milne, has taken his fair share of controversy and bannings in the past decade. Consider a Russian list of banned "extremist" material from 2009, when the country's Justice Ministry in Moscow placed a ban on images of "Winnie the Pooh with a swastika," because such an image somehow exists somewhere. The Wall Street Journal reported on the reasoning behind that edict thusly:
Winnie came to grief in the Ordzhonikidzevsky district court, located in Ufa, the capital of Bashkortostan.

The court in Ufa said it has collected extremist material from the residence of a local extremist, and poor Winnie, decked out in a swastika, was among them.
According to one library resource, Russian children still cannot get ahold of the Pooh books.
Several years earlier, Pooh Bear found itself caught up in the more commonplace global tradition of book bannings. Swastikas aren't involved in the reasoning, but godliness is. "The same parent group in Kansas that objected to Charlotte's Web in 2006 also cited the talking animals of Winnie-the-Pooh as being an insult to God in public arguments," a Banned Books Awareness resource recounts. That same concern—that talking animals are religious abomination—has landed Alice's Adventures in Wonderland in similar trouble, and got Pooh nursery rhymes banned from public schools in the United Kingdom, lest Jews or Muslims take offense at the talking pig.
In fact, that's just the same logic that got the Pooh films banned from a state-run television station in Turkey, Amusingly, the station, TRT, briefly considered just cutting Piglet out of the cartoon entirely, which would have made for a surreal censored cut:
Several other cartoons featuring pigs also failed to win the green light from TRT management, according to the left-wing Cumhuriyet daily.

The station initially considered scissoring the scenes showing Piglet, but abandoned the idea because the small pink-skinned character, one of Winnie the Pooh's closest friends, appeared too often, Cumhuriyet and the mass-circulation Sabah newspaper said.
Poor Piglet. His comrade Winnie, though, is likely to survive this current banning. Remember: He is a fictional, anthropomorphic bear, and will continue to flourish in markets that aren't one particular playground in a tiny town in Poland.