'Very Dangerous' COVID Variant Found in Vietnam Highly Transmissible, Replicates Quickly
Vietnam's health minister said Saturday that the country has detected a "very dangerous" new coronavirus variant that appears to be a combination of strains first detected in India and the U.K.
Health Minister Nguyen Thanh Long said scientists discovered the new variant while examining the genetic makeup of a COVID-19 virus that had recently infected patients across the country. Long said the new variant appears to be highly transmissible and may spread more easily than other strains.
"Vietnam has uncovered a new COVID-19 variant combining characteristics of the two existing variants first found in India and the U.K.," Long said Saturday, according to Reuters.
"That the new one is an Indian variant with mutations that originally belong to the U.K. variant is very dangerous," he told a government meeting, a recording of which was obtained by the news outlet.
Laboratory studies of the new variant showed the virus was able to replicate itself very quickly. Long said that could possibly explain why Vietnam has experienced a recent surge of outbreaks across 30 of the nation's 63 municipalities and provinces, the Associated Press reported.
Though small genetic changes to the COVID-19 virus are common, the World Health Organization (WHO) has flagged four virus variants that remain of international concern. Among those include B117, or the variant first detected in the U.K., along with B16172, the variant first found in India. The other two strains were first identified in South Africa and Brazil.
Scientists have found that both the U.K. and Indian variants could be up to 50 percent more transmissible than other strains of COVID-19.
On Saturday, a WHO official told Newsweek that the organization has not yet made an assessment regarding the new Vietnam variant.
"We expect that more variants will continue to be detected as the virus circulates and evolves and as sequencing capacities are enhanced worldwide," said Dr. Maria Van Kerkhove, WHO technical lead for COVID-19.
Van Kerkhove said that each variant identified needs to first be properly assessed by the agency.
"Our country office is working with the Ministry of Health in Vietnam and we expect more information soon. From what we understand, the variant they detected is the B.1.617.2 variant possibly with an additional mutation, however we will provide more information as soon as we receive it," Van Kerkhove added.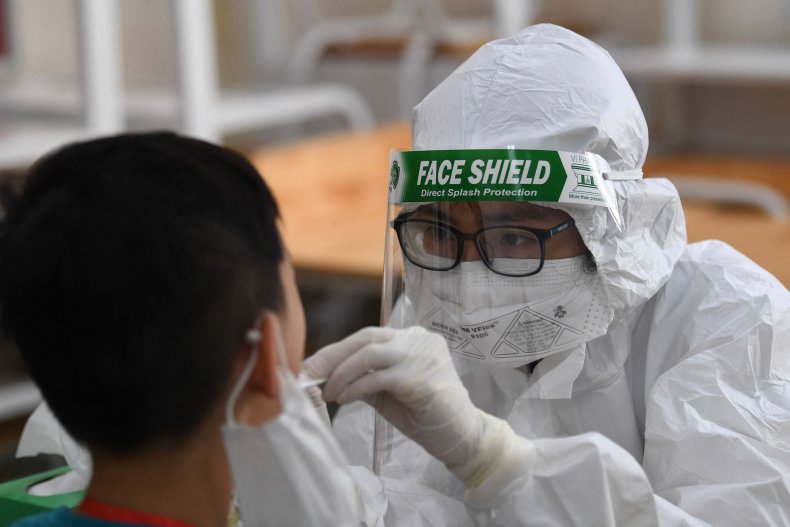 Vietnam has so far detected at least seven strains of COVID-19, according to Reuters. Though the country has maintained relatively high success in battling the pandemic – with just 35 deaths reported at the beginning of May – the nation has seen more than 3,500 new virus cases in recent weeks.
The Southeast Asian country has moved forward with a nationwide ban on all religious events after at least 85 people tested positive for the virus at a Protestant church in one city, according the AP. Across major metropolitan areas, authorities have banned large gatherings, closed public parks, and halted in-person activity at restaurants, bars, clubs and spas.
The nation has so far administered 2.9 million doses of COVID-19 vaccinations, and is currently in talks with Moderna to receive enough shots to fully vaccine 80 percent of the population.
By Saturday, Vietnam has recorded a total of 6,396 cases and 47 deaths since the start of the pandemic, according to data from Johns Hopkins University.