Despite being widely condemned by Democrats and many leading Republicans, Representative Marjorie Taylor Greene continues to receive enthusiastic support from many GOP voters in her home state of Georgia.
Greene, a freshman congresswoman, was formally stripped of her House committee assignments in early February over her promotion of bizarre conspiracy theories and social media posts that suggested she approved of violence against some of her congressional colleagues. More recently, she was condemned for comparing masks and COVID-19 vaccines to the Holocaust. Meanwhile, Democrats aim to use the backlash against Greene to help them maintain the House and Senate in the 2022 midterms.
But Politico reported on Sunday that most GOP voters and officials it spoke with during the Georgia Republican Convention this weekend had favorable remarks about Greene. Some suggested they approved of the controversial manner in which she conducted herself as a lawmaker.
"She's very dynamic, very personable. She's someone who's different from the typical politician," said Cooper Jacks, chair of the Georgia Teen Republicans, according to Politico. "When you go to her district and talk to people about her, they're going to tell you, 'We like the job she's doing.'"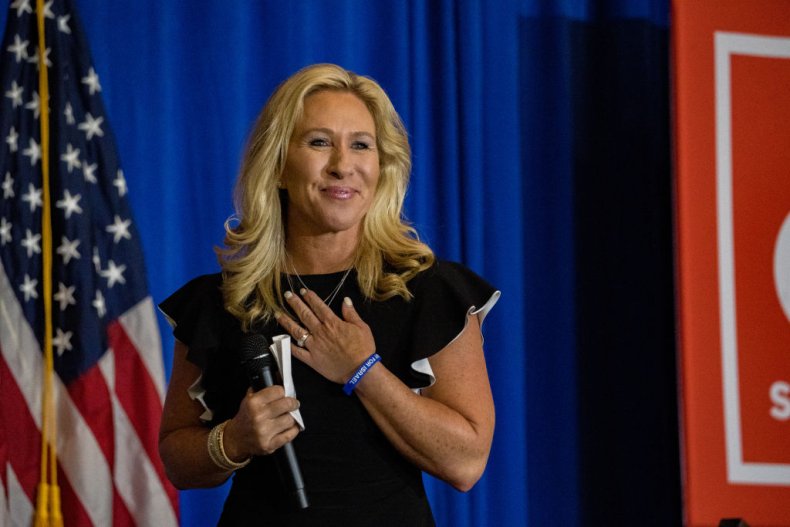 Joe Bohannon, a delegate from Georgia's Screven County, told the publication that he admires Greene's "tenacity."
"If that were me up there, I'd be doing the same thing. Though she probably does it with more tact," Sara Lain-Moneymaker of Georgia's Chatham County told Politico. The news site reported that Dooley and others in attendance were wearing large pins that said "We Love Marjorie" and included a picture of the congresswoman.
Newsweek reached out to Greene's press secretary for comment but did not immediately receive a response.
The congresswoman has aligned herself closely with former President Donald Trump, readily promoting conspiracy theories about the 2020 presidential election. Prior to being elected to Congress, Greene suggested that she believed in the baseless QAnon conspiracy theory. QAnon adherents believe that Trump is somehow fighting against a Satanic cabal of Democrats and Hollywood elites that sex traffic children. Although Greene has since said she does not believe in QAnon, she readily promotes other conspiracies and misinformation.
Last month, Greene controversially equated COVID-19 vaccines and masking requirements to the Holocaust, which resulted in the genocide of some 6 million Jews at the hands of the Nazis during World War II.
"We can look back at a tim in history where people were told to wear a gold star, and they were definitely treated like second-class citizens, so much so that they were put in trains and taken to gas chambers in Nazi Germany, and this is exactly the type of abuse that [Speaker of the House] Nancy Pelosi is talking about," Greene said, commenting on mask and vaccine requirements in the House.
After backlash, the congresswoman doubled-down on her remarks, arguing that "any rational Jewish person doesn't like what's happening with overbearing mask mandates."
Republican House Minority Leader Kevin McCarthy later condemned Greene over the remarks."Marjorie is wrong, and her intentional decision to compare the horrors of the Holocaust with wearing masks is appalling," he said. "The Holocaust is the greatest atrocity committed in history. The fact that this needs to be stated today is deeply troubling."
Greene easily won her 2020 race in Georgia's 14th District. Her Democratic opponent garnered just over 25 percent of the vote while Greene received nearly 75 percent. The congresswoman came out on top with just over 40 percent of the vote in the Republican primary prior to that. She then beat out her GOP opponent in an August runoff, winning with 57 percent support among GOP voters.
But some Democrats see the controversial congresswoman and the intense backlash she's received as a benefit going into the midterms.
"I think that she is providing a huge opportunity in the absence of Trump to be a sticking point and a foil for Democrats in campaigns," Democratic pollster Molly Murphy told The Hill in late May. "All she stands for and represents is a walking depiction of where this Republican Party is going. And I think Democrats would be wise to invoke her and where she is trying to take that party."