'Very Ralph' Is a Celebration of an Absolutely American Fashion Icon | Opinion
You don't know him by his birth name. But you know the brand he created. The world he created. Ralph Lifshitz was born in the Bronx in 1939 to Jewish immigrants from Belarus. The youngest of four siblings, his father was a commercial painter and his mother an artist. He shared a bedroom with his two brothers and, by all accounts, had a charmed youth.
From those humble beginnings, and without formal training in the fashion world, family connections or a college degree (he dropped out of Baruch College after two years), he would go on to change his name. And change the way Americans dress. And dream.
This improbable journey from rags to rag trade riches is absolutely American. Just like the iconic lifestyle brand Ralph Lauren's work would come to embody. All of which is captured in HBO's recently released documentary Very Ralph.
It was clear from an early age that there was something about Lauren that separated him from his friends in his neighborhood, which was crammed with working-class sons and daughters of immigrants: his style. He had a knack for putting himself together. "I always felt a little special about who I was," he said in the film.
Talk about an understatement. From a young age, girls wanted to dance with him, and boys wanted to dress like him. "He dressed in a way that was so different from everyone else," recalled fellow fashion designer Calvin Klein, who grew up with Lauren in the Bronx. "He would wear Army fatigues with a tweed blazer, for example, or thick wool shorts with high socks, and I thought, How cool that he that he has the courage to walk around like that. He had a very personal look."
And that courage was on full display during a life-altering moment early in his business career. Working out of a small office in the Empire State Building in 1968, he'd just launched his own brand, focusing on ties that were made with beautiful fabrics and bold colors. The ties had another distinctive feature: They were wider than those being worn by men at the time.
Lauren got an appointment with a Bloomingdale's buyer in Manhattan. It was a big deal to Lauren, as it would be to any up-and-comer. "He showed his ties to the buyer," former Bloomingdales CEO Marvin Traub explained. "The buyer said, 'I like them, and I'll buy them, but I don't want that Ralph Lauren label on it. I want the Bloomingdales label on it.'"
Most young designers would have written up the order on the spot. Not Lauren. "Now, here's Ralph, struggling with his business, about to get an order from Bloomingdales, and he closed his sample case and said he wouldn't accept the order without his name," Traub continued.
A few months later, Bloomingdales came around. "I thought the ties were terrific, and if he wanted his name on it, that was fine," Traub added, "because I thought the ties would sell."
And sell they did. It wasn't long before Lauren had his own store inside Bloomingdales. And not long after, the world would know his name, his face and his brand.
It was not a hard decision for Lauren. He explained why in an interview with Charlie Rose in 1993. "It's a matter of staying on a path, having a point of view and believing in what you're doing," Lauren said. "And having the focus to say, 'This is who I want to be. This is what I like.'"
It was also an easy decision because Lauren never considered himself a fashion designer. He was selling more than jackets and shirts. He was selling a way of life. He was selling his version of the American Dream, one he learned at the movies growing up.
"If you watch Gary Cooper in movies, he was a very elegant man," he explained. "At the same time, you'd see High Noon, and you really believed he was a cowboy. And I loved him in both roles."
Indeed, Lauren had an unabashed love affair with the country that adopted his parents. His brand was as much about the country he loved, as it was about the way he dreamed of living in it. A dream he harbored while sharing tight quarters with his brothers back in the Bronx.
The world has rewarded him richly for dreaming with—and for—us. Last year, Ralph Lauren Corp. produced more than $6 billion in sales stretching across every possible lifestyle category. In his 50 years in business, Lauren has racked up an impressive list of firsts: the first fashion designer to create a home collection, the first to open his own retail store and the first American designer to be knighted by Queen Elizabeth II. Lauren also helped catapult African American models to stardom, making Tyson Beckford—who, like Lauren, is from the Bronx—the face of his men's line.
Lauren's life was filled with triumphs, but there were setbacks, too. Early on in his career, he nearly lost his business—until Traub extended him a line of credit. And noticeably absent from the movie was Lauren's brush with death. As he was about to appear on Time magazine's cover in 1987, he learned he had a brain tumor.
"I experienced the two distances of life at the same time," Lauren once confessed. "How can I get a brain tumor? That happens to someone else. Time magazine happens to someone else. I was split in half."
The surgery was a success, but Lauren learned an important life lesson. "I was able to step away from myself," he said, "and see life as something that was not always going to be here."
That life, like Lauren's brand, would not have been possible without his wife. "When I first met Ricky, she was 19-and-a-half years old," he beamed in the documentary. "There was an honesty and an integrity to her, and a sweetness. And by accident, she happened to look beautiful."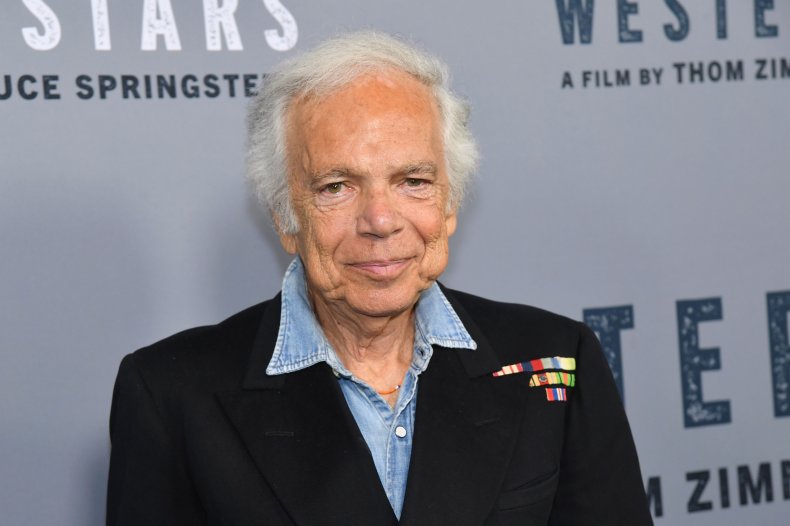 Fashion magazine icon Wei Koh, who is Singaporean, expertly put into words what Lauren's life and brand were all about. "He finds beauty in every aspect of American culture, whether it be Native American, whether it be cowboy or Ivy League culture—he finds a nobility in each of them."
Koh wasn't finished. "Ralph Lauren democratized the whole idea of what was stylish and that's the story of America. He was the first guy to say no, I think the guy that is a GI, or the guy that's the cowboy or the guy that's the working man—he can be just as cool as the aristocrat."
That's the story Lauren told in every commercial he ever made: Any one of us can live this beautiful life. He celebrated the good life—and the country he loves—in each and every frame.
"My sense is that you can make your life be whatever you want it to be," Lauren once said. It's a fundamentally American notion.... It's why millions of people yearn to live here.
Accused by some critics of not being edgy enough, Lauren just kept doing what he knew and loved. Trends were not his thing.
"I'm inspired by a lifestyle that's happy," he said. "We all go through our life hoping we're going to be successful, hoping we'll be able to buy the house that we want or the ranch that we want."
Critics may have been annoyed by that sentiment. But most Americans loved Lauren for his consistency, his integrity and his optimism. Always, his brand represented the good things in life. The beautiful things in life.
The final word in any story about Lauren should be left to the woman whose sense of elegance inspired generations in America and across the globe: Audrey Hepburn.
Back in 1992, she presented Lauren with the Lifetime Achievement Award from the Council of Fashion Designers. "There is no one adjective—or 10 adjectives—that describe what you represent," Hepburn gushed. "You've not only created a total concept of fashion and style, but by your consistency and your integrity, you've protected it, always reminding us of the best things in life. And if you say something is 'very Ralph Lauren,' you're immediately understood."
Lee Habeeb is vice president of content for Salem Radio Network and host of Our American Stories. He lives in Oxford, Mississippi, with his wife, Valerie, and his daughter, Reagan.
The views expressed in this article are the author's own.