'Be Very Scared': Republican Lawmaker Warns Americans If They Impeach Trump 'They Can Do This to You As Well'
Republican congressman Earl L. "Buddy" Carter on Wednesday railed against the Democrat-led impeachment inquiry into President Donald Trump by warning Americans that they could also be impeached.
"Ladies and gentlemen, if a government can do this to the President of the United States, they can do this to you as well," Carter told reporters earlier today. "You need to be scared... You need to be very scared."
He added: "This needs to stop, it needs to stop right now. We need open government. This is the United States of America."
Despite Carter's warnings, only federal government employees are eligible to be impeached, according to the U.S. Constitution.
Carter's remarks came on the same day as dozens of Republican lawmakers, led by Reps. Matt Gaetz and Steve Scalise—the House minority whip, dramatically stormed a closed-door impeachment deposition to protest the handling of the impeachment inquiry, led by Democrats.
Congressional politicians from the House Intelligence, Oversight and Foreign Affairs Committee, and their staff, were the only people permitted to attend the hearing. The GOP group's intrusion into the secure hearing room in Capitol Hill, where the testimony of Laura Cooper, the deputy assistant secretary of Defense for Russia, Ukraine and Eurasia, was taking place, halted the deposition. After they entered, Democratic House Intelligence Committee Chairman Adam Schiff exited the room, postponing the interview.
"The fact that Adam Schiff won't even let the press in, you can't even go in and see what's going on in that room," Scalise said outside the room. "Voting members of Congress are being denied access from being able to see what's happening behind these closed doors, where they're trying to impeach the president of the United States with a one-sided set of rules, they call the witnesses."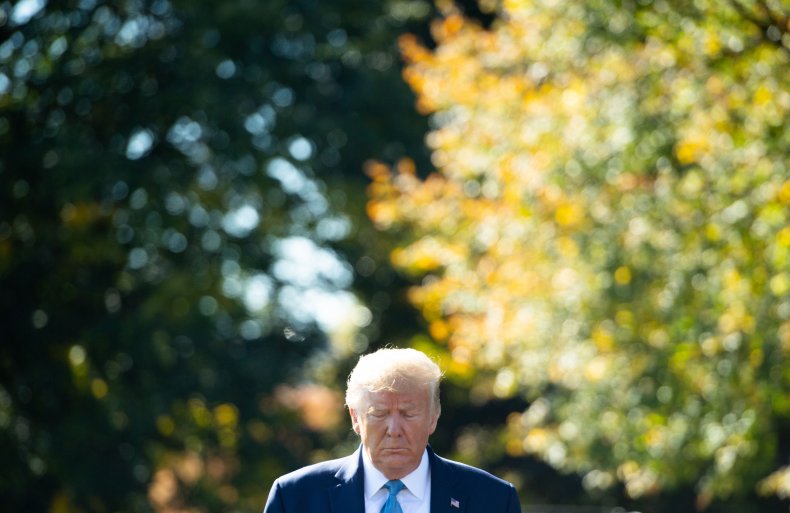 Republicans have repeatedly railed against the official impeachment inquiry, launched by House Speaker Nancy Pelosi late last month, which centers around a July phone call between Trump and Ukrainian President Volodymyr Zelensky. During their conversation, the U.S. president asked his foreign counterpart to probe the family of former Vice President Joe Biden.
Trump has repeatedly dismissed the inquiry and asserted there was no quid pro quo during his exchange with Zelensky. However, last week, White House acting chief of staff Mick Mulvaney admitted that Trump froze almost $400 million in aid to Ukraine, partly to pressure the country's leader to probe Biden.
After mentioning Trump's concerns about corruption in Ukraine during a news conference, Mulvaney said: "That's why we held up the money."
"Get over it," he added. "We do that all the time with foreign policy."
But hours later, Mulvaney walked back his remarks and denied he made it. "The only reasons we were holding the money was because of concern about lack of support from other nations and concerns over corruption," he said in a statement released later that evening. "There never was any condition on the flow of the aid related to the matter of the DNC server."